Brandywine Realty Trust: Safe 5.4% Yield & Bullish Share Price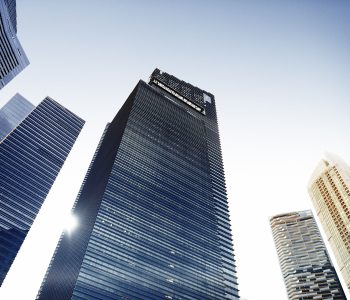 Brandywine Realty Stock Ready to Jump Higher
With more and more Americans heading back to the workplace, it's a good time for investors to take another look at the once beaten-down real estate investment trust (REIT) industry, in particular office REITs.
When it comes to location, location, location (which is almost all that matters in real estate), Brandywine Realty Trust (NYSE:BDN) is one of the most compelling office REITs.
Back in February and March 2020, REITs got hammered by the COVID-19 pandemic. Businesses were shutting their doors, people were getting laid off, and other employees were working from home. It was a perfect storm for office REITs.
Investors responded in kind. Despite having reliable tenants in government-soaked Washington, D.C., Brandywine Realty stock cratered, tumbling by roughly 50%. The dividend stock's price has rebounded, but the early stages of the pandemic were plagued by volatility.
Since last November, BDN stock has been trending considerably higher. Currently trading near record levels, Brandywine Realty stock is up by:
30% over the last six months
23% year-to-date
35% year-over-year
75% since bottoming in March 2020
Trading at $13.97, BDN stock has essentially erased all of its losses associated with the coronavirus-fueled stock market crash in early 2020, but it does have some tested resistance near $15.00.
Wall Street is optimistic that Brandywine Realty stock will break through that ceiling. Of the analysts providing a 12-month price forecast for the dividend stock, their average estimate is $15.17 and their high estimate is $16.00.
Brandywine Realty Trust's management is optimistic about its near-term future. Based on signed leases, the company anticipates that, during the second half of 2021, it will experience increased occupancy and higher same-store cash net operating income (NOI) growth. That's just what the REIT needs to help juice its share price.
Meanwhile, the company has continued to reward investors with frothy dividends. In May, Brandywine Realty announced a quarterly cash dividend of $0.19 per unit, for an annual yield of 5.4%.
BDN stock's dividend is safe. The company's second-quarter 2021 payout ratio was 59.4%. That's well below the 90% threshold I like to see. That gives Brandywine Realty more than enough financial wiggle room to continue paying high-yield dividends.
The REIT has a history of paying high-yield dividends. Its five-year average dividend yield is five percent.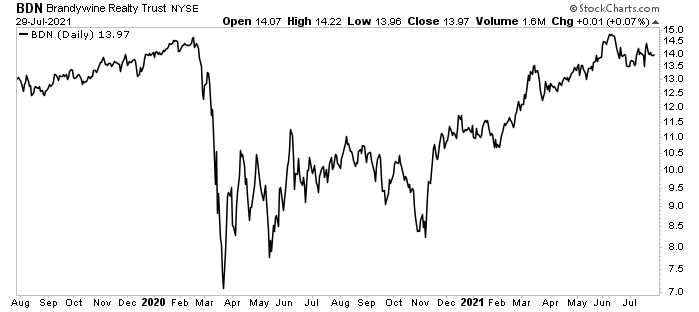 Chart courtesy of StockCharts.com
Brandywine Realty is one of the largest publicly traded, full-service, integrated real estate companies in the U.S. Its core focus is in Philadelphia, PA; Austin, TX; and Washington, D.C. (Source: "2021 Investor Update: 1st Quarter," Brandywine Realty Trust, last accessed August 5, 2021.)
It didn't start out that way.
When the company was founded in 1994, its property portfolio consisted of 200,000 square feet, with a total market capitalization of less than $5.0 million. Today, the company's portfolio of urban, mixed-use, office, lab, residential, retail, and green space comprises roughly 174 properties covering 24.5 million rentable square feet (equivalent to about 425 NFL football fields). Of the company's $5.0-billion portfolio, 90.5% is occupied and 92.5% is leased.
The REIT has new and renewal leases signed for 435,000 square feet.
In Greater Philadelphia, Brandywine Realty Trust is the region's largest owner and operator of "Trophy Class" workspace. The REIT has completed more than 6.3 million square feet of ground-up new developments and it has more than eight million additional square feet in its pipeline.
Austin is ranked as one of the country's fastest-growing cities. The city has recovered most of its pandemic-related job losses and, according to the Wall Street Journal, it's the country's best job market. Brandywine Realty's Austin portfolio covers nearly four million square feet. In the city's northern suburbs, the REIT is currently redeveloping a 66-acre site, which is widely regarded as the most valuable development site in Austin.
Then there's Washington, D.C., one of the most sought-after real estate investment markets in the world. Brandywine Realty entered the Washington, D.C. market through a strategic acquisition of Prentiss Properties in 2006, Since then, Brandywine Realty has undertaken several key development projects in the area. The company currently owns 23 properties in Metro DC (which includes Maryland and Northern Virginia) and has 500,000 square feet in its development pipeline.
Brandywine Realty Trust Reports Solid Q2 Results; Narrows Guidance
In July, Brandywine Realty announced its financial results for the second quarter ended June 30, 2021. Its total revenue in the quarter was $120.1 million, a 14% decrease from its second-quarter 2020 revenue of $136.8 million. (Source: "Brandywine Realty Trust Announces Second Quarter Results And Narrows 2021 Guidance," Brandywine Realty Trust, July 26, 2021.)
During the second quarter of 2021, Brandywine Realty collected 99.3% of its total cash-based rent due, which represents a 99.8% collection rate from its office tenants. A majority of the rental revenue that has been in the form of rent deferrals is scheduled to be repaid by the end of this year. The company has also collected 58% of the rent deferrals not provided as free rent with an associated lease extension.
Brandywine Realty Trust reported a second-quarter 2021 net loss of $260,000, or a loss of less than $0.01 per share. In the second quarter of 2020, the company reported net income of $3.9 million, or $0.02 per share.
Brandywine Realty's funds from operations (FFO) came in at $55.9 million, or $0.32 per share. In the second quarter of 2020, its FFO were $57.6 million, or $0.34 per share.
The company's second-quarter rental rate increased by 22.2%, its renewal rental rate increased by 13.3%, and its new lease/expansion rental rate increased by 32.7%, all on an accrual basis.
Its same-store NOI was 0.5% on an accrual basis and 1.8% on a cash basis.
Thanks to its great financial results, the company has narrowed its speculative revenue guidance range from $18.0–$22.0 million to $20.0–$21.0 million. The new guidance range at the revised midpoint is now 98% complete.
Based on the company's first-quarter progress, it has narrowed its 2021 FFO guidance of $1.33–$1.41 per share to $1.34–$1.40 per share.
The Lowdown on Brandywine Realty Trust
Brandywine Realty Trust is a great office REIT with a solid property portfolio in some of the most prosperous regions of the U.S.
The company's second-quarter results were in line with Wall Street's expectations, and management narrowed their guidance for 2021. Thanks to the REIT's expanding portfolio, strong balance sheet, and healthy cash flow, Brandywine Realty stock continues to pay high-yield dividends.
These metrics should help propel BDN stock's price higher over the coming quarters.