BP Prudhoe Bay Royalty Trust: This "Cash Cow" Now Yields 17.3%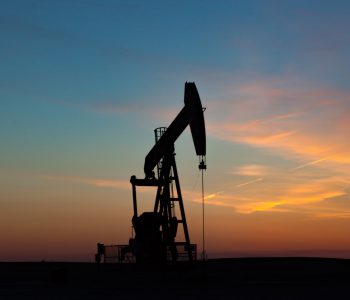 iStock.com/traingeek
Milk This Stock for a 17.3% Yield
Today's post highlights one of my favorite places to find high dividend yields: "cash cows."
As regular readers know, cash cows represent mature businesses. Because these firms have few growth prospects, owners milk the operations for ongoing dividends.
Think of industries like cigarettes, pipelines, or breakfast cereal. These firms don't get a lot of airtime in the press, but they constitute reliable sources of income for shareholders. And if you're willing to do some digging, you can often find yields as high as 12% or 15%.
Case in point, BP Prudhoe Bay Royalty Trust (NYSE:BPT). BPT owns a collection of oil wells along the Alaska North Slope. The firm earns a cut of the production from these wells each day, up to a maximum of 90,000 barrels.
But unlike normal energy companies, BPT doesn't explore for new sources of oil. Instead, management chooses to pay out all of their profits to shareholders, simply milking their existing operations. And for investors looking to earn globs of dividend income, it's a profitable business. Here's why.
You can think of royalty trusts like BPT like a kind of special bond. All trusts have a finite life; their oil wells production declines over time until it's no longer profitable to keep them running. Once the trust hits this point, the leftover value of the royalties is sold and distributed to shareholders.
But unlike a normal bond, the factors that determine your payments (oil prices and well production) can change a lot over time. The probability of your investment is based on commodity markets and the characteristics of the oil field. In other words, your distribution can vary quite a bit.
This doesn't mean, however, that royalty trusts are bad investments. In fact, the right royalty trust can produce outstanding profits. In the case of BP Prudhoe Bay Royalty Trust, the trust has generated a total return of 1,350% since 1999, absolutely trouncing the S&P 500 over the same period.
And because management spends nothing on exploration, they can pay out a lot more money to shareholders. Last month, BPT paid out a quarterly distribution of $1.27 per share. For investors, that comes out to an annual yield of 17.3%.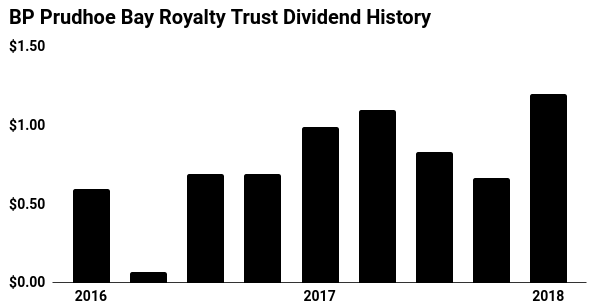 (Source: "BP Prudhoe Bay Royalty Trust (BPT)," Yahoo! Finance, last accessed May 25, 2018.)

To be clear, big yields come with big risks. Royalty trusts don't behave like regular dividend stocks, with consistent, rising distributions. As you can see in the chart above, distributions vary from quarter to quarter.
BPT's oil wells will also run dry eventually. Based on current reserve estimates, analysts project the trust will keep pumping out oil until the early 2020s. However, production could be extended, thanks to new drilling technology or higher oil prices.
That said, BPT still represents one of my favorite cash cow businesses. You just need to do your homework, wrapping your head around the potential risks ahead of time. And with a dividend yield over 15%, income hunters should give this name a second look.