BP Midstream Partners LP: "Oil Pension Check" Yields 8.9%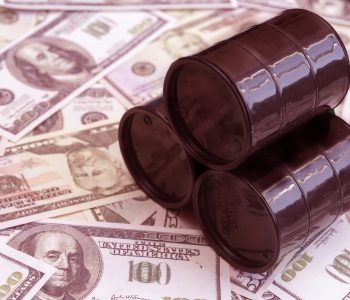 iStock.com/Gerasimov174
Can You Trust BP Midstream Partners LP's 8.9% Yield?
If you're struggling to generate decent investment income, you're not alone.
Years ago, a six-figure portfolio invested in savings accounts or bank CDs could fund a comfortable retirement. Today, that same nest-egg will only generate enough interest to buy a cup of coffee each month.
The situation looks poised to get worse. With the U.S. economy poised to slow, analysts expect the Federal Reserve to slash interest rates. That could push down yields across all asset classes, squeezing retirees further.
One solution: BP Midstream Partners LP (NYSE:BPMP). In 2017, BP plc (NYSE:BP) spun off the partnership in an attempt to unlock the full value of its pipeline operations. Since them, the little business has emerged as an income machine, now sporting a yield of 8.9%.
My colleague Jing Pan coined the term "Oil Pension Checks" to describe the payouts from this partnership and similar companies. Thanks to a little-known loophole in tax law, these firms pay out safe, high yields. And for retirees seeking income, BPMP stock could make an excellent supplement to a balanced investment portfolio.
Admittedly, the energy patch doesn't seem like the right place for risk-averse income hunters. Boom-bust cycles can interrupt dividends to shareholders. And because an oil or gas well is a depleting resource, companies plow most of their profits into exploration. That doesn't leave a lot of money left over for payments to investors.
BP Midstream Partners LP, however, doesn't suffer from these drawbacks. Rather than drilling for oil and gas itself, the partnership owns the pipelines that ship these commodities from wellhead to refinery. Like a toll road, these assets generate steady fees on every barrel that flows through them.
And these pipelines generate robust cash flows. While a new line costs billions of dollars to construct, ongoing operations cost only a fraction of sales. As a result, management can payout almost every dollar of fee revenue to BP Midstream Partners stock owners.
Furthermore, BPMP unitholders have little to worry about in the way of new competition. Aside from the large upfront costs, regulators rarely grant the right-of-way for new pipeline construction, especially where the industry already has a working route in service.
And even if given the green light, a new route would only split the existing business between two points. In most situations, that would leave an unprofitable situation for everyone involved.
As a result, pipelines rarely face much in the way of direct competition. That keeps sales steady, margins fast, and profits large. It also puts Midstream Partners in the position to raise tolls year after year.
For BPMP unitholders, this has created a respectable income stream. Since the trust went public in 2017, BP Midstream Partners LP has boosted the distribution on six occasions. Over that period, the payout to unitholders has increased by 80%.
Today, the partnership pays a quarterly distribution of $0.32 apiece. That comes out, as mentioned earlier, to a yield of 8.9%.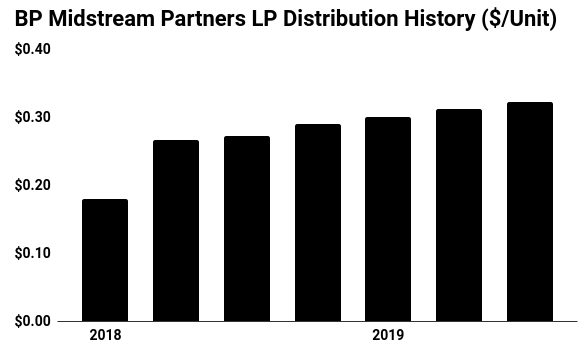 (Source: "BP Midstream Partners LP (BPMP)," Yahoo! Finance, last accessed September 10, 2019.)
That payout will likely continue to grow. Over time, volumes flowing through pipelines tend to grow. Given BP Midstream Partners LP's entrenched market position, management should have no problem raising levies on its existing routes by two or three percent per year.
Moreover, BP Inc. has announced plans to drop down more assets into this limited partnership. In combination with acquisitions, management should have no problem boosting the distribution by between five and six percent annually.
In a nutshell, Oil Pension Checks represent safe, lucrative income streams. BP Midstream Partners stands as a member of this club. For retirees looking to generate more money from their portfolio, this partnership deserves a second look.