This "Boring" Company Has Raised Its Dividend for 52 Consecutive Years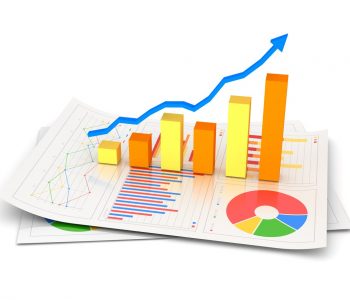 iStock.com/adempercem
If You Want to Collect Rising Dividends, Read This
Most people have never heard of Illinois Tool Works Inc. (NYSE:ITW), but the company offers one of the safest growing income streams.
Illinois Tool Works is a multi-industrial manufacturer. Headquartered in Glenview, Illinois, the company has been around for over a century.
Today, ITW operates through seven business segments: "Automotive OEM," "Test & Measurement Electronics," "Food Equipment," "Polymers & Fluids, Welding," "Construction Products," and "Specialty Products."
As a manufacturer of industrial products and equipment, Illinois Tool Works does not make headlines very often. What it does, though, is raise its dividends like clockwork.
Consider this: Illinois Tool Works has increased its payout to shareholders in each of the last 52 years. That makes ITW stock a "dividend king," which is a title only awarded to companies with at least five decades of consecutive annual dividend hikes. To put it in perspective, there are thousands of companies trading on U.S. stock exchanges. Among them, only 25 are known as dividend kings.
Recent dividend increases were quite substantial, too.
Over the last five years, ITW stock's quarterly dividend rate has more than doubled. The latest dividend hike arrived last August, when the board of directors declared a quarterly dividend of $0.78 per share. This was a 20% increase from its prior quarterly dividend rate of $0.65 per share. (Source: "Dividend History for Illinois Tool Works, Inc. (itw)," StreetInsider.com, last accessed July 13, 2018.)
Trading at $144.13 apiece, ITW stock offers an annual dividend yield of 2.2%.
Outstanding Long-Term Performance
Now, I know what you are thinking: a two-percent yield is nothing to brag about. But note that consistent dividend increases are a sign of strength. And over time, the market would notice—and might even reward the company with a higher share price.
Just take a look at the kind of returns that shareholders of Illinois Tool Works have been getting and you'll see what I mean.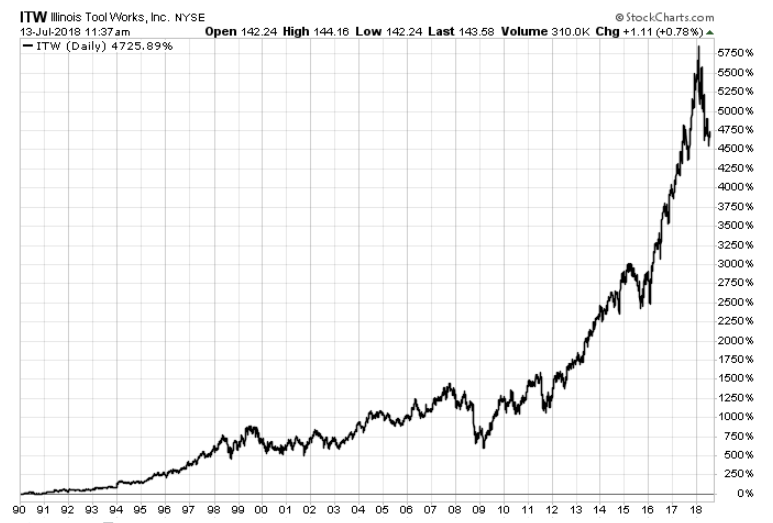 Chart courtesy of StockCharts.com
Illinois Tool Works Inc. Has Been Delivering Astronomical Returns
Companies with a strong dividend growth history would want to continue their track record. However, after a company has established its business, growth might slow down. And that would also be reflected in its dividend growth. As a result, it's not uncommon to see a Dividend King announce a dividend increase of just one or two percent.
And that's another reason why Illinois Tool Works stands out. Despite having over 100 years of operating history, the company is still churning out decent growth rates. And its growing business has no problem fueling those oversized dividend increases.
In 2017, Illinois Tool Works' revenue grew five percent from 2016 to $14.3 billion, while its operating margin expanded 120 basis points to 23.7%. Excluding non-recurring items, the company's net income came in at $6.59 per share, representing a 16% increase from the prior year. (Source: "ITW Reports Fourth-Quarter and Full-Year 2017 Results," Illinois Tool Works Inc., January 24, 2018.)
Growth has continued to this year. In the first quarter of 2018, ITW's revenue grew another eight percent year-over-year to $3.7 billion. All seven segments delivered positive organic growth. For the quarter, the company generated earnings of $1.90 per share, up 23% from the year-ago period. The operating margin expanded 90 basis points to 24.1%. (Source: "ITW Delivers $1.90 Earnings per Share, up 23%," Illinois Tool Works Inc., April 26, 2018.)
High-Quality Earnings Could Translate to Future Dividend Increases
Another thing to note about Illinois Tool Works is the quality of its earnings. In this day and age, earnings can be adjusted, which is why more and more experts have started to also incorporate free cash flow in their analysis, rather than just using earnings.
To put it simply, free cash flow is the cash left over after a company pays for the cost of its operations and capital expenditures. The excess cash can be used to make acquisitions, expand production, or pay a dividend.
As it turns out, Illinois Tool Works generated free cash flow of $617.0 million in 2017, which was 106% of the company's adjusted net income. Since dividends are paid in cash, a strong free cash flow profile is certainly a welcoming sign for income investors.
Furthermore, even after those substantial dividend increases, the company wasn't paying out all that much. In 2017, Illinois Tool Works declared total dividends of $2.86 per share while earning an adjusted net income of $6.59 per share, meaning a conservative payout ratio of 43.4%.
And the best could be yet to come.
For full-year 2018, management expects Illinois Tool Works' revenue to increase five to six percent. Earnings per share, on the other hand, is expected to grow at an even more impressive 17%. At the latest investor presentation, management also said that they intend to increase the company's payout ratio to approximately 50%. (Source: "Electrical Products Group Conference," Illinois Tool Works Inc., May 23, 2018.)
Get Ready for Another Dividend Hike From ITW Stock
Illinois Tool Works' board of directors usually reviews the company's dividend policy in August. Given its growing financials and management's willingness to return more cash to investors, I expect ITW to announce another double-digit dividend increase in the next several weeks.