This Is Why BMO Stock is Soaring Today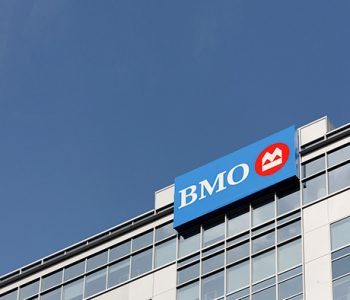 iStock.com/wellesenterprises
BMO Stock Soars On Strong Earnings
The Bank of Montreal (NYSE:BMO) beat analysts' earnings estimates and raised its dividend Tuesday, sending shares of BMO stock soaring.
Canada's fourth-largest bank posted core cash earnings per share (EPS) of CA$2.10 in the quarter, which ended October 31. That's compared to a consensus analyst estimate of CA$1.85 per share. (Source: "BMO Financial Group Reports Net Income of $4.6 Billion for Fiscal 2016," Bank of Montreal, December 6, 2016.)
Net income of CA$1.3 billion in the fourth quarter was 11% higher year-over-year, with EPS of CA$2.02, up 10%.
The board of directors declared a quarterly dividend of CA$0.88 per share for the first quarter of fiscal year 2017, a $0.02 increase from the previous quarter and up five percent from a year ago. The yield on BMO stock will rise to 3.8% after the dividend increase.
"These results reflect, in addition to a strong and diversified business model, the role our technology capabilities are playing in differentiating our offering and the customer experience we are able to deliver," said Bill Downe, Bank of Montreal's chief executive officer. "As we mark the start of our 200th year in business, we have never been better positioned. We are focused on the future and are confident in our capabilities as we build on momentum and drive continued growth." (Source: Ibid.)
BMO stock rose $1.69, or 2.5%, to $69.16 per share.
The Bank of Montreal caps an earnings season of strong results from Canada's biggest banks. Analysts have worried that a slowdown in real estate and the oil patch could crimp profits. Better-than-expected numbers from the Bank of Nova Scotia (NYSE:BNS) and the Canadian Imperial Bank of Commerce (NYSE:CM), as well as a dividend hike from the National Bank of Canada (TSE:NA), have done a lot to ease those concerns.
BMO's profit beat, credited to lower provisions for credit losses and higher advisory fees, shows the bank is also well positioned for 2017. The amount of money that the company has set aside for loan defaults dropped by $80.0 million quarter-over-quarter, despite a small uptick in delinquent energy loans. Advisory fees from BMO's investment banking division were up more than 40% in the fourth quarter.
The company's core lending and wealth management divisions also posted solid numbers. Canadian personal and commercial banking saw five-percent earnings growth during the quarter, driven by loan growth and lower credit loss provisions. Wealth management earnings, one of BMO's most lucrative businesses, jumped 15%, owing to strong operating growth.
Following a string of stable quarters, shareholders will be looking for more clarity as to who will actually lead the company going forward. Downe's tenure as chief executive officer is approaching 10 years and, in October, the bank shuffled its executive team, suggesting that a leadership transition could be in the works.
BMO has named Darryl White as its new chief operating officer, signalling that he could be a potential successor. Analysts expect an announcement at the company's next shareholder meeting in April.