Black Stone Minerals LP: Growing, High-Yield Dividend Stock Up 123% YOY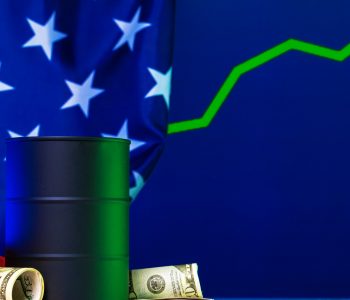 BSM Stock Bullish on Rising Oil Prices
Black Stone Minerals LP (NYSE:BSM) is a high-dividend stock that has been seeing its share price rip higher due to rising commodity prices. An oil and gas exploration and production company with more than 20 million acres, Black Stone Minerals has been taking full advantage of the surge in oil and natural gas prices.
On October 4, oil in New York jumped to its highest price since 2014. Oil prices have been climbing after Organization of the Petroleum Exporting Countries Plus (OPEC+) ministers ratified a 400,000 barrel-a-day (B/D) supply hike for November. Analysts had been expecting a boost of 800,000 B/D.
Despite the gradual supply hike, demand for crude oil is expected to outstrip supply over the coming months. Demand for crude oil has soared because of the economic recovery and because of supply disruptions in the Gulf of Mexico due to Hurricane Ida.
Natural gas prices have also been surging. The rise in natural gas prices, along with prices of other fuel sources, has been forcing countries to reduce factory production and could result in sky-high heating and electricity costs this winter.
In the U.S., natural gas futures recently rose above $6.00 per million British thermal units (BTU), nearly quadruple their pandemic lows. In Europe and Asia, liquified natural gas prices have been going through the roof as countries look to secure enough fuel for the winter. Because of high natural gas prices, some utilities have been switching their input fuel to oil.
By this winter, oil demand is projected to hit 500,000 B/D. If it's a cold winter, oil demand could climb to 700,000–800,000 B/D. This is bad news for consumers, but it's great news for the oil and gas industry.
As of this writing, Black Stone Minerals stock is up by:
11% over the last month
40% over the last six months
95% year-to-date
123% year-over-year
Those are strong gains, but BSM stock still needs to climb by roughly 25% to get to its all-time high from May 2019. Time is certainly on its side, though.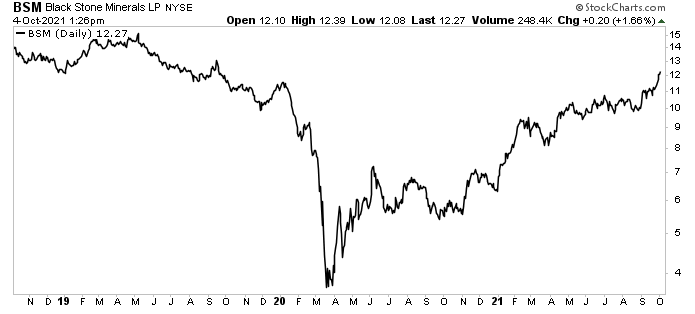 Chart courtesy of StockCharts.com
About Black Stone Minerals LP
As the largest pure-play oil and natural gas mineral and royalty firm in the U.S., Black Stone Minerals owns and manages interests in 41 U.S. states and 60 productive basins. (Source: "Citi 2021 Global Energy & Utilities Virtual Conference: May 2021," Black Stone Minerals LP, last accessed October 5, 2021.)
Black Stone Minerals has exposure to oil and gas, but with the benefit of no operating costs or capital spending requirements. And thanks to its scale, the company has opportunities to partner with operators to initiate or accelerate drilling. It also benefits from technological advances that help enhance efficiencies.
The company's 20-million-acre footprint covers both established and emerging plays, with concentrated positions in the Haynesville/Bossier shales in East Texas/Western Louisiana, the Wolfcamp/Spraberry/Bone Spring in the Permian Basin, the Bakken/Three Forks in the Williston Basin, and the Eagle Ford shale in South Texas.
Because of its diverse assets, Black Stone Minerals LP has been able to moderate industry volatility. Horizontal permitting has started to increase, compared to the 2020 pre-pandemic lows. The company's net well additions have been growing steadily since their low in the third quarter of 2020.
On top of that, Black Stone Minerals' share of those permits remains in line with historical averages throughout the downturn and is near the all-time highs of 2019.
This helps the company trounce its peers when it comes to production. During the first quarter, Black Stone Minerals produced 36.8 million barrels of oil equivalent per day (MBoe/d), comprising 75% natural gas and 25% crude oil. The company's closest peer produced 26.1 MBoe/d.
Black Stone Minerals LP Increases Distributions
Black Stone Minerals' 20 million gross acres of opportunity have led to impressive organic growth with zero incremental capital requirements. This has provided the company with massive cash flow, which it returns to Black Stone Minerals stockholders in the form of high-yield dividends. Over the last 20 years, BSM stock has returned $3.6 billion to investors.
In July, the company declared a second-quarter cash distribution of $0.25 per unit, a 43% increase over the $0.175 per unit declared in the first quarter. This works out to an annual dividend of $0.70, with a yield of 5.8%. (Source: "Black Stone Minerals, L.P. Announces Distribution Increase," Black Stone Minerals LP, July 26, 2021.)
The board said the second-quarter payout included a base distribution of $0.20 per unit (which it believes will be sustainable until the end of 2021) plus a special distribution of $0.05 per unit (which comes from certain positive, non-recurring items).
Thomas L. Carter, Jr., president and CEO, commented, "Our improved distribution outlook extends beyond the remainder of 2021. With the uplift in our hedge prices into next year, we anticipate strong potential for further increases in the regular distribution level as we look forward to 2022." (Source: Ibid.)
The increased dividend came on the heels of robust operational and financial performance in the second quarter, with increases in both production and realized prices.
The company's mineral and royalty production was up by five percent year-over-year at 32.5 MBoe/d. Its total production for the quarter was 38.2 Mboe/d. (Source: "Black Stone Minerals, L.P. Reports Second Quarter Results," Black Stone Minerals LP, August 2, 2021.)
Black Stone Minerals' net income was $15.4 million, or $0.05 per share, compared to a second-quarter 2020 net loss of $8.3 million, or $0.07 per share. In the first quarter of 2021, the company's net income was $16.2 million. Its distributable cash flow was up by 34% year-over-year at $72.1 million.
The company's total debt at the end of the 2021 second quarter was $96.0 million, compared to $111.0 million at the end of the first quarter.
Carter noted that the positive results, combined with the low debt level, have allowed Black Stone Minerals to prioritize returning cash to shareholders in the form of increased distributions. The company ought to be able to do so as a result of its increased mineral and royalty production, increased working interest production, and increased royalty interest.
The Lowdown on Black Stone Minerals Stock
As one of the largest owners of oil and natural gas mineral interests in the U.S., Black Stone Minerals LP is well positioned to capitalize on the sustained recovery of natural gas and crude oil prices.
The company recently announced a $20.7-million acquisition, strengthened its balance sheet, enhanced its liquidity, and lowered its cost structure. That will help Black Stone Minerals stock to continue delivering solid returns on capital and provide reliable, high-yield dividends to BSM stockholders.