Billionaire T. Boone Pickens Earning an 11.7% Yield Here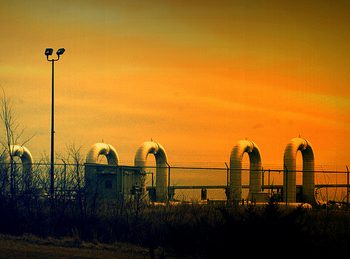 shannonpatrick17/Flickr
An Oil Tycoon Is Investing Here
Few people have made more money in oil than T. Boone Pickens. The billionaire oil tycoon grew up in Oklahoma during the Great Depression. From those humble beginnings, he went on to make a fortune in the energy patch.
In the 1960s, Pickens got his start as a wildcatter. He branched out into different activities over the following years, working both as a corporate raider in the 1980s and hedge fund manager at BP Capital, LP.
For this reason, I always watch where Pickens puts fresh money to work. And right now, he's betting on pipelines.
Over the past year, Pickens has quietly bought up stakes in a number of partnerships, like Phillips 66 Partners LP (NYSE:PSXP), Energy Transfer Partners LP (NYSE:ETP), and Magellan Midstream Partners, L.P. (NYSE:MMP).
He's also backing up the truck on a new position. Last quarter, Pickens upped his position in Shell Midstream Partners LP (NYSE:SHLX). As of the last filing, his hedge fund now owns over 250,000 units in the operation. (Source: "Hedge Fund – BP Capital 13F Holdings," Insider Monkey, last accessed June 1, 2018.)
Investors should take note. Pipelines represent a backdoor play on the nation's oil boom, to begin with. New technologies have unlocked vast quantities of oil and natural gas, even at today's low energy prices.
The U.S. Energy Information Administration (EIA) says American oil output averaged about 10 million barrels per day in 2017, almost double the country's production from a decade ago. But thanks to a combination of higher oil prices and better drilling methods, this figure could reach almost 12 million barrels per day by the end of 2019. (Source: "U.S. crude output to hit 12 million bpd in late 2019 – EIA," Reuters, May 8, 2018.)
What is the bottleneck holding back growth? Infrastructure. The industry needs more pipelines, terminals, and processing plants to accommodate surging output. Based on current projections, production could exceed current capacity in some regions by the end of the year. All of which is good news for pipelines.
Pipelines, of course, are the steel tubes buried underground that transport oil, natural gas, and other commodities. And like a bridge owner earning tolls on each passing car, pipeline owners earn fee income on each barrel that flows through their network.
It's a profitable business. Because pipelines require little in the way of ongoing maintenance, most of their profits get paid out to investors. For this reason, you often find high yields between 10% and 15%.
And thanks to the boom in the oil patch, pipelines have started making money hand over fist. They've capitalized on surging production by raising toll fees, building new lines, and extracting concessions from drillers. Most of this money has gotten passed on to investors in the form of higher distributions.
So where does Pickens see the best opportunities?
Each quarter, funds with over $100.0 million under management need to send a report to the U.S. Securities and Exchange Commission. This filing, called a 13F, requires these institutions to disclose the stocks they own.
For us, it provides a great chance to see where Wall Street insiders want to put their money. I've highlighted some of T. Boone Pickens's largest holdings in the table below. As you can see, he's locking in some great income streams here:
| | | |
| --- | --- | --- |
| Company | Market Cap | Yield |
| Enterprise Products Partners L.P. | $62.8B | 6.5% |
| Williams Partners LP | $38.9B | 6% |
| Energy Transfer Partners LP | $22.2B | 11.7% |
| Targa Resources Partners LP | $7.4B | 8.6% |
| Phillips 66 Partners LP | $6.4B | 5.7% |
| Magellan Midstream Partners, L.P. | $15.9B | 5.4% |
| Valero Energy Partners LP | $2.9B | 4.9% |
| Shell Midstream Partners LP | $5.1B | 5.8% |
(Source: Yahoo! Finance, last accessed May 31, 2018.)
Of course, you can't call pipeline stocks a sure thing. Because their distributions resemble bond coupons, these issues compete directly with fixed-income securities for capital. For this reason, pipeline stocks have more exposure to higher interest rates.
That said, the smart money sees in opportunity here. In recent quarters, other hedge fund managers—including Jim Simons, Ken Griffin, and Matthew Hulsizer—have started building positions in pipeline stocks. Even billionaire George Soros has dipped his toe in the industry.
What could all of these savvy investors see in pipelines? I'd say it means one thing: they see a lot more upside ahead.