Billionaire George Soros Earning a 7% Yield Here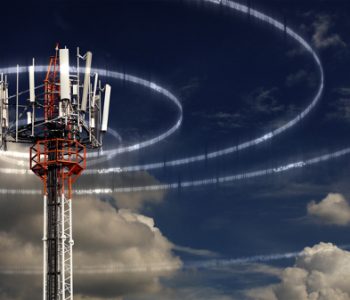 iStock.com/LV4260
George Soros Likes This Stock
This stock makes for one of my favorite sources of income…and apparently billionaire George Soros agrees with me.
The company is Crown Castle International Corp. (NYSE:CCI). Over the past few decades, the company has built a sprawling empire of cell phone towers across the country. Management leases these assets out to mobile carriers in exchange for steady, on-going rental income.
It's a profitable business. Securing the rights-of-way to build a rival tower can be costly. And once a carrier has installed its equipment at a site, it can be expensive to switch. This allows Crown Castle to raise rents every few years, without the fear of tenants switching to competitors.
That has resulted in reliable income for unitholders. Since the partnership began paying distributions in 2014, management has boosted the payout on four separate occasions. Units now pay out a quarterly $1.05 each, which comes out to an annual yield of 4.1%.
And those cash flows could skyrocket in the years to come. Over the next few years, carriers want to upgrade their services to the incoming 5G standard. According to proponents, this technology will improve network reliability and boost download speeds multifold.
The problem? 5G requires a denser carrier network, with more transmission sites per square mile. That will translate into higher rents, higher occupancy rates, and higher profits for tower owners like Crown Castle.
I wrote about this opportunity in a recent issue of my monthly research letter, Passive Monthly Income.
Crown Castle management have found themselves right smack dab in the middle of the coming 5G gold rush. For investors getting in early, they could lock in tidy capital gains. Never mind the growing stream of income as mobile carriers beef up their networks.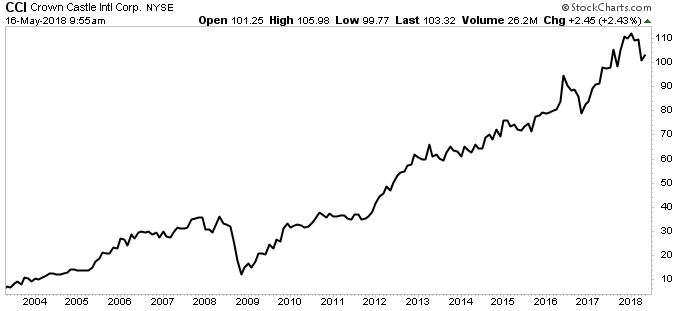 Chart courtesy of StockCharts.com
It's no surprise, therefore, to see George Soros getting in on the action. Earlier this week, a U.S. Securities and Exchange Commission (SEC) filing revealed that his hedge fund, Soros Fund Management, LLC, owned 100,000 common shares in the trust. (Source: "Soros Fund Management 13F Information Table," U.S. Securities and Exchange Commission, last accessed May 16, 2018.)
Soros has also built up a large position in Crown Castle International Corp. Series A Convertible Preferreds (NYSE:CCI.PA). These shares pay out a larger, fixed distribution, although they offer less in the way of growth potential. But at today's prices, these preferreds yield almost seven percent.
And Soros isn't the only one who sees an opportunity here.
Billionaire Bill Gates has accumulated a large position in Crown Castle. In recent quarters, a number of other large investors—including Jim Simons, D.E. Shaw, and Paul Tudor Jones—have boosted their holdings, too. (Source: "Crown Castle International Corp (CCI) – Hedge Fund Holdings," Insider Monkey, last accessed May 16, 2018.)
What could all of these hedge fund honchos see in Crown Castle? I'd say it means one thing: they see a lot of upside ahead.