Billionaire David Tepper Earning an 8.1% Yield Here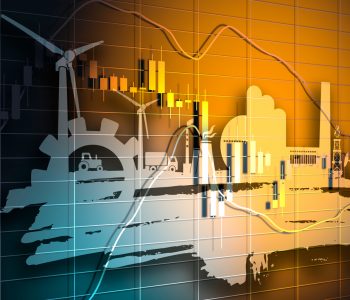 iStock.com/Evgeny Gromov
David Tepper Pouring Millions Into This Top Dividend Stock
David Tepper has made a living buying hated stocks.
The billionaire investor founded Appaloosa Management in 1993. Over the following decades, Tepper delivered double-digit annual returns for his clients by buying shares of out-of-favor companies.
Today, he swings a big stick, with more than $22.0 billion in assets under management. That puts Tepper in the same league of investors like Warren Buffett, Carl Ichan, and George Soros. For that reason, I always watch his Securities and Exchange Commission (SEC) filings for investment ideas.
And right now, Tepper is making some big bets in one of the world's most hated industries: pipelines.
Energy Transfer LP
Last-quarter SEC filings reveal that Tepper has bought a large stake in Energy Transfer LP (NYSE:ET). At the time of the disclosure, his hedge fund had accumulated more than 5.1 million units. (Source: "Form 13F," U.S. Securities and Exchange Commission, last accessed May 22, 2019.)
Energy Transfer LP owns a sprawling infrastructure empire. The partnership owns dozens of pipelines, terminals, and storage facilities nationwide. These assets ship, store, and process everything from oil and natural gas to propane and gasoline.
But Wall Street hates this energy giant.
The partnership's problems started in 2015. Following a collapse in energy prices, drillers cut back oil and gas production. With fewer barrels flowing through its network, Energy Transfer suffered a sharp drop in cash flow.
To make matters worse, management agreed to acquire rival Williams Companies Inc (NYSE:WMB). Creditors, however, balked at funding the deal, especially after the drop in oil prices. Energy Transfer had to embark on an expensive court case to wiggle out of the agreement.
Investors paid the price for Energy Transfer's deteriorating fundamentals and costly, ill-timed acquisition. Last year, management slashed the distribution by almost one-third. And over the past four years, ET units have trailed the S&P 500 by 75%.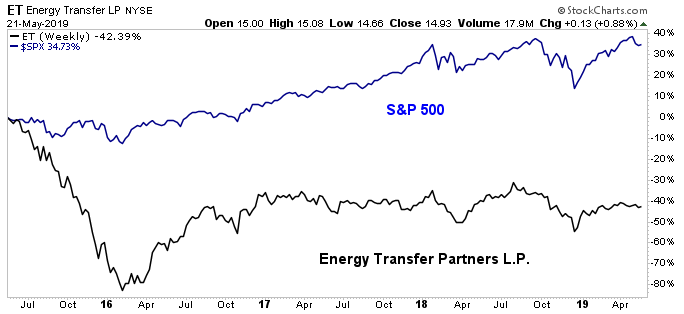 Chart courtesy of StockCharts.com
David Tepper has exploited the pullback as a buying opportunity. And it might be wise to follow his example as Energy Transfer sits in the early stages of a big turnaround.
Over the past 12 months, the partnership has simplified its corporate structure and improved its balance sheet. These moves have bolstered Energy Transfer's financial profile. The firm now generates more than $1.75 in distributable cash flow for every dollar paid out to investors.
Looking forward, America's shale revolution should drive profits. New technologies have unlocked vast swaths of oil and gas nationwide, resulting in a boom of energy production. Analysts project that this boom could allow Energy Transfer to grow cash flows at a high single-digit annual clip for the foreseeable future.
But right now, Energy Transfer LP trades at just eight times operating cash flow. That represents a 40% discount compared to the broader pipeline industry. And Wall Street's expectations have never been lower.
Several catalysts could close that gap. Over the past few years, the company has plowed billions of dollars into new pipelines, which will start coming online soon. Moreover, Energy Transfer has initiated huge stock repurchases, which could put a bid underneath its units.
In the meantime, unitholders will get well compensated while they wait. Today, ET stock pays a quarterly distribution of $0.31 per unit, which comes out to an annual yield of 8.1%. That payout will likely grow in the coming quarters in line with the partnership's growing profits.
The Bottom Line on ET Stock
David Tepper, however, isn't the only one bullish on Energy Transfer LP.
Last quarter, billionaire Leon Cooperman revealed a three-million-unit stake in the business. Other hedge fund managers, including Ken Griffin, George Soros, and T. Boone Pickens, have also started building positions. (Source: "Energy Transfer Lp (ET) – Hedge Fund Holdings," Insider Monkey, last accessed May 22, 2019.)
Why have the smartest investors in the world all zeroed in on this top dividend stock? I'd say it means one thing: ET stock is dirt cheap and presents one of the best investment opportunities around today.