Bill Gates Quietly Buying This Top Dividend Stock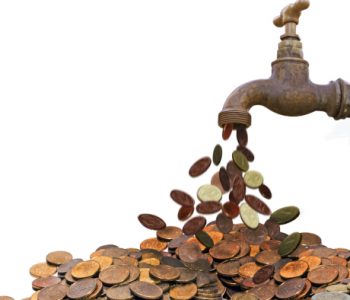 iStock.com/Sumin_Daddy
"Smart Money" Buying This Stock
Bill Gates, one of the richest men in the world, has access to any number of private investments. Just by picking up the phone, he can get in on any opportunity that would be totally off-limits to the likes of regular investors.
That's why I was so surprised to learn that Gates has quietly acquired a large position in a little-known stock traded on the New York Stock Exchange. The deal—and the company itself, for that matter—hasn't received a lot of coverage in the press. But over the past few years, the Silicon Valley icon has purchased a 12% stake in this operation.
Gates wanted to build an even larger position, but he ran into a problem: the company's stockholder rules set a limit on how many shares any one investor could own. Yet Gates believes so much in this company, he negotiated a deal with management so he could buy even more of their stock. (Source: "Bill Gates Buys 1.3 Million Shares of Ecolab Inc.," GuruFocus.com, March 12, 2018.)
What could have this Silicon Valley titan so excited? This obscure company has stocked away a huge cache of intellectual property. Management has acquired thousands of patents in clean water technology, and they have exploited those patents to dominate the market. (Source: "Ecolab Inc patents," Fresh Patents, last accessed September 10, 2018.)
This has created quite the income stream for shareholders. Since 1986, the stock has raised its distribution every single year, earning it a spot on the elite list of "dividend aristocrats." Over that period, shares have delivered a total return of 9,582%, crushing the broader S&P 500.
The company is Ecolab Inc. (NYSE:ECL). As the global leader in cleaning and sanitation, the business enjoys a near-monopoly in one of the world's most important (and lucrative) businesses. Yet despite the heavy buying from financial insiders, retail investors still have time to get in on this story.
Most people have never heard of Ecolab, but the company quietly runs the cleaning and sanitation supplies industry. Its product lineup includes everything from disinfectant wipes and janitorial equipment to eyewash and food preparation gloves. In other words, everything a business might need to promote safe food, maintain a clean environment, increase operational efficiencies, and achieve sustainability goals.
The Business
In recent years, Ecolab moved into several related businesses through two transformative acquisitions. In 2011, the company bought Nalco Holding Company, a water treatment business serving the mining, energy, and paper industries. They followed that move in 2012 with the purchase of Champion Technologies, a specialty chemicals business that makes water treatment for oil drillers. As fresh water costs increase around the world, products and systems that reduce usage have become profitable niches.
The reason behind the company's success is simple: Ecolab operates a "razor-and-blades" business model, not all that different from the one pioneered by Procter & Gamble Co's (NYSE:PG) "Gilette" brand. The company rents out cleaning equipment to customers like hotels, restaurants, and hospitals on the cheap. It then sells the proprietary chemicals used in that equipment for a steep markup. This brilliant approach produces high levels of recurring revenue (a favorite term among financial analysts).

High switching costs also allow Ecolab Inc. to raise prices every year. Switching equipment comes with a big price tag for clients, especially when you include the cost of installation, business downtime, and employee retraining. For this reason, most customers will stomach any price hikes rather than going with a different supplier. And with each additional product Ecolab sells to a business, the more ingrained the company becomes in their daily operations.
But the real key to the company's success? Size. As the largest player in a fragmented industry, Ecolab stands as the preferred partner for large organizations. For example, Shake Shack Inc (NYSE:SHAK), which is rolling out new locations across the country, sticks to Ecolab products to maintain a uniform cleaning standard among all of its franchises. You see the same thing at many restaurants and hotels with a national franchise model. Small regional players can't match this advantage, and it has allowed Ecolab to squeeze out rivals.
For proof, take a look at Ecolab's financials. One of the hallmarks of a wonderful business is consistently good profit margins—in other words, the amount of money the company earns on each dollar in sales. Investors should always look for thick profit margins because that's where the money comes from to pay dividends.

Well, Ecolab doesn't just have good profit margins; it has the fattest margins of any business I know of. The company's gross margins (the profit earned before deducting the basic costs of doing business) are consistently around 50%. Net margins (the profit earned after deducting all expenses) consistently come in around 10% after taxes. That's huge, as most businesses squeeze out returns at only a fraction of these numbers.
The Dividend
So it should come as no surprise to readers that a business this profitable would result in steady, growing dividends for shareholders. In December, Ecolab raised its quarterly distribution by 11% to $0.41 per share. The move represents the company's 26th consecutive annual dividend increase, hence its spot on the elite list of dividend aristocrats.
Ecolab has three main catalysts to boost that distribution even further. First, the water treatment business should benefit from higher prices and the greater need for water conservation worldwide. Second, expansion of the healthcare business to take advantage of an aging population. Finally, exploiting the company's high switching costs by raising prices gradually each year.
Over the next five years, it's possible that Ecolab will be able to grow earnings per share by between 10% and 12% annually. And with one of the strongest track records of dividend growth found anywhere in the U.S. stock market, I have little doubt that the company will continue to pay its shareholders more year after year. Given the firm's low payout ratio (only 32% in 2017), Ecolab could boost its distribution even faster than its earnings growth rate.
With shares trading at a modest discount to our $160.00 fair value estimate and yielding 1.1%, Ecolab offers the potential for long-run total returns slightly above the market average.
The Risks
Of course, you can never call any fair value estimate set in stone. The biggest risk to the above profit forecast would be an Ecolab Inc. customer failing to meet regulatory standards or experiencing a disastrous outcome, such as a bacteria outbreak or product recall. Customers pay a premium for the Ecolab brand, so if one or more clients experienced such a catastrophic problem, the company could lose multiple customers and its brand reputation would suffer for years to come.
I consider the other risks more mundane. Ecolab's biggest customers have a large exposure to changes in consumer spending (especially travel, dining, and oil prices). A prolonged recession would put a big dent in the company's sanitation business. Additionally, Ecolab Inc. now generates more than 40% of sales outside the United States. A sudden surge in the value of the U.S. dollar (much like we've seen over the past few years) would reduce the value of those international sales.
That said, I don't lose too much sleep over the occasional bad year or two. Over the next century, we can expect a handful of recessions. We can't predict exactly when those recessions will occur, but over that time frame, the number of people living worldwide will increase. Moreover, the demand for clean water and other sanitation products will only grow. Any downturn would only represent a blip in the company's long-term trajectory and a big buying opportunity.
The Bottom Line
To be clear, Bill Gates isn't the only one excited about this company.  Billionaire investor Israel Englander has quietly bought up shares in the business. Other hedge fund managers, including Jim Simons, D.E. Shaw, and Ken Griffin, have also started buying. (Source: "Ecolab Inc. (ECL) – Hedge Fund Holdings," Insider Monkey, last accessed September 10, 2018.)
What could have all of these money titans excited about such an obscure business? I'd say it means one thing: sanitation and clean water technology will represent one of the most important and profitable businesses over the next century, and these investors see a lot more upside ahead.