Bill Gates Invested $861.0 Million Into This Dividend Stock. Should You?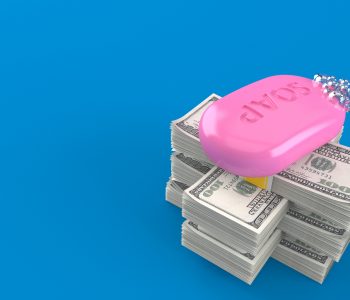 iStock.com/Talaj
Bill Gates Quietly Buying This Top Dividend Stock; Here's Why
Bill Gates has access to an unlimited number of investment opportunities. With a phone call, the tech billionaire can get in on the ground floor of any Silicon Valley startup.
So you might be surprised by his latest acquisition. In recent years, Gates has quietly bought a position in a quiet, little-known dividend stock. The deal received little press coverage and many analysts never heard about it.
The company: Ecolab Inc. (NYSE:ECL). Gates has purchased 4.3 million shares, according to his most recent filings with the U.S. Securities and Exchange Commission (SEC). At the time of this writing, the total value of his position stands at $861.0 million. (Source: "Form 13F," U.S. Securities and Exchange Commission, August 14, 2019.)
Income investors might be wise to take notice.
At first glance, the stock seems like an odd choice for a tech titan. Ecolab specializes in cleaning and sanitation supplies, selling everything from eyewash and food preparation gloves to disinfectant wipes and janitorial equipment. In other words, less 21st-century "Internet 2.0" and more 20th-century "Dividend Aristocrat."
But the company has a hidden asset. Over the past few decades, Ecolab Inc. has acquired thousands of tech patents. This has positioned the company as a world leader in sanitation, clean water, and energy efficiency. In a world of increasingly scarce resources, businesses turn to this firm's technology to do more with less.
It's "save the planet"-type stuff minus the environmental snobbishness. Last year, Ecolab helped businesses save 188.0 million gallons of water and conserve 19.0 trillion British thermal units of energy. In total, the company reduced corporate greenhouse gas emissions by 1.4 billion pounds, the equivalent to taking 140,000 cars off the road. (Source: "Corporate Overview," Ecolab Inc., last accessed August 19, 2019.)
For shareholders, that has translated into quite the income stream. Since 2004, Ecolab's earnings per share (EPS) have increased to $5.12. That represents a growth rate almost twice as fast as the average company in the S&P 500.
And most of that money is returned to investors. Since 2007, Ecolab has paid out a combined $8.0 billion in dividends and buybacks. During that period, the distribution has been boosted every single year. The stock now pays a quarterly dividend of $0.46 a share, which comes out to a yield of almost one percent.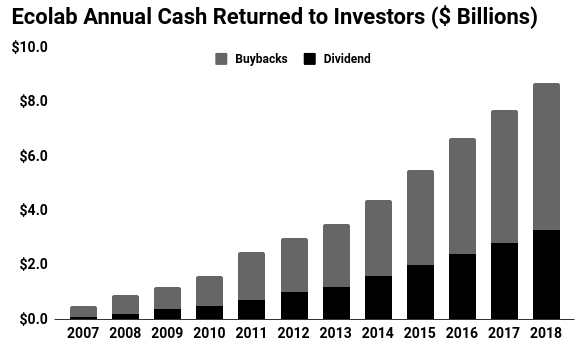 (Source: Ibid.)
No, that payout won't impress some yield hogs, but investors have good reason to expect that payout to surge in the years ahead.
Through 2024, analysts project that Ecolab Inc.'s EPS will grow at a low-teen annual clip. Much of this will come from increased demand for the company's water and energy efficiency products. Acquisitions, price hikes, and cost cuts will also pad the bottom line.
Ecolab's distribution could grow even faster. Over the past few years, management has opted to pay out a larger percentage of income to shareholders. Today, the company pays out only $0.36 in dividends for every dollar generated in profits. This rate, however, still stands below that of the firm's closest competitors. It also leaves Ecolab executives with ample room to boost it further while still funding new investments.
Forget hot tech startups; investors should follow Bill Gates' example and give ECL stock a look.