The Biggest Dividend Investment Opportunity of 2020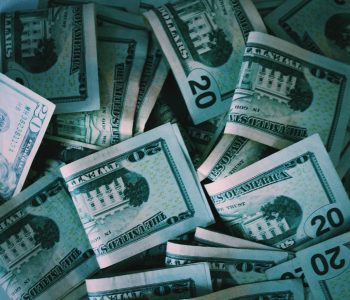 5G Boom Could Trigger Dividend Investment Bonanza
In November, an event took place that added momentum to what I'm calling the biggest dividend investment opportunity of 2020.
AT&T Inc. (NYSE:T) announced that it would be opening up its fifth-generation (5G) network to consumers by the end of 2019.
The carrier will offer the new service initially in five cities: Indianapolis, Pittsburgh, Providence, Rochester, and San Diego. But through early 2020, management plans to expand the coverage to more than 10 additional U.S. cities. (Source: "AT&T Begins Extending 5G Services Across the U.S." AT&T Inc., November 22, 2019.)
For years, I have been writing about this next wave of mobile technology. The release of the third-generation (3G) and fourth-generation (4G) mobile networks each created waves of new millionaires. And given that our world has only become more reliant on the Internet to function, 5G could be larger than the last two rollouts combined.
In plain English, 5G will mean a faster, more seamless experience when browsing the Internet on the go. The new technology promises to reduce latency (the delay between when your phone sends and receives a signal) by 90%.
Tech analysts also predict that 5G service will boost mobile browsing speeds 100-fold. (Source: "Everything You Need to Know About 5G," Qualcomm, Inc., last accessed December 23, 2019.)
To put that in perspective, it would have taken you 26 hours to download a two-hour film on the old 3G network. Today, that download only takes six minutes using 4G tech. But with 5G, you'll be able to watch your film in just 3.5 seconds. (Source: "What is 5G? | CNBC Explains," CNBC International, March 29, 2019.)
But this technology will have a much bigger impact than just faster downloads. Self-driving cars, for instance, need a constant stream of data. With the rollout of 5G technology, autonomous vehicles will be able to operate in a safer fashion. Analysts also predict that 5G could be the catalyst for a wave of new technologies, such as remote surgeries, smart cities, drone delivery services, and the Internet of Things.
The investment opportunity here could be huge.
When the industry introduced 4G across the United States in July 2010, wireless carriers like AT&T, Verizon Communications Inc. (NYSE:VZ), T-Mobile US Inc (NASDAQ:TMUS) all delivered triple-digit gains over the following few years. The boom also unleashed a wave of innovative new businesses like Lyft Inc (NASDAQ:LYFT), Snap Inc (NYSE:SNAP), and Uber Technologies Inc (NYSE:UBER).
5G could blow the previous boom out of the water. According to estimates by ABI Research, the market for 5G technology and services worldwide could reach $2.4 trillion in direct contributions over the next few years. For context, that's about 2.2-times higher than the 4G market today. (Source: "5G for Connected Cities Predicted to Generate US$17 Trillion by 2035, Reveals ABI Research," Globe Newswire, June 7, 2019.)
I have long advocated looking at shares of companies that are peddling "picks and shovels" during the 5G boom. In a gold rush, selling supplies to miners often represents the safer, and more profitable, way to profit from a boom than panning for gold yourself. And that plays out in other sectors like technology, too.
Crown Castle International Corp. (NYSE:CCI) is a case in point. Since I first featured the cell phone tower landlord in my paid advisory Automated Income in January 2018, its share price has popped by about 35%. Management has also hiked the stock's distribution on two occasions, raising the payout by 14% to $1.20 per share.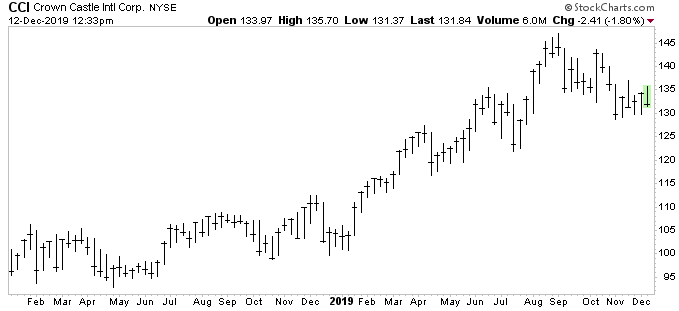 Chart courtesy of StockCharts.com
That's just the beginning. Over the next few years, mobile carriers will have to spend billions of dollars beefing up their networks to accommodate 5G. This avalanche of cash has already sparked bidding wars on tower sites, with carriers jostling for the best spots. Crown Castle has invested billions of dollars in constructing new broadcasting locations, adding to the company's bottom line.
Of course, cell phone towers constitute just one of many "pick and shovel" dividend investment opportunities. 5G ranks as one of the biggest dividend investment trends of the next decade, so don't be surprised to see more players in the months ahead.