B&G Foods, Inc. Dishes Out Safe 6.3% Yield & Provides Strong Guidance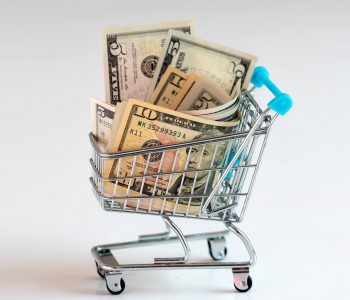 B&G Foods Stock Pays Consistent Dividends
There's no way of saying it without sounding a little crass, but COVID-19 was a blessing in disguise for B&G Foods, Inc. (NYSE:BGS). With offices closed, restaurants shuttered, and millions of North Americans quarantined, more and more people were staying at home to eat. That was a boon to many stocks in the packaged goods industry, especially BGS stock.
B&G Foods manufactures, sells, and distributes shelf-stable and frozen foods across the U.S., Canada, and Puerto Rico. Its products include condiments, dressings, sauces, pizza crusts, seasonings, marinades, crackers, syrups, spreads, frozen vegetables, and canned foods. (Source: "Brands," B&G Foods, Inc., last accessed July 26, 2021.)
It's all about brand loyalty, and B&G Foods has a diverse portfolio of brands that most North Americans have encountered. Some of the company's 50+ brands are "Cinnamon Toast Crunch," "Cream of Wheat," "Crisco," "Green Giant," "Sugar Twin," and "Weber."
B&G Foods reported decent financial results for 2019. In February 2020, the company's president and CEO at the time, Kenneth G. Romanzi, said, "I am happy to report 2019 financial results that are consistent with our short-term and long-term plans, which are based on our goal of a stable base business with pricing and cost savings initiatives to offset inflation…" (Source: "B&G Foods Reports Financial Results for Fourth Quarter and Full Year 2019," B&G Foods, Inc., February 25, 2020.)
The company's 2019 full-year financial results were decent and consistent, but certainly not a home run.
For fiscal 2020, the company provided a solid outlook:
Net sales in the range of $1.66 billion to $1.68 billion
Adjusted earnings before interest, taxes, depreciation, and amortization (EBITDA) in the range of $302.5 million to $312.5 million
Adjusted diluted earnings per share (EPS) of $1.60 to $1.80
But then COVID-19 hit and B&G Foods, Inc. did much better than expected. You could read it in the company's press releases: "B&G Foods Reports Strong Net Sales and Earnings Growth for First Quarter 2020," "B&G Foods Reports Strong Net Sales and Earnings Growth for Second Quarter 2020," and "B&G Foods Reports Strong Net Sales and Earnings Growth for Third Quarter 2020." You get the picture.
B&G Foods reported full-year 2020 results that trounced earlier projections. The company's full-year net sales jumped by 18.5% to $2.0 billion. Its adjusted EBITDA climbed by 19.4% to $361.2 million. Its adjusted diluted EPS grew by 37.8% to $2.26. Its net cash provided by operating activities increased from $46.5 million to $281.5 million. (Source: "B&G Foods Reports Strong Net Sales and Earnings Growth for Fourth Quarter and Full Year 2020," B&G Foods, Inc., March 2, 2021.)
Commenting on the 2020 results, David L. Wenner, interim president and CEO, stated, "It would be a gross understatement to say that 2020 was a year like no other year; COVID-19 brought an incredible amount of suffering, inconvenience and, unfortunately, death with it. It's humbling that our company benefitted from such tragedy…that we were able to respond as well as we did to the increased needs of consumers as they coped with COVID-19 and the resultant quarantines." (Source: Ibid.)
The company expects the good times to continue throughout 2021. For fiscal 2021, B&G Foods' net sales, which will be positively impacted by an additional 11 months of ownership of the Crisco brand, are expected to be approximately $2.05 billion to $2.10 billion.
67th Consecutive Quarterly Dividend
In May, B&G Foods, Inc. announced that its board of directors declared a regular quarterly cash dividend of $0.475 per share. The current dividend amount for B&G Foods stock translates to an annual yield of 6.3%.
This also marks the 67th consecutive quarterly dividend the company has declared since going public in October 2004.
Before the coronavirus pandemic hit, B&G Foods had been consistently raising its annual dividend. Between 2010 and 2019, BGS stock's annual dividend payout climbed by 179%. In 2020, the company held its annual payout at $1.90 per share of B&G Foods stock, which was an astute thing to do. It's good to preserve capital during the worst economic crisis in 100 years.
That said, this dividend stock still maintained its payout at $1.90 in 2020. That shows management was confident about its initial outlook and the balance sheet.
| | |
| --- | --- |
| Fiscal Year | Dividend Amount |
| 2020 | $1.90 |
| 2019 | $1.90 |
| 2018 | $1.89 |
| 2017 | $1.86 |
| 2016 | $1.725 |
| 2015 | $1.38 |
| 2014 | $1.36 |
| 2013 | $1.23 |
| 2012 | $1.10 |
| 2011 | $0.86 |
| 2010 | $0.68 |
(Source: "Dividends," B&G Foods, Inc., last accessed July 26, 2021.)
Thanks to a blockbuster 2020 and optimistic guidance for 2021, chances are good that B&G Foods will resume its quarterly dividend hike this year.
As for its share price, BGS stock has rebounded nicely from its March 2020 low. As of this writing, B&G Foods stock is up by:
Five percent over the last six months
Five percent year-to-date
25% year-over-year
225% since bottoming in March 2020
BGS stock has easily erased all of its losses associated with the coronavirus-fueled sell-off. But, like the broader stock market, B&G Foods stock has been trading in a tight range for the last few months. That's mostly because investors are waiting to see what the Federal Reserve is going to do. Will it maintain its current monetary policy or will it start to rein it in sooner than expected?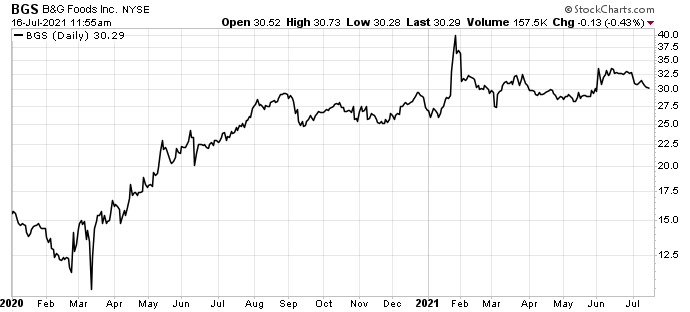 Chart courtesy of StockCharts.com
The Lowdown on B&G Foods, Inc.
B&G Foods, Inc. has performed exceptionally well during the coronavirus pandemic. Investors have rewarded the company's continued strength with big increases to the price of BGS stock. And B&G Foods stock has rewarded investors with a high-yield dividend.
Thanks to a robust outlook for 2021, the company's high dividend looks like it's safe. If anything, the company could increase its payout this year.