Best Dividend Stocks: $1,000 Turned Into $180,000, Safely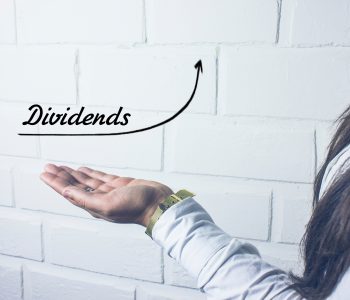 iStock.com/sasun1990
The Best Dividend Stock You Never Heard Of
It's the "best dividend stock you never heard of."
That's how I described niche insurer RLI Corp (NYSE:RLI) when I wrote about it in my paid advisory Passive Monthly Income. The company ranks as one of the top income stocks in history, with 44 years of consecutive dividend increases.
That has, as you can probably imagine, resulted in jaw-dropping returns. If you had invested $1,000 back in 1988, your position would have grown to over $180,000 today. Yet I'd bet 99 out of 100 people have never heard of this company.
But how did RLI Corp do it?
Long-time readers know I'm a big fan of the insurance industry because of one quirk in their business model. Customers always pay premiums upfront, sometimes years before they ever file a claim. In the meantime, insurance companies can invest the cash as they please—pocketing any interest, dividends, and capital gains. Think of it as an interest-free loan.
No other business in the world enjoys this kind of advantage. Most companies must pay for capital, either through interest on bonds or dividends on equity. But a well-managed insurance company pays nothing to fund its business.
And this explains why insurance companies have proven to be the best dividend stocks around. Investing legends Ben Graham and Warren Buffett built most of their fortunes in the insurance business. In 1970, Shelby Davis invested $50,000 in just 12 insurance companies. By the 1980s, Forbes magazine ranked him as one of the wealthiest people in the world.
But here's what sets RLI stock apart. The company doesn't compete in popular segments like life, auto, and home insurance. Instead, management has stuck to tiny niches. RLI Corp writes policies on everything from marine cargo and construction equipment to surety bonds—insurance that reimburses buyers in case a third party fails to keep up their end of a business deal.
Because RLI Corp faces little in the way of competition in these niches, management can charge steep premiums. This has allowed the company to generate an underwriting profit on its insurance operations for 24 consecutive years. That's impressive, given that most companies actually lose money writing insurance—making their profits on investment income instead.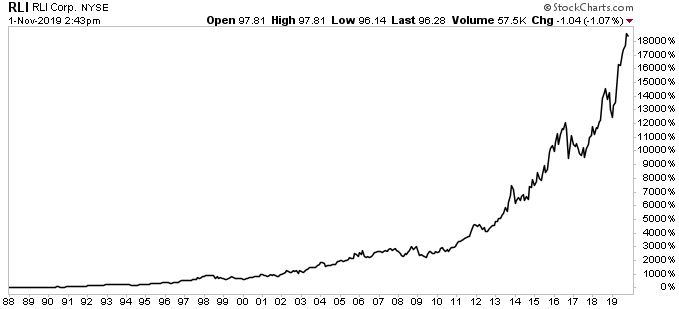 Chart courtesy of StockCharts.com
What does management do with all of this money? For the most part, they pay it all out to shareholders. As mentioned above, RLI Corp has boosted its distribution for 44 years. Today, the company pays a quarterly dividend of $0.23 per share, which comes out to an annual yield of about one percent.
To boost this payout further, executives also pay annual special dividends. The board approved supplemental payments of $2.00 in 2015, $2.00 in 2016, $1.75 in 2017, and $1.00 in 2018.
You can't call these payments set in stone, of course. And there's no guarantee that management will continue to make these supplemental payments. But in all likelihood, shareholders can expect another large special dividend later this year.
That should keep RLI stock on the list of the best dividend stocks for many years to come.