Best Buy Returns $309.0 Million to Shareholders in Buyback Plan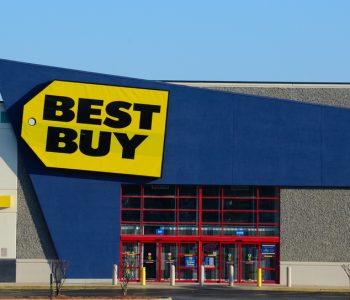 Retailer Second-Quarter Profit Beats Estimate
Best Buy Co., Inc. (NYSE:BBY) said it returned $309.0 million to shareholders during the second quarter of the fiscal year 2017 as part of its $1.0-billion share buyback plan.
In a statement to its shareholders, the retailer said that, on a year-to-date basis, the company has returned $641.0 million in share buyback and dividend payouts. Last month, Best Buy paid $0.28 a share in quarterly dividends, which is an increase of 18% when compared to same period a year ago. (Source: "Best Buy Reports Better-Than-Expected Second Quarter Results," Best Buy, August 23, 2016.)
The dividend increase comes as the company said its net profit surged by 22%, beating analysts' profit forecast of $0.43 cents a share, according to a Thomson Reuters estimate. (Source: "Best Buy profit beats estimates; shares surge," Reuters, August 23, 2016.)
Best Buy's diluted earnings per share climbed to $0.56 per share in the quarter ended July 30 from the same period a year ago. The rise in earnings was led by a 24% jump in domestic online sales, which grew to $835.0 million due to increased traffic, higher average-order values, and higher conversion rates, the company said in the earnings statement.
"We saw continued positive momentum in our online sales—delivering a second straight quarter of nearly 24% growth," Best Buy Chairman and Chief Executive Officer Hubert Joly said in a statement today. "We also continued to deliver cost savings and drive efficiencies in the business, a discipline that is critical to our ability to invest in our future." (Source: Best Buy, op cit.)
While sharing the future outlook for the business, Chief Financial Officer Corie Barry said the company anticipates that the third-quarter non-GAAP diluted earnings per share will range between $0.43 to $0.47 on revenue of $8.8 billion to $8.9 billion.
The company said higher sales for health and wearable items contributed to the better-than-expected profit in the second quarter. Demand for home theater, major appliances, and computing also rose, while mobile phone and gaming sales declined. (Source Ibid.)
Domestic revenue was almost flat at $7.9 billion, a 0.1% increase, in comparison to last year's comparable sales growth of 0.8%. During that period, the company closed 12 large-format and 22 Best Buy Mobile stores, resulting in the loss of revenue.
Best Buy's shares climbed 17% during the morning trading in New York after it surprised investors with its better-than-expected earnings and by raising its profit forecast for the third quarter. The company was trading at $38.49 after remaining flat over the past three years, but the number is still considerably higher than after hitting its yearly bottom on January 19.