BCE Inc.: This Little-Followed "Forever Asset" Yields 6%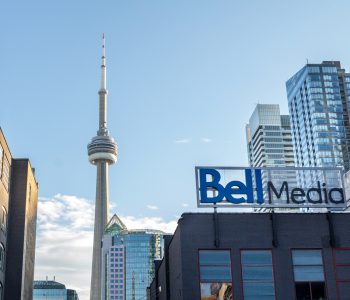 iStock.com/BalkansCat
A Stock for the Next 100 Years
Today, we check in again on my favorite type of business… "Forever Assets."
Forever Assets constitute a group of stocks you can own for the rest of your life. These firms have paid out dividends—not just over years or decades, but for generations.
BCE Inc. (NYSE:BCE) is a perfect example. You almost never see this Canada-based telecom mentioned in the financial press. In comparison to cryptocurrencies and hot tech stocks, this company would make most readers' eyes glaze over.
Loyal shareholders, however, don't seem to mind. BCE has paid dividends for decades, in addition to delivering tidy capital gains. While this business might not get your blood pumping, its status as a Forever Asset comes down to a couple of points.
BCE sells an essential service, to begin with.
The company charges customers for telephone, Internet, and television services each month. Even during a recession, people tend to pay these bills.
Sure, the cable business has struggled in recent years as customers have been cutting the cord. But in response, BCE has simply jacked up prices for Internet subscriptions. As long as Canadians want some connection to the outside world, this company will get a commission.
And business, it seems, is quite profitable.
A cozy oligopoly controls the Canadian telecom market. These firms don't compete fiercely on price, and this maximizes profits across the entire industry.
New competitors would have a tough time breaking into this business. It would cost billions of dollars to replicate BCE's collection of telephone wires, cable assets, and wireless spectrum. And even if someone could raise that kind of money, customers often can't be bothered to switch service providers.
Bad news maybe for households, but great news for shareholders.
Canadians pay nearly three times more for wireless service than do U.S. customers. As a result, BCE's profit margins have become the envy of the global wireless industry. (Source: "Unlimited pushes data usage to new heights," Tefficient, January 5, 2017.)
Most of that money gets returned to shareholders. Today, BCE pays out a quarterly dividend of $0.76 per share, which comes out to an annual yield of nearly six percent. And as you can see in the chart below, shares have delivered double-digit compounded annual returns for decades.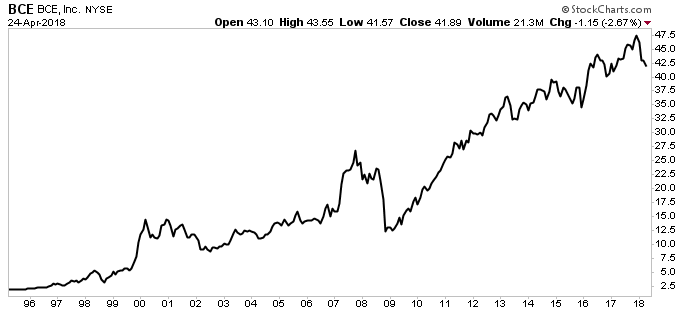 Chart courtesy of StockCharts.com
Here's the thing…
Most people want "sexy" investments. They want a good story. They want something that's "working" right now.
But, as the case of BCE shows, the best investments tend to be boring, little-followed businesses. This Forever Asset won't knock your socks off and you won't see it mentioned often on CNBC. Loyal shareholders, however, probably don't mind.