Bank of America Corp: Triple-Digit Returns from Automated Income Codes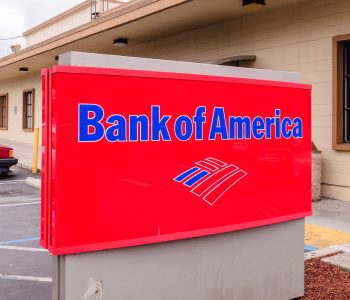 iStock.com/jejim
These Stocks Post 100%+ Gains
Subscribers to our newsletter Retirement Riches have earned triple-digit returns on "Automated Income Codes." Some readers might think the run has to come to an end, right? I'm inclined to disagree, though.
For those who aren't familiar, we coined the phrase "Automated Income Codes" to describe America's elite banking firms. These businesses serve like financial tollbooths on economic activity, earning small fees every time people transfer money, service debt, save for retirement, start a new business, or generally just get along with daily life. As a result of this privileged position, these companies earn outrageous profits (which tend to get passed on to shareholders in the form of lucrative dividends and buybacks).
Case in point this month: Bank of America Corp (NYSE:BAC). The company recently reported a strong series of financial results, which bodes well for the bank's future.
We saw a big increase in profits from traditional banking operations (borrowing and lending money), to begin with. Net interest income jumped by 11% from $1.2 billion to $11.5 billion. Management credited this increase to higher interest rates, as well as to growth in loans and deposits. (Source: "Bank of America Reports Q4-17 Net Income of $2.4 Billion, EPS $0.20," Bank of America Corp, January 17, 2018.)
We're also seeing the bank earn more money from fees. Last quarter, non-interest income topped $9.0 billion, primarily driven by higher fees for credit cards, investment banking, and asset management. With management finding more ways to nickel-and-dime customers, this has become an important revenue center.
"Client activity was strong across all of our businesses in 2017," said CFO Paul M. Donofrio. "Once again, we delivered positive operating leverage by carefully managing expenses even as we continued to invest in new capabilities and technology that make it easier for our customers to do business with us. Our balance sheet remains strong and we believe we are well positioned for growth." (Source: Ibid.)
President Donald Trump's tax bill could also provide a windfall for shareholders. As we mentioned in last month's issue of Retirement Riches, new legislation will cut corporate tax rates and reduce the levy that firms pay to repatriate foreign cash holdings.
Financial firms have promised to use these proceeds to increase wages, expand operations, and lower prices. In the case of Bank of America, though, management has pledged most of these funds to dividend hikes and share buybacks, both of which are possible share price catalysts in the coming years.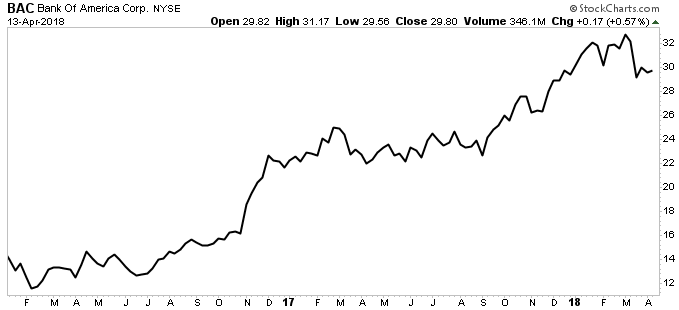 Chart courtesy of StockCharts.com
To put it another way, don't take profits on "Automated Income Codes" like Bank of America just yet. These companies have a lot of trends working in their favor, which should translate into good returns for shareholders. We continue to stay bullish on these stocks.