The Bank of Nova Scotia Raises Quarterly Dividend on Earning Strength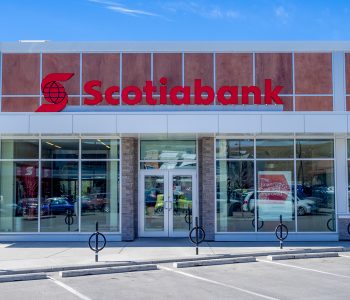 Calgary, Canada - March 29, 2015: Scotiabank branch in Calgary on May 29, 2015 in Calgary, Alberta Canada. Scotiabank is a major Canadian bank, and this branch is located at Aspen Landing in Calgary.
Canadian Lender Beats Profit Forecast
The Bank of Nova Scotia (TSE:BNS) is the latest Canadian bank to hike its dividend after reporting another round of strong profits.
After posting a six-percent increase in its fourth-quarter earnings, Canada's third-largest lender by assets announced that it will increase its quarterly dividend by $0.02 per share to $0.74. The lender posted a profit of about $1.9 billion in third quarter. After some adjustments, Scotia reported a $1.54-per-share profit.
"Our profitable businesses combined with our strong capital ratios positions the bank well to make the necessary investments to better serve our customers, grow our businesses and continue to create value for our shareholders," said Brian Porter, Scotiabank's chief executive officer. (Source: "Scotiabank Reports Third Quarter Results," Scotiabank, August 30, 2016.)
Investors were fearing some disappointing earnings announcements from Canadian lenders after a prolonged recession in commodity prices. Being one of the largest components of the Canadian economy, energy and mining companies are big borrowers from the banking system and their deteriorating business outlook may depress earnings at Canadian lenders.
But so far, Canadian big banks have weathered this storm quite nicely by demonstrating that they can pursue growth in other areas.
Scotiabank showed notable improvement in its energy-related loans. Scotiabank set aside $37.0 million to cover bad loans to energy companies in the third quarter, down from $150 million in the second quarter. The decline, "is consistent with our previously stated expectations that energy losses had peaked during the last quarter," Porter said in the statement. (Source: Ibid.)
The bank's exposure to the energy sector also declined slightly, to $16.1 billion in loans, or 3.3% of total loans. That is down from $16.3 billion in energy loans last quarter and 3.4%of total loans. The lender said that 52% of its loans to the energy sector are investment grade.
Scotiabank's Canadian retail banking division reported a profit of $930 million, a jump of eight percent from last year.
Global banking and markets, which includes capital markets, reported a profit of $421 million, an increase of 12% from the same period a year ago. Shares of the Toronto-based lender rose about two percent to $70.04.