Bank of America Corp: Warren Buffett Buying This Dividend Stock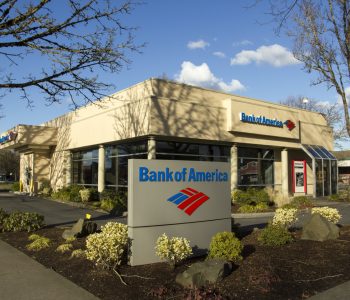 iStock.com/hapabapa
Why Warren Buffett Invested $29 Billion in Bank of America Stock
This company has long topped my list of the best dividend stocks. And apparently, legendary investor Warren Buffett feels the same way.
In July, Buffett's holding company Berkshire Hathaway Inc. (NYSE:BRK.B) revealed that it had boosted its stake in Bank of America Corp (NYSE:BAC) by $1.6 billion.
The move raised Buffett's stake in the financial giant to over 950 million shares, valued at $29.0 billion. BAC stock now represents Berkshire's second-largest holding, behind only Apple Inc. (NASDAQ:AAPL). (Source: "Buffett buys more Bank of America stock, with stake's value rising to $29 billion," MarketWatch, July 29, 2019.
Admittedly, the purchase raised eyebrows on Wall Street. Tight margins, a slowing economy, and low interest rates have put pressure on financials. The KBW Bank Index, which serves as a barometer for the banking industry, has dropped four percent over the past year, underperforming the S&P 500 by nine percent.
But analysts may have exaggerated those problems. The big six—Bank of America Corp, Morgan Stanley (NYSE:MS), Citigroup Inc (NYSE:C), JPMorgan Chase & Co. (NYSE:JPM), The Goldman Sachs Group Inc (NYSE:GS), and Wells Fargo & Co (NYSE:WFC)—trade between just seven to 10 times their estimated 2019 profits.
By comparison, the average stock in the S&P 500 trades for almost 21 times next year's income. Buffett has laid out a bullish case for all of them.
Bank of America stands out, in particular. CEO Brian Moynihan has repeatedly stressed the idea of "responsible growth," shedding riskier businesses and expanding through conservative lending. The company now enjoys one of the better earnings outlooks among its peers, thanks to a top consumer banking franchise and lucrative wealth management business.
Investors will get paid well while they wait for the market to recognize the company's value. In June, management boosted the quarterly dividend by 20% to $0.18 per share. Executives also upped the bank's share buyback program to $30.9 billion. This reduces the total number of outstanding shares and increases the value of remaining positions. (Source: "Bank of America Announces Planned Capital Distributions," Bank of America Corp, June 27, 2019.)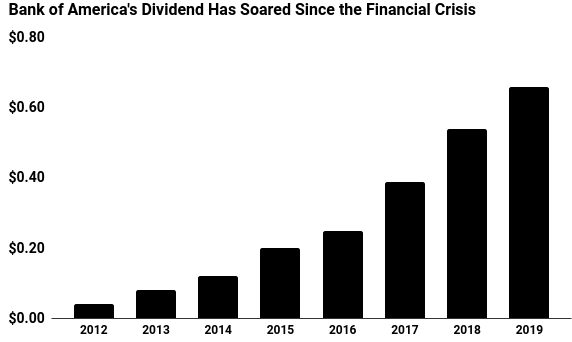 (Source: "Bank of America Corporation (BAC)," Yahoo! Finance, last accessed August 12, 2019)
"Bank of America has done a sensational job under Brian Moynihan," said Buffett in a 2017 interview. "We will be holders of BofA stock for a long, long, long time." (Source: "Warren Buffett says he will own Bank of America stock for a 'long, long, long time'," CNBC, October 3, 2017.)
Income investors might be wise to follow suit.