Bank of America Corp Returns Billions of Dollars in Cash to Investors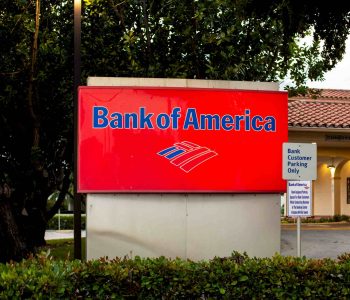 Why Income Investors Should Consider BAC Stock
You might not be able to collect much interest from savings accounts these days, but that doesn't mean you can't earn a decent return from banks.
Of course, I'm talking about dividend stocks. Thanks to a solid economic recovery in the U.S., the largest banks are now more generous to shareholders than before.
Take a look at Bank of America Corp (NYSE:BAC), for instance. In late July, the company's board of directors declared a quarterly cash dividend of $0.21 per share, representing a 17% increase from the bank's prior quarterly payment of $0.18 per share. The new dividend will be paid on September 24 to shareholders of record as of September 3. (Source: "Bank of America Increases Common Stock Dividend 17 Percent," Bank of America Corp, July 21, 2021.)
At its current price, Bank of America stock's quarterly dividend rate translates to an annual yield of 2.1%.
That yield might not look that impressive, but keep in mind that we're in a low-yield, low-interest economic environment. Most savings accounts in the U.S. pay less than 0.6% per annum. And the last time I checked, the average dividend yield of all S&P 500 companies was just 1.3%. (Source: "S&P 500 Dividend Yield," multpl.com, last accessed September 10, 2021.)
In other words, while BAC stock's payout won't wow any yield-seeking investors, it's not stingy either. Moreover, the bank's dividends have grown over the years.
The restrictions put in by the U.S. Federal Reserve in light of the COVID-19 pandemic meant the largest banks in the country—including Bank of America—couldn't raise their dividends in 2020. But looking further back, we see that Bank of America stock increased its payout in 2016, 2017, 2018, and 2019. (Source: "Dividends for Bank of America Corporation (BAC)," Bank of America Corp, last accessed September 10, 2021.)
The bank also returns cash to investors through stock buybacks. In April, Bank of America's board of directors authorized the repurchase of up to $25.0 billion of common stock over time. (Source: "Bank of America Announces $25 Billion Common Stock Repurchase Plan," Bank of America Corp, April 15, 2021.)
With buybacks, shareholders don't get a check in the mail like they do with dividends. But by reducing the number of shares outstanding, the program allows the remaining shareholders to own a larger portion of the company.
In the second quarter of 2021, Bank of America repurchased $4.2 billion of its own shares. Adding in the $1.5 billion in dividend payments, the bank returned a whopping $5.7 billion to shareholders in the most recent reporting quarter.
The company has a solid business to back those payouts. Bank of America Corp is one of the largest financial institutions in the world, offering a full range of banking, asset management, and other financial and risk-management products and services to consumers, small and middle-market businesses, and large corporations. In the U.S., the company has a network of approximately 4,300 branches, 17,000 ATMs, and 66 million consumer and small business clients.
In the second quarter of 2021, Bank of America generated $21.5 billion of total revenue, which was down by about four percent from a year earlier. This was due to a six-percent drop in net interest income because of lower interest rates. Banks make money by lending capital out at higher interest rates than they borrower it at. The falling interest rates squeezed that margin. (Source: "Bank of America Reports Second-Quarter 2021 Financial Results," Bank of America Corp, July 14, 2021.)
The more impressive number was the bottom line. In the second quarter of 2021, the bank earned net income of $9.2 billion, or $1.03 per share, marking a huge increase from the $3.5 billion, or $0.37 per share, it generated in the year-ago period. The improvement included a $1.6-billion benefit in provision for credit losses and a $2.0-billion positive tax adjustment related to the revaluation of U.K. deferred tax assets.
Note that the bank's earnings of $1.03 per share were well above its second-quarter dividend payment of $0.18 per share.
Bottom Line on Bank of America Corp
As the economy recovers from the COVID-19 pandemic and the related lockdowns, the stock market has hopped on a nice uptrend.
During this period, bank stocks have received a lot of investor enthusiasm. In the case of BAC stock, its share price went up by more than 60% over the past year. Since Bank of America Corp's business is solid and its payouts are on the rise, Bank of America stock deserves income investors' attention.