AVGO Stock: Here's Why Broadcom Ltd Stock Is Going Crazy Today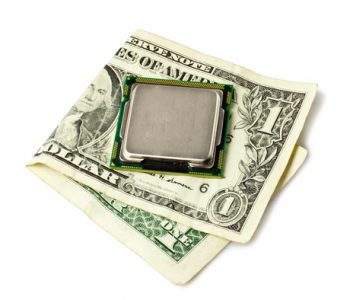 Broadcom Stock (AVGO) Reports Earnings and Hikes dividends
Broadcom Ltd (NASDAQ:AVGO) stock had a great run so far into 2016. The good news is, the bull run might not be over just yet. On Thursday, December 8, Broadcom stock surged 3.5% in after-hours trading. And that's on top of its 1.28% gain in the regular trading session.
Why is Broadcom stock surging? Because the company just reported earnings.
Before looking at the details of this report, keep in mind that Broadcom Ltd is the successor to Avago Technologies Ltd, following Avago's acquisition of Broadcom Corporation (NASDAQ:BRCM) this February. The results in Thursday's earnings report exclude discontinued operations.
In the fourth quarter of Broadcom's fiscal 2016, ended October 30, the company generated $4.14 billion of net revenue, representing a nine-percent increase sequentially and a 125% increase year-over-year. The top-line number also beat Wall Street's expectation of $4.12 billion. (Source: "Broadcom Limited Announces Fourth Quarter and Fiscal Year 2016 Financial Results and Interim Dividend," Nasdaq GlobeNewswire, December 8, 2016.)
The bottom line was impressive as well. Net income from continuing operations came in at $3.47 per share, beating analysts' estimate of $3.36 per share.
AVGO stock also had good news for income investors. Broadcom's board of directors has approved a quarterly interim cash dividend of $1.02 per share, representing a 100% increase over the $0.51-per-share that Broadcom stock paid in the previous quarter. The new dividend will be paid on December 30, 2015 to shareholders of record as of December 16.
"Fiscal 2016 was clearly transformative for our company with the acquisition of Broadcom Corporation. We finished the year on a very strong note, delivering a record level of revenue with 9 percent sequential revenue growth in the fourth quarter," said Broadcom President and Chief Executive Officer Hock Tan in a statement on Thursday. "Reflecting the operating leverage from our larger scale and improved profitability, we announced today a doubling of our dividend."
With the dividend hike, Broadcom stock would have an annual dividend yield of 2.32%.
Year-to-date, AVGO stock has climbed 21.4%.