Autoscope Technologies Corp: Overlooked Tech Stock With Safe 7.1% Dividend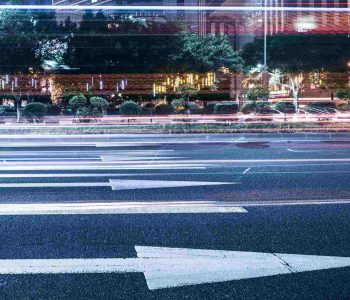 Autoscope Technologies Stock Poised for Growth
Technology stocks aren't really known for paying out high-yield dividends. Cisco Systems Inc (NASDAQ:CSCO) pays a 2.5% dividend, Intel Corporation (NASDAQ:INTC) pays 2.7%, and IBM (NYSE:IBM) pays a respectable 4.8%. All solid dividends, but they pale in comparison to the 7.1% dividend provided by Autoscope Technologies Corp (NASDAQ:AATC).
Most people aren't all that familiar with AATC stock and its frothy dividends. There's a reason for that.
In April, Image Sensing Systems, Inc. announced that it completed its previously announced reorganization, which resulted in a new holding company, Autoscope Technologies Corp. (Source: "Image Sensing Systems, Inc Announces Strategic Changes," Image Sensing Systems, Inc., April 29, 2021.)
Autoscope became the new parent company of Image Sensing Systems and replaced it as the public company trading on the Nasdaq.
All outstanding shares of Image Sensing Systems were converted on a one-for-one basis into common shares of Autoscope Technologies stock, with Image Sensing Systems operating as a wholly owned subsidiary of Autoscope.
In May, Autoscope Technologies Corp also announced that, based on its financial strength and earnings, it initiated a quarterly cash dividend of $0.12 per common share of AATC stock. The company also announced a share repurchase program.
News of the reorganization, dividend, and share repurchase program helped underscore the company's commitment to transforming into a profitable business capable of generating sustainable higher earnings and investing in new growth opportunities.
Investors rewarded the news by sending Autoscope Technologies stock's price considerably higher. Trading at its highest level in 10 years (including when the company was called Image Sensing Systems, Inc.), AATC stock is up by:
21% over the last six months
55% year-to-date
89% year-over-year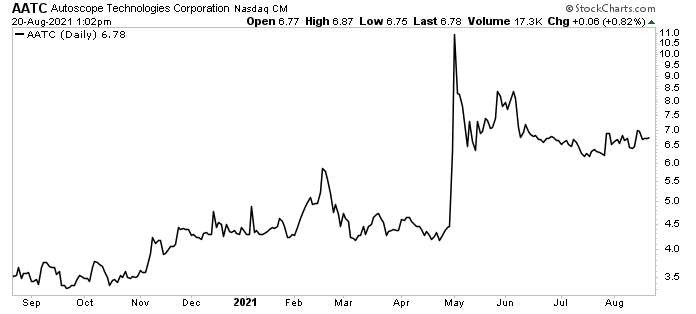 Chart courtesy of StockCharts.com
So, what exactly does Autoscope do? Through its Image Sensing Systems division, Autoscope provides technology, applications, and solutions for the intelligent transportation systems industry. Or, put another way, the company helps improve the safety of highways by creating above-ground detection technology. (Source: "About," Autoscope Technologies Corp, last accessed August 26, 2021.)
The company's video detection, radar detection, and "IntellitraffiQ" software provide highly accurate, reliable intersection, highway, and wrong-way detection and transportation data solutions.
This provides transportation planners with data that they can use to reduce traffic congestion and improve safety.
Autoscope, under the Image Sensing Systems banner, has a long history of doing just that. In 1984, the company launched video processing technology that aided traffic management and helped municipalities better deal with overwrought traffic infrastructures.
The company has, of course, evolved since then.
Autoscope Reports Solid Q2 Results & Declares Dividend
For the second quarter ended June 30, Autoscope announced that its revenue climbed 11% year-over-year to $3.8 million. Its revenue from royalties was up by 12% at $2.5 million, while its product sales were up by 11% at $1.3 million. (Source: "Autoscope Technologies Corporation Announces Financial Results and Dividend Declaration," Autoscope Technologies Corp, August 12, 2021.)
The company's second-quarter net income was $752,000, or $0.14 per share, up by 401% over the second-quarter 2020 net income of $150,000, or $0.03 per share. Its operating income for the second quarter of 2021 was $1.1 million, compared to $621,000 in the same prior-year period.
Commenting on the results, Andrew Berger, CEO, said, "Autoscope's philosophy is to question everything in our business to ensure we build strong teams who produce winning products, while running a growing, efficient, and profitable operation to enable us to build an exceptional company and, in turn, provide excellent results to stockholders." (Source: Ibid.)
On that note, the company's board of directors declared a quarterly cash dividend of $0.12 per share. This is only the second dividend the recently christened Autoscope Technologies Corp has paid out, so you'd like to think management did so knowing that the company could afford it. Nothing would undermine Autoscope's reputation for financial viability more than the executives cutting the dividend after just two quarters.
Fear not, Autoscope Technologies stock's dividend is safe. The company's payout ratio is just 22.2%. In comparison, Intel's payout ratio is 30.1%, Cisco's is 58.4%, and IBM's is 112.2%.
The Lowdown on Autoscope Technologies Corp
A leader in above-ground detection and information management for the transportation industry, Autoscope Technologies Corp is a financially robust company with strong market penetration.
In addition to launching new products, the company reported solid second-quarter financial results, which were juiced in part by increased royalties and product sales, along with improved efficiencies in its Image Sensing Systems subsidiary.
Together, this should help fuel AATC stock's price and help it continue to reward investors with reliable, growing, high-yield dividends.