This Low-Yield Stock Deserves Income Investors' Attention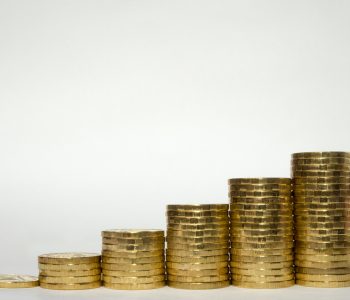 iStock.com/Madhourse
Why I Like This Dividend Stock
Today's chart highlights one of my favorite dividend stocks in the entire stock market: Automatic Data Processing (NASDAQ:ADP).
ADP is a human capital management company headquartered in Roseland, New Jersey. If you look up the company on Yahoo! Finance or MarketWatch, you'll see that it is not exactly a high yielder. Trading at $168.34 per share at the time of this writing, ADP stock offers an annual yield of 1.9%.
If you've been following this column, you'd know that I have a special fondness for safe, high-yield stocks. In other words, there could only be one reason why I'm talking about a stock that yields less than two percent: dividend growth.
You see, a company might not be a high-yield stock right now, but if it can raise that payout at a decent pace, investors who purchase the stock today would be able to earn a much higher yield on cost in a few years' time.
And that's what I see in ADP stock.
Automatic Data Processing Delivers Oversized Dividend Hikes
Automatic Data Processing belongs to an elite group of dividend stocks called the "S&P 500 Dividend Aristocrats." To become a Dividend Aristocrat, a company must be a member of the S&P 500 index, and must have increased its dividend every year for at least 25 years.
A quarter of a century of consecutive annual dividend increases is a pretty tough requirement. Among the S&P 500 companies, only 57 currently hold the Dividend Aristocrat title.
And that's why ADP is special. The company might not be as well known as some other members of this elite group—such as The Coca-Cola Co (NYSE:KO) and Walmart Inc (NYSE:WMT)—but it is actually overqualified for the Dividend Aristocrat title. Looking back, we see that ADP stock has raised its dividend every year for 44 consecutive years. (Source: "Dividend History," Automatic Data Processing, last accessed June 18, 2019.)
Of course, we know that past performance is no guarantee of future results. But here's the thing: with such an impressive track record, ADP's management has a strong incentive to keep raising the payout. Think about it: if a company has been increasing its dividends for decades, and that streak suddenly stops, management will likely have some serious explaining to do.
Another thing that makes ADP stock stand out is the size of its recent dividend hikes. You see, most Dividend Aristocrats are running well established businesses. And as their business matured, growth in their dividends tended to slow down. For instance, the latest dividend hike from Coca-Cola was 2.6%, while Walmart last raised its payout by 1.9%.
Now, ADP is also a decades-old business; its history can be traced all the way back to 1949. Yet despite its age, the company's dividend increases do not show any signs of slowing down. The latest dividend hike, which was announced in November 2018 and which brought the quarterly payout to $0.79 per share, represented a 25.4% increase year-over-year and a 14.5% increase sequentially. (Source: "ADP Increases Cash Dividend; Marks 44th Consecutive Year of Dividend Increases," Automatic Data Processing, November 6, 2018.)
Over the past five years, the quarterly dividend rate of Automatic Data Processing stock has grown by a whopping 88.1%.
Automatic Data Processing Dividend History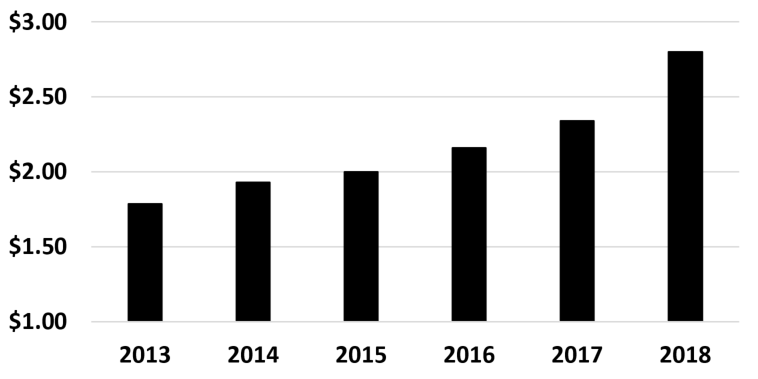 (Source: "Dividend History," Automatic Data Processing, op. cit.)
The Best Could Be Yet to Come
The best part is, despite all the dividend hikes over the decades, the company still has room for future dividend increases.
In ADP's fiscal-year 2018, which ended June 30, 2018, the company generated $13.3 billion of revenue, an eight percent increase from the prior fiscal year. Adjusted earnings came in at $4.35 per share, up 18% year-over-year. (Source: "ADP Reports Fourth Quarter and Fiscal 2018 Results; Provides Fiscal 2019 Outlook," Automatic Data Processing, August 1, 2018.)
Considering that the company declared $2.52 per share in dividends during its fiscal 2018, it was paying out just 57.9% of its adjusted profits.
In the first nine months of ADP's fiscal-year 2019, which ended March 31, 2019, the company's revenue grew another seven percent year-over-year to $10.7 billion. During this period, ADP generated adjusted earnings of $4.31 per share while declaring three quarterly dividends totaling $2.37 per share. So again, it achieved a very conservative payout ratio of almost 55%. (Source: "ADP Reports Third Quarter Fiscal 2019 Results," Automatic Data Processing, May 1, 2019.)
Bottom Line on Automatic Data Processing
At the end of the day, keep in mind that ADP runs a massive and recurring business. The company handles the payroll for nearly 40 million workers around the world, including one in every six workers in the United States.
Adding in its excellent dividend increase track record, growing business, and conservative payout ratio, I'd say the best could be yet to come for income investors of ADP stock.