Automatic Data Processing Inc: Another Solid Quarter for a Dividend Aristocrat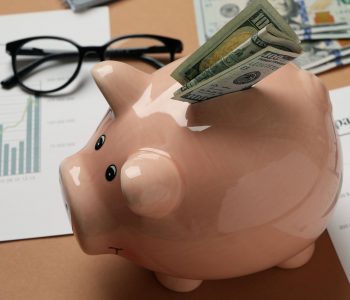 A Top Dividend Stock You Likely Haven't Considered
In the world of dividend stocks, few companies have served investors better than Automatic Data Processing Inc (NASDAQ:ADP), also known as ADP.
Consider this: in November 2020, the company's board of directors approved a 2.2% increase to ADP stock's annual dividend rate to $3.72 per share, marking Automatic Data Processing stock's 46th consecutive annual dividend increase. The dividend will be paid in quarterly installments of $0.93 per share. (Source: "ADP Increases Cash Dividend; Marks 46th Consecutive Year of Dividend Increases," Automatic Data Processing Inc, November 11, 2020.)
That means ADP belongs to a very elite group of companies called the S&P 500 Dividend Aristocrats. To join this group, a company must be an S&P 500 component and must have increased its dividend every year for at least 25 consecutive years. Given ADP's track record, it has qualified for the title nearly twice over.
Other than providing a rising stream of dividends to investors, ADP stock has delivered a strong share-price performance. Take a look at the chart below. It shows that, over the past 10 years, Automatic Data Processing stock has provided a total return of more than 400%.
Automatic Data Processing Inc (NASDAQ:ADP) Stock Chart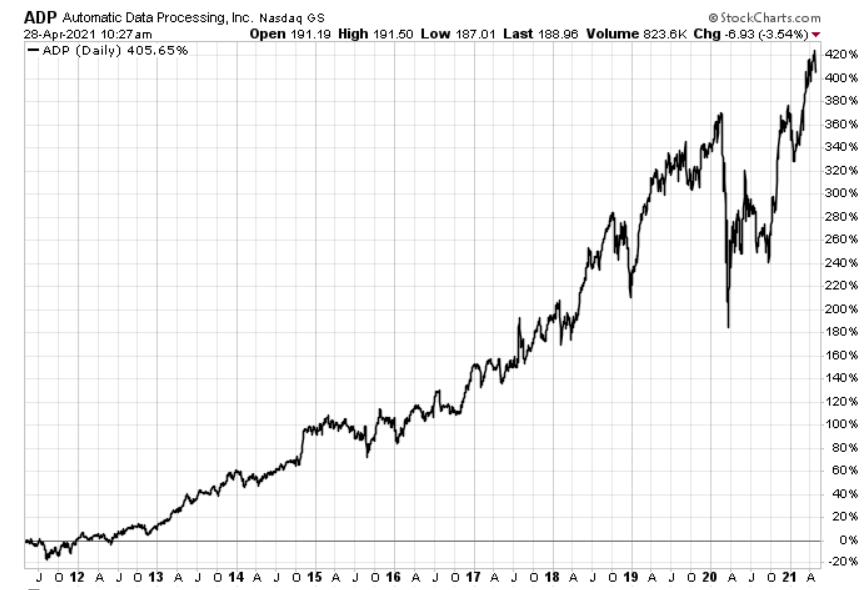 Chart courtesy of StockCharts.com
Now, you might be wondering what exactly ADP does to achieve this kind of performance. After all, its name doesn't sound nearly as familiar as other Dividend Aristocrats like McDonald's Corp (NYSE:MCD) or PepsiCo, Inc. (NASDAQ:PEP).
The answer is payroll processing. As a global leader in human capital management (HCM) software and solutions, Automatic Data Processing has more than 860,000 clients in 140 countries. The company delivers payroll for 22 million workers in the U.S. and another 14 million workers internationally. (Source: "ADP Investor Presentation," Automatic Data Processing Inc, last accessed April 30, 2021.)
ADP has also partnered with more than 7,000 tax agencies across all levels of government throughout America. In its most recent fiscal year, the company moved $2.2 trillion of U.S. payroll and taxes on behalf of its clients and their employees.
Of course, being a reliable dividend grower doesn't mean ADP stock is immune to volatility. The company recently reported earnings, and based on their initial reaction, market participants weren't exactly pleased.
In the third quarter of ADP's fiscal year 2021, which ended March 31, the company generated $4.1 billion in total revenue. The amount represented a one-percent increase year-over-year. (Source: "ADP Reports Third Quarter Fiscal 2021 Results," Automatic Data Processing Inc, April 28, 2021.)
The company's revenue comes from two main segments: Employer Services and Professional Employer Organization (PEO) Services. For the quarter, ADP's Employer Services revenue slipped one percent year-over-year on a reported basis and two percent on an organic, constant-currency basis. Meanwhile, its PEO Services revenue grew seven percent.
At the bottom line, Automatic Data Processing Inc's adjusted earnings came in at $1.89 per share, down about two percent from the $1.92 per share earned in the year-ago period.
These numbers don't look that impressive on their own. However, Wall Street analysts were projecting adjusted earnings of $1.78 per share on $4.1 billion of revenue. In other words, ADP actually beat both top- and bottom-line expectations from Wall Street.
But as I said, the market didn't seem to like the news. Automatic Data Processing stock fell 4.7% on the trading day following the earnings release.
What's also worth noting is that, in the reporting quarter, new business bookings for Employer Services increased by seven percent. This allowed Automatic Data Processing Inc to raise its outlook.
For full-year fiscal 2021, management expects the company's Employer Services revenue to grow by about one percent year-over-year and the segment's client revenue retention rate to improve by at least 125 basis points. Full-year PEO Services revenue is projected to grow by five to six percent. At the company level, management expects ADP's revenue growth to be two to three percent and its adjusted earnings-per-share growth to be flat to one percent in full-year fiscal 2021.
If you're wondering whether the company can continue to pay reliable dividends, don't worry. In the first nine months of ADP's fiscal year 2021, it generated adjusted earnings of $4.82 per share while declaring $2.77 per share in total dividends. So the payout was well covered.
Bottom Line on Automatic Data Processing Inc
At the time of this writing, ADP stock offers an annual dividend yield of two percent.
The yield itself may not seem like much, but when you combine the company's durable business with its willingness to raise its payouts every year, you'll see that Automatic Data Processing Inc could still represent an opportunity to long-term investors.