Yellen Signals Early Rate Increase on Strength of Economy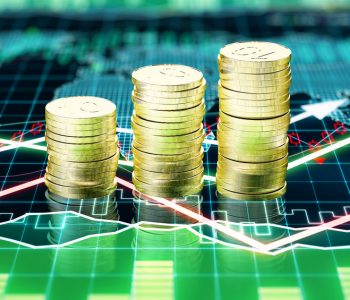 Piles of gold coins on the screen with business chart
Timing Still Depends on Future Data
Federal Reserve Chairwoman Janet Yellen indicated on Friday that the central bank may raise interest rates prior to its December meeting as the U.S. economy is showing growing signs of strength.
"In light of the continued solid performance of the labor market and our outlook for economic activity and inflation, I believe the case for an increase in the federal funds rate has strengthened in recent months," Yellen said during a conference in Jackson Hole, Wyoming. (Source: "Janet Yellen says case for rate rise has 'strengthened'," Financial Times, August 26, 2016.)
Since last week, traders were betting that the Fed will not act at least by its December meeting because of a mixed economic performance, as the economy is creating more jobs than expected but inflation is showing a weak trend.
After today's remarks, there is now an increasing possibility that the Fed may even act as early as the meeting in September or October.
Still, Yellen has left a room open for prolonging her inaction on the rate front by saying that future data releases will set the direction.
"Our decisions always depend on the degree to which incoming data continues to confirm the [Fed's] outlook," she said. (Source: Ibid.)
After the Yellen remarks, markets reacted differently, with stocks globally rising, and the U.S. dollar dropping amid no clear guidance on when the next move on interest rates may come.
The U.S. central bank has been on the sidelines since it first raised interest rates last December after keeping them near zero following the sub-prime financial crisis that hit the global economy in 2008. Since the last hike, it has paused its monetary tightening as the global economic outlook got murkier after Britain's decision to leave the European Union.
For Yellen, these worries have now subsided.
"While economic growth has not been rapid, it has been sufficient to generate further improvement in the labor market," she said. (Source: Ibid.)
A government report released today showed that the U.S. economy has expanded slower than previously estimated in the second quarter, as businesses are running down their inventories faster and state and local governments have reduced their spending.
"Looking ahead, the FOMC expects moderate growth in real gross domestic product, additional strengthening in the labor market, and inflation rising to 2% over the next few years," Ms. Yellen said. "Based on this economic outlook, the FOMC continues to anticipate gradual increases in the federal funds rate will be appropriate over time." (Source: Ibid.)