AT&T Inc.: Why AT&T Stock's 5.1% Yield Deserves Attention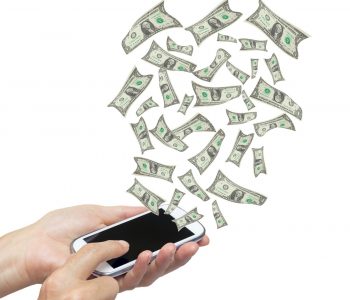 AT&T Stock is a Long-Term Dividend Play
One of the reasons why we love solid dividend-paying companies is that they allow investors to put their portfolios on cruise control. It's hard enough to earn the money in the first place, so why not let it work for you this time? The company we are going to look at today is a classic example of a long-term dividend stock, AT&T Inc. (NYSE:T).
AT&T is a multinational telecommunications company headquartered in Dallas, Texas. In the U.S., it provides TV, wireless, and Internet service to millions of customers. The company also has a huge business solutions segment serving nearly 3.5-million businesses on six continents.
The key to note about AT&T is that it provides an essential service to consumers and businesses. This allows the company to generate a recurring stream of revenue and profit. Over the years, the company also shared some of that profit with investors in the form of dividends.
Right now, AT&T stock pays quarterly dividends of $0.49 per share. At its current share price, that translates to a handsome annual dividend yield of 5.06%. To give you some perspective, the average dividend yield of all S&P 500 companies is just 1.91% at the moment.
What's more is that the company has been raising its payout. Many high-yield stocks are only able to have such high yields because investors don't believe their payout will be sustainable. However, AT&T stock is actually known for its dividend durability. The company has raised its annual payout every year for the past 33 years. (Source: "Dividends," AT&T Inc., last accessed June 1, 2017.)
Think about how our economy had quite a few ups and downs over the past 33 years. But if you were an investor of AT&T stock, you would always get a dividend check in the mail. And over those years, the dividend checks kept getting bigger.
Of course, paying a dividend is the company's business; where its share price is going is up to the stock market. For instance, like most companies, AT&T stock took a hard beating during the last financial crisis. But because the company is fundamentally more than solid, it was quick to recover. As the chart below shows, investors that held on to their shares of AT&T stock have been generously rewarded since 2009.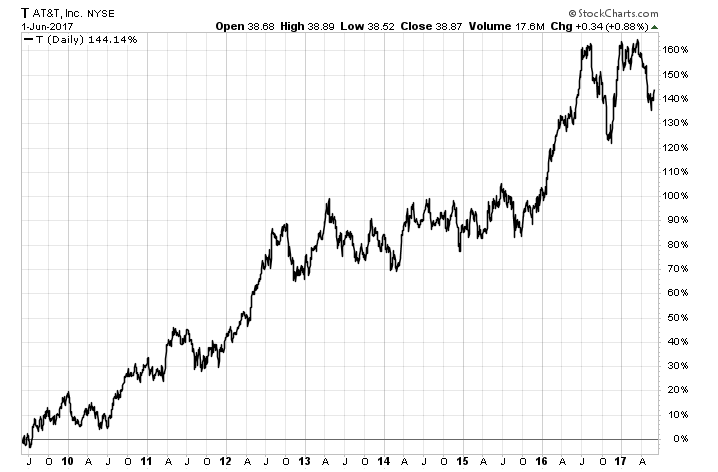 Source: StockCharts.com
Also note that because AT&T was still raising its payout when a lot of companies were deep in the doldrums during the last economic downturn, it gave AT&T stock investors a reason to hold on to their shares.
AT&T Stock: A Rock-Solid Business
As investors, we know all too well that past performance does not guarantee future results. But in the case of AT&T, the company has actually built something that can keep churning out profits year after year.
I'm talking about AT&T Mobility, which is currently the company's largest segment. Nowadays, many people can't live without their smartphones, so it's pretty clear that wireless carriers offer a service that's essential.
Moreover, the industry has high barriers to entry. Regulatory hurdles, along with the cost associated with building cell phone towers and bidding for the expensive wireless spectrums, are deterring new companies from entering the industry. This means that existing players such as AT&T can keep generating sizable returns.
In the first quarter of 2017, AT&T Mobility had 2.7-million net additions while reporting a record earnings before interest, taxes, depreciation, and amortization (EBITDA) margin of 41.8%. The company also achieved a best-ever first-quarter postpaid phone churn of 0.90%, representing a six-basis-point improvement year-over-year. (Source: "AT&T Reports First-Quarter Results," AT&T Inc., April 25, 2017.)
Going forward, the company is investing in something that I believe is critical to the future of its entertainment segment: content. These days, almost every company in the technology, media and telecommunications (TMT) industry are fighting to get more users. And one of the most effective ways to increase one's user base is to have quality content. Through the acquisition of DirecTV in 2015, AT&T has become the largest pay TV provider in the U.S.
And now the company could become even more powerful. Last year, AT&T announced that it would acquire mass media and entertainment conglomerate Time Warner Inc (NYSE:TWX) in a deal valued at $108.7 billion. While the deal has raised some concerns, AT&T expects to receive regulatory approval at some point this year.
Bottom line: telecom is far from being the hottest industry right now, but AT&T's business is still solid. Add in its handsome dividend yield and an impressive track record and AT&T stock is one that dividend investors should not ignore.