Atmos Energy Corporation: 113-Year-Old "Forever Asset" Keeps Paying Dividends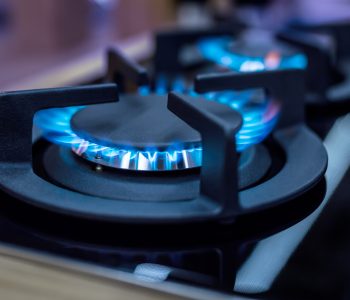 iStock.com/MarianVejcik
Why I Like Atmos Energy Corporation for the Long Haul
"Atmos Energy Corporation (NYSE:ATO) could produce outsized returns, not just for years or decades, but for generations."
That's what I told subscribers of my paid advisory Automated Income back in April 2015. At the time, I called the Texas natural gas utility one of my "Forever Assets," a group of elite dividend stocks that investors can buy and hold for the rest of their lives.
That thesis seems to be playing out as expected. Since I wrote about ATO stock in 2015, it has delivered a total return, including dividends, of 120%—beating the pants off the 47% gain from the broader S&P 500 over the same period. Yet despite these impressive returns, Atmos Energy stock could just be getting warmed up.
Atmos can trace its roots back to 1906 as a small utility serving the Texas panhandle. Over the following decades, management built a small empire by buying up rival companies. Today, the company serves over three million customers in eight states in the Southeast. (Source: "Company Profile," Atmos Energy Corporation, last accessed November 5, 2019.)
It's not difficult to see why this utility business has stood the test of time. Even in downturns, people still have to take showers, heat their homes, and cook their food. Because utilities are among the last bills people skip, the companies supplying these services generate steady cash flow.
Moreover, utilities companies often enjoy monopolies over the markets they serve. It just doesn't make sense to have two or three different sets of natural gas pipelines crisscrossing a neighborhood and installed into peoples' houses. This allows management to raise prices year after year with little fear of losing customers.
Even if you wanted to build a rival firm, chances are you couldn't. State and city regulators often restrict the rights-of-way of new pipeline construction. Local residents would also provide stiff resistance, given that no one wants more construction in their neighborhoods. Worse, any new competitor would only split the existing business, leaving an unprofitable situation for everyone involved.
Regulators provide the only check on profits. Across the country, government agencies set the price that utilities can charge. This usually involves a balancing act between consumer protections and shareholder returns, though where that balance gets struck can vary widely from state to state.
Here's what sets Atmos Energy Corporation apart. Texas, where the company earns most of its income, ranks as one of the most investor-friendly states for utilities to do business. Commissioners allow companies to disconnect customers quickly after missed payments, in addition to allowing them to charge large deposits and late fees.
For regular service, Atmos Energy has the freedom to charge high prices to households. In effect, this allows the company to earn returns on investment above and beyond what utilities make elsewhere.
For ATO stock shareholders, this has resulted in outsized returns for shareholders.
Since late 1999, the S&P 500 Utilities SPDR (NYSEARCA:XLU), a good barometer for the utility sector, which is shown in blue in the below chart, has delivered a total return of 275%. Atmos Energy Corporation, by comparison, shown in black, posted a gain of 821% over the same period.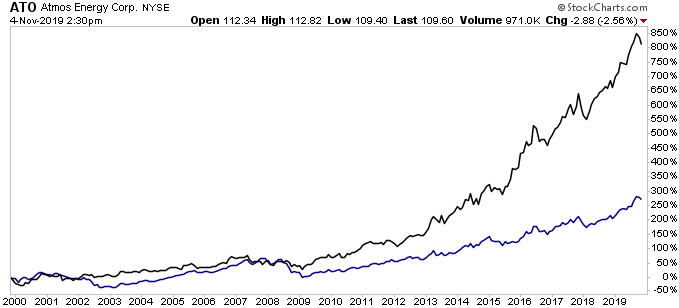 Chart courtesy of StockCharts.com
Atmos Energy's entrenched market position also allows it to pay out buckets of money to shareholders. Management has boosted the company's dividend every year since 1984, back when Ronald Reagan sat in the White House.
Even during the last financial crisis, Atmos executives mailed out bigger and bigger checks to investors. Today, the company pays a quarterly dividend of $0.53 per share, which comes out to an annual yield of almost three percent.
Granted, nobody can call Atmos Energy stock a sure thing. If Texan regulators take a more consumer-friendly stance, it would bite into shareholder returns. Acquisitions, furthermore, could threaten profits if executives overpay for future deals.
That means prospective ATO stock owners will need to keep their eyes on Lone Star State politics. But at the moment, regulators have little appetite to upset the status quo. Moreover, Atmos executives have recently vowed to grow their business internally rather than through splashy acquisitions.
All of which earns Atmos Energy Corporation a place on the list of "Forever Assets."