Atlantica Sustainable Infrastructure PLC: High-Yield Utility Stock With Growing Payouts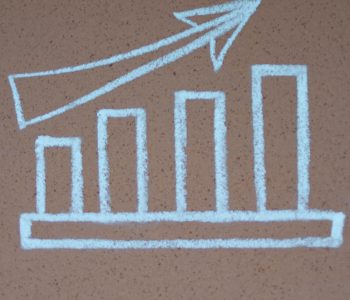 AY Stock a Great Energy Play
Income investors cannot be happy with what's been going on at the Federal Reserve. Sure, the central bank needed to lower its key lending rate to combat the economic hobbling at the hands of COVID-19. But in doing so, it punished those who socked their money away.
The payout from Treasury bills, corporate bonds, and savings accounts is basically zero. If you had a million dollars in the bank, you'd earn less in interest in a year than you'd make flipping burgers at a fast-food restaurant.
One way to kick the Fed to the curb is with high-dividend utility stocks.
Why? Even when the economy is in a downturn, people still heat and cool their homes, cook, turn their lights on, and power their computers and TVs.
This provides utility stocks with a steady, reliable revenue stream, which it returns to investors in the form of high-yield dividends. Sure, utility companies pump some money back into their operations, but not as much as other industries. Utility companies have a high barrier to entry, and once their operations are up and running, their expenses are more about maintenance.
One utility stock that provides investors with long-term capital appreciation and impressive high-yield dividend growth is Atlantica Sustainable Infrastructure PLC (NASDAQ:AY).
Atlantica is a leading international infrastructure company that owns, manages, and invests in renewable energy assets, storage, efficient natural gas and heat transmission infrastructure, and water infrastructure. (Source: "Company Overview," Atlantica Sustainable Infrastructure PLC, last accessed November 12, 2021.)
The company has about 36 assets with 2,022 megawatts (MW) of aggregate renewable energy installed generation capacity (of which approximately 71% is solar), 343 MW of efficient natural gas-fired power generation capacity, 55 thermal MW of district heating capacity, 1,166 miles of transmission lines, and 17.5 million cubic feet per day of water desalination capacity.
Atlantica Sustainable Infrastructure PLC owns facilities in North America, including the U.S., Canada, and Mexico; South America, including Peru, Chile, and Uruguay; Europe, including Spain and Italy; the Middle East, including Algeria; and Africa, including South Africa. While these are its core geographies, the company is always looking to invest in new assets.
Case in point, in December 2020, Atlantica reached an agreement with a subsidiary of Algonquin Power & Utilities Corp (NYSE:AQN) to acquire a 20-MW solar plant with a 15-year power purchase agreement in Colombia. Algonquin Power owns a 44.2% stake in Atlantica's capital stock. (Source: "Atlantica Announces an Agreement With Algonquin to Acquire a 20 MW Solar Asset in Colombia," GlobeNewswire, December 14, 2020.)
Additionally, Algonquin Power and Atlantica agreed to potentially co-invest in additional solar plants in Colombia with a combined capacity of approximately 30 MW to be solely developed and built by AAGES, which is Algonquin Power's international joint venture.
Santiago Seage, Atlantica's CEO, commented, "We are happy to co-invest with Algonquin in these projects, in a measured step to enter into a new market like Colombia, with attractive growth prospects for renewables and with similar characteristics to other Atlantica's markets in South America." (Source: Ibid.)
For the most part, Atlantica Sustainable Infrastructure PLC's assets have contracted revenue, with a weighted average remaining contract life of approximately 16 years.
This low-risk model and long-term contracted assets help the company generate significant revenue growth and reliable cash flow, which it returns to investors as high-yield dividends.
On November 9, the company declared a dividend of $0.435 per share, or $1.74 on an annual basis, for a yield of 4.3%. The dividend is expected to be paid on December 15 to shareholders of record as of November 30.
The company has a short but storied history of raising its quarterly dividends. In addition to having raised its dividends annually for each of the last five years, it has raised its dividends quarterly 14 times since 2017.
| | |
| --- | --- |
| Year | Payout Per Share |
| 2021 | $1.715 |
| 2020 | $1.66 |
| 2019 | $1.57 |
| 2018 | $1.33 |
| 2017 | $1.05 |
| 2016 | $0.883 |
(Source: "Dividends," Atlantica Sustainable Infrastructure plc, last accessed November 12, 2021.)
Financial Performance
The company can maintain that healthy payout because it reports solid financial results.
For the third quarter of 2021, the company announced that its revenue increased by 22.3% year-over-year to $940.4 million. Renewable energy contributed 73% of Atlantica's revenue in the quarter, followed by efficient natural gas (13%), transmission lines (11%), and water (three percent). (Source: "Q3 2021 Earnings Presentation," Atlantica Sustainable Infrastructure plc, November 10, 2021.)
The company's adjusted earnings before interest, taxes, depreciation, and amortization (EBITDA) went up by 2.1% to $634.1 million.
The growth in Atlantica's revenue and adjusted EBITDA came mainly from its recent investments in new assets, higher production in the company's renewable energy business, and foreign-exchange differences.
Atlantica Sustainable Infrastructure PLC swung to a third-quarter net loss of $18.2 million, compared to net profit of $61.2 million in the same period last year. Its operating cash flow in the first nine months of 2021 was $441.9 million, versus $303.2 million in the first nine months of 2020.
Its cash available for distribution (CAFD) in the first nine months of 2021 increased by 12.9% year-over-year to $168.5 million. Its CAFD per share in the first nine months climbed by 3.6% year-over-year from $1.47 to $1.52.
The company's debt load stands at $4.6 billion, compared to $4.7 billion as of December 31, 2020.
Growth Strategy
Atlantica Sustainable Infrastructure PLC has been enacting a business growth plan in 2021.
With the company's acquisition of Coso Geothermal Power Holdings, LLC (the third-largest geothermal power plant in the U.S.) in March 2021 and its acquisition of a 49% interest in Vento II (a 596 MW portfolio of four wind assets in the U.S.) in April, Atlantica invested close to $370.0 million in renewable assets in North America.
The company also invested in a photovoltaic (PV) plant through its renewable energy platform in Chile earlier this year. It expects to close its acquisition of La Sierpe, another PV asset in South America, in the fourth quarter of 2021.
Moreover, in the third quarter, Atlantica Sustainable Infrastructure PLC closed its acquisition of two PV assets in Italy, the company's first investment in the country. Together with other smaller investments, the company has closed a total of $465.0 million in investments in 2021 so far. That's well above the $300.0-million annual target that Atlantica provided at the beginning of the year.
Over the next five years, the company plans to reduce its debt load by $1.9 billion, which would leave it with $3.4 billion in debt at the end of 2025.
Share-Price Performance
Strong financial results and growing dividends are two reasons why Atlantica stock continues to climb steadily.
As of this writing, AY stock has gone up by 13% over the last six months and up by 21% year-over-year. Over the last 12 months, this dividend stock has risen by 3.5%.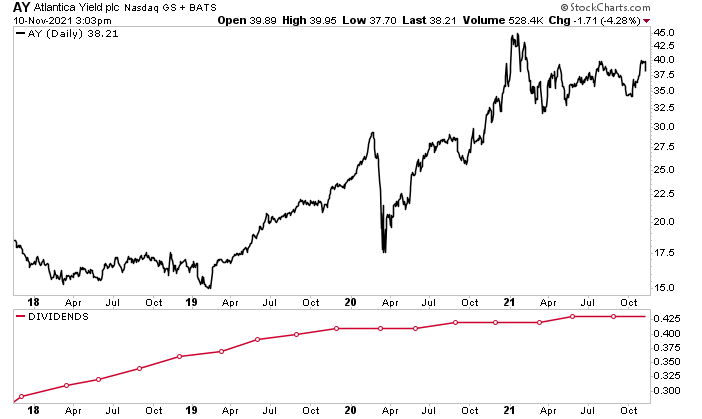 Chart courtesy of StockCharts.com
The Lowdown on Atlantica Stock
Atlantica Sustainable Infrastructure PLC owns a growing international portfolio of critical utility assets.
With 100% of its revenue coming from long-term contracted or government-regulated rates, Atlantica is able to generate reliable cash flow, which it uses to support AY stock's growing high-yield dividend. Since 2016, that payout has expanded at a compound annual growth rate (CAGR) of 11.7%.