Ashford Hospitality Trust, Inc.: Insiders Have Loaded Up on This 10% Yielder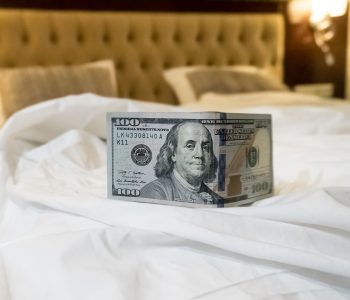 iStock.com/Diy13
A High-Yield Stock to Think About
In today's market, it's no secret that ultra-high yielders are not the safest bets.
That's why today I want to show you a high-yield stock that also happens to be an insider favorite: Ashford Hospitality Trust, Inc. (NYSE:AHT).
But it's not always an easy job. Nowadays, earnings can be adjusted and management almost always appears confident about their company's prospects. If you are not careful and just go for a random high-yield stock with an optimistic CEO, you might find yourself in a yield trap.
The good news is, there is an indicator that can show whether a company's situation is really as good as the management team says: insider ownership.
You see, talk is cheap. If management can put their money where their mouths are, that would represent a more genuine vote of confidence.
That's why today, I want to show you a high-yield stock that also happens to be an insider favorite, Ashford Hospitality Trust, Inc. (NYSE:AHT).
Ashford Hospitality Trust, Inc. Is an Insider Favorite
Headquartered in Dallas, Texas, Ashford Hospitality Trust is a real estate investment trust (REIT) that focuses on hotel properties. The company's strategy is to "invest opportunistically in the hospitality industry in upper upscale, full service hotels and at all levels of the capital structure primarily within the United States." (Source: "Overview," Ashford Hospitality Trust, Inc., last accessed March 14, 2019.)
Right now, Ashford's portfolio consists of 120 properties totaling more than 25,000 hotel rooms. Most of these properties operate under premium brands, such as Hilton Hotels Corporation (NYSE:HLT), Marriott International Inc (NASDAQ:MAR), and Hyatt Hotels Corporation (NYSE:H).
And while the company's portfolio is geographically diverse, it has a strong focus on highly populated regions. To give you an idea, approximately 73% of Ashford's hotel earnings before interest, tax, depreciation, and amortization (EBITDA) are generated from properties located in the top 25 metropolitan statistical areas in the U.S. (Source: "Ashford Hospitality Trust January 2019," Ashford Hospitality Trust, Inc., last accessed March 14, 2019.)
The No. 1 reason to check out this hotel REIT is its generous dividend policy. Ashford Hospitality Trust, Inc. currently pays quarterly dividends of $0.12 per share. With AHT stock trading at $4.72 apiece, that translates to an annual yield of 10.2%.
And like I said, while a double-digit yield doesn't really scream the word "safety," Ashford Hospitality Trust stands out due to its insider ownership.
According to the company's latest investor presentation, Ashford's management team owned 17.3% of the company's stock. That gave Ashford the highest insider ownership of any hotel REIT. (Source: Ibid.)
To put it in perspective, the average hotel REIT had an insider ownership of just 3.4%.
Can You Count on the Dividends?
A high insider ownership could serve as a sign of strength. But for a high-yield stock to be worth considering for income investors, it has to generate enough money to cover its payout.
On that front, let's check out Ashford's financials.
In the fourth quarter of 2018, Ashford Hospitality Trust generated $0.18 per share in adjusted funds from operations (AFFO). This was more than enough to cover its quarterly dividend payment of $0.12 per share. (Source: "Ashford Trust Reports Fourth Quarter And Year End 2018 Results," Ashford Hospitality Trust, Inc., February 28, 2019.)
In full-year 2018, the company's AFFO totaled $1.26 per share. Since Ashford declared total dividends of $0.48 per share during the year, it had a payout ratio of just 38.1%.
This means, even if business deteriorates, Ashford Hospitality Trust, Inc. will likely still make enough money to support its current level of dividend payments.
Of course, the hotel industry is facing some uncertainty. There has been strong growth in the supply of hotels due to post-recession development activity, and Airbnb Inc. remains a threat.
For those wondering how Ashford is doing in the face of all this, here's a fact: in the December quarter, the company's comparable revenue per available room for all hotels not under renovation actually increased 0.6%.
Note that, while the focus on upper upscale hotels often translates to sizable capital expenditures, Ashford only uses non-recourse debt. In particular, 100% of the company's borrowings are in the form of property-level mortgage debt. There is zero corporate-level debt.
This means, if one hotel in its property can't make mortgage payments, the lender can take the collateral but cannot seek out the borrower for further compensation. By using non-recourse debt, Ashford lowers the risk profile of its corporate platform.
The Bottom Line on Ashford Hospitality Trust, Inc.
In an era when companies with four-percent payouts are proudly calling themselves "high-yield stocks," a 10.2% yield may seem too good to be true.
But upon taking a closer look, we see that Ashford Hospitality Trust, Inc. actually makes enough money to cover the payout, and that management's interests are aligned with shareholders through high insider ownership.
For investors looking for a high yielder to boost the return of their income portfolio, AHT stock could be worth considering.