ARMOUR Residential REIT, Inc. Pays a 10% Monthly Dividend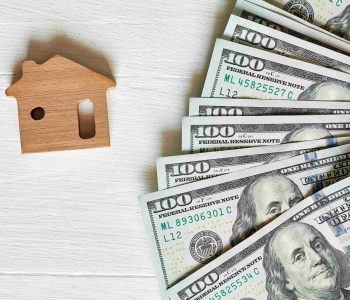 Kick the Fed to the Curb With ARR Stock
Over the decades, investors looking for a financial safety net in their retirement turned to reliable fixed-income vehicles like treasuries, bonds, and certificates of deposit (CDs). That doesn't work anymore. Yields on those tried-and-true investments are in the tank, and have been for 15 years.
And it doesn't look like the situation is going to get better anytime soon. Inflation is running hot. The Consumer Price Index for April jumped by 4.2% from a year earlier, the fastest pace since September 2008. (Source: "Inflation Speeds Up in April as Consumer Prices Leap 4.2%, Fastest Since 2008," CNBC, May 12, 2021.)
This has led many to believe that the Federal Reserve will raise interest rates sooner rather than later. This would, in turn, send the yields on fixed-income investments higher. Unfortunately, in today's economy, any potential higher yields will be eroded by higher inflation. You might get more, but you'll have to pay even more to get by. It's a no-win situation.
If anything, the Fed has suggested that short-term interest rates are going to remain near record lows for another couple of years, at least until inflation really settles in. Until then, you're stuck with ultra-low yields on fixed-income investments amid rising inflation. The Fed hopes this scenario is just temporary. But even if it is temporary, you're still stuck paying higher prices for everything. And it's not as if wages are keeping up.
In times of uncertainty, investors are told they need to find meaningful income from dividend-paying stocks and real estate investment trusts (REITs). If that's the case, I suggest taking a good look at ARMOUR Residential REIT, Inc. (NYSE:ARR).
ARMOUR Residential invests in and manages a leveraged portfolio of mortgage-backed securities and mortgage loans. (Source: "ARMOUR Residential REIT, Inc. Company Update," ARMOUR Residential REIT, Inc., May 12, 2021.)
The company invests in residential mortgage-backed securities that are issued or guaranteed by a U.S. Government-sponsored enterprise such as the Federal National Mortgage Association or the Federal Home Loan Mortgage Corporation, or a government agency such as the Government National Mortgage Association.
ARMOUR Residential REIT also invests in interest-only securities, which are the interest portions of agency securities that are separated and sold individually from the principal portion of the same payment.
In a nutshell, ARMOUR Residential REIT, Inc. makes money by raising capital through the issuing of debt, and then it reinvests that capital in higher-yielding debt instruments.
The company also raises capital for additional funding through equity offerings (including preferred equity), unsecured debt securities, and convertible securities (including warrants, preferred equity, and debt).
Approximately 97% of ARMOUR Residential REIT, Inc.'s agency portfolio positions—excluding to-be-announced positions—benefit from favorable prepayment characteristics.
25% have prepayment penalties
62% have loan balances less than or equal to $225,000
Eight percent have 100% loans in jurisdictions with additional taxes on refinancing and cashout transactions, such as Texas, Florida, and New York
One percent have loan-to-value ratios greater than 95%, FICO scores (credit scores) of less than 700, or seasoning of greater than 24 months
Despite these solid metrics, there's no getting away from the fact that 2020 was a brutal year for the economy and for mortgage investors.
As you can see in the following chart, ARMOUR Residential reduced its monthly dividend from $0.17 to $0.09. It has since raised its monthly payout to $0.10.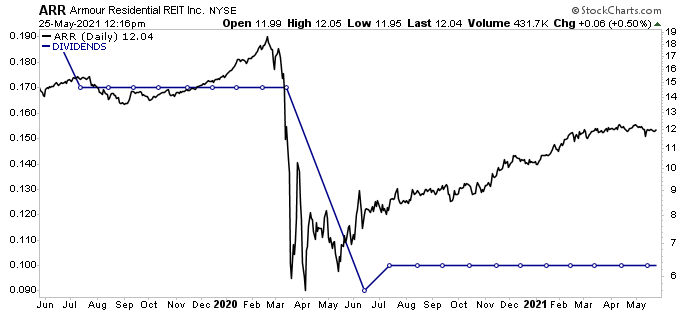 Chart courtesy of StockCharts.com
ARMOUR Residential REIT stock's annual dividend payout of $1.20 per year represents an annual dividend yield of 10%. With a payout ratio of just 28.1%, ARR stock's dividend payout is generous and safe.
Is there a chance that management will slash the dividend again any time soon? While nothing is set in stone, it's not likely. The company has said its dividend policy is based on the medium-term outlook of its business, and that its dividend level is appropriate.
To that end, in the fourth quarter of 2020, the company generated core income of $0.32 per share. The company also reiterated its first-quarter 2021 net income projection of $71.3 million, or $1.03 per share. (Source: "ARMOUR Residential REIT, Inc. Announces December 31, 2020 Financial Position and Q4 Results," ARMOUR Residential REIT, Inc., February 17, 2021.)
And paying out a frothy dividend is in the company's DNA. It's why investors turn to mortgage REITs like ARMOUR Residential. Since its inception in November 2009, the company has paid out $1.7 billion in dividends.
The Lowdown on ARMOUR Residential REIT, Inc.
ARMOUR Residential REIT, Inc. is a good example of a great REIT that took an expected hit during the coronavirus pandemic. ARMOUR Residential REIT stock is up by 68% year-over-year, but it still needs to climb by more than 50% to get to its pre-COVID-19 levels.
During the pandemic, ARMOUR Residential cut its dividend, but it has since stabilized it at $0.10 per unit—and the company is unlikely to move its dividend lower from here. If anything, I wouldn't be surprised to see this dividend stock's payout rise once the mortgage industry is back on more stable ground.
Until then, investors who get involved with ARR stock now can still take advantage of its 10% dividend. The record date for the upcoming $0.10 monthly dividend is June 15, with an ex-dividend date of June 14. That means investors who purchase ARR stock on or after the ex-dividend date will not get the payout; it will go to the seller. Investors who want to take advantage of the June payout need to make a move no later than June 13.