ARLP Stock: A Surprisingly Safe Dividend Yield of 10.5%
iStock.com/flashgaz
1 High-Yield Stock to Keep in Mind
Can a beaten-down industry produce a solid dividend payer?
The answer is "yes," with Alliance Resource Partners, L.P. (NASDAQ:ARLP) being a great example.
Headquartered in Tulsa, Oklahoma, Alliance Resource Partners is a master limited partnership (MLP) that produces and markets thermal coal to major utilities and industrial users in the U.S. With mining operations having begun as early as 1971, Alliance is America's first MLP that's involved in the production and marketing of coal.
Of course, the coal industry was a great place to be in decades ago. But in recent years, it has been pummeled. Just take a look at the Dow Jones U.S. Coal Index and you'll see what I mean. A decade ago, the index was at around 400 points. Today, it's at 68.24 points, or a drop of 83%.
Dow Jones U.S. Coal Index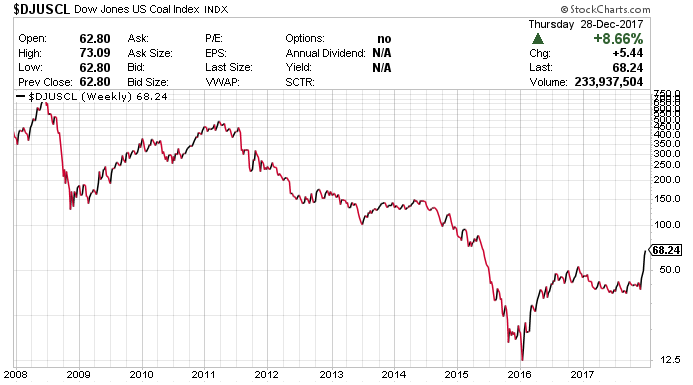 Chart Courtesy of Stockcharts.com
Alliance Resource Partners is currently the second-largest coal producer in the eastern United States. It controls more than 1.7 billion tons of coal reserves and has mining operations in Kentucky, Indiana, Illinois, West Virginia, and Maryland.
Also Read:
ARPL Stock: Out of Favour Stock Pays Big Yield of 10.83%
Unsurprisingly, because the partnership is a major player in America's coal industry, ARLP stock tumbled as well. Over the last five years, the unit price of Alliance Resource Partners has plunged 37%.
However, there is still a very simple reason why ARLP stock deserves your attention, and that's the partnership's generous dividend yield. Alliance Resource Partners currently pays quarterly distributions of $0.5050 per unit. At a unit price of $19.30, that translates to a staggering annual yield of 10.5%.
Combining an ultra-high yield with a declining industry, ARLP doesn't look like a stock that would offer much in terms of dividend safety. However, if you take a look at the partnership's financials, you would be pleasantly surprised.
In the third quarter of this year, the partnership generated $95.1 million in distributable cash flow. Considering that distributions paid to partners totaled $66.8 million for the quarter, ARLP had a distribution coverage ratio of 1.42 times, a very respectable number compared to most energy MLPs in today's market. (Source: "Alliance Resource Partners, L.P. Reports Quarterly Financial and Operating Results; Increases Quarterly Cash Distribution 1.0% to $0.505 Per Unit; and Confirms Guidance," Alliance Resource Partners, L.P., October 30, 2017.)
Looking a bit further back, and you'll that ARLP generated $311.8 million in distributable cash flow in the first nine months of 2017. Given its total distributions of $173.3 million during this period, the partnership achieved a distribution coverage ratio of 1.8 times.
In other words, Alliance Resource Partners was generating much more cash than what's needed to meet its distribution obligations. And that's why even though it is an ultra-high yielder in a down-and-out industry, ARLP is still a ticker worth considering.