Ark Restaurants Stock: Bullish High-Yielder Hikes Payout 50%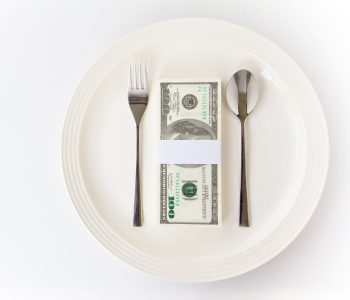 Why ARKR Stock Has a Bright Outlook
Ark Restaurants Corp (NASDAQ:ARKR) is an overlooked, high-yield restaurant stock with great momentum. The company has been reporting solid financial results, it reinstated its dividend in April 2022, and it raised its dividend by 50% in May 2023.
The outlook for Ark Restaurants stock is robust.
Why? Inflation may be stubbornly high, but Americans continue to spend, a sign that consumers might not be as concerned about an upcoming recession as Wall Street is.
In May, the estimated sales at brick-and-mortar stores, online retailers, and restaurants in the U.S. grew by 0.3% compared to April. Economists were expecting growth of just 0.1%. Excluding gas station sales figures, the estimated retail spending actually grew by 0.6%. (Source: "Advance Monthly Sales for Retail and Food Services, May 2023," United States Census Bureau, June 15, 2023.)
The better-than-expected retail sales data supports the idea that U.S. consumers are happy to spend their money.
The broader outlook for the restaurant industry is solid, with food service industry sales expected to increase by 6.4% year-over-year to $997.0 billion in 2023. (Source: "Foodservice Sales to Hit $997 Billion in 2023, National Restaurant Association Forecasts," Nation's Restaurant News, February 28, 2023.)
This trend bodes well for restaurant companies like Ark Restaurants Corp.
The number of restaurant companies trading on the Nasdaq isn't huge—just 33—and chances are, investors aren't entirely familiar with some of those companies. Ark Restaurants might be one of them.
The New York City-based company owns and operates 17 restaurants and bars, 16 fast-food facilities, and catering operations. They're primarily located in New York City; Washington, DC; Las Vegas, Nevada; Atlantic City, New Jersey; the east coast of Florida; and the gulf coast of Alabama. (Source: "Investor Home," Ark Restaurants Corp, last accessed June 19, 2023.)
The company has five restaurants and bars in Las Vegas, four in New York City, four on the east coast of Florida, two on the Gulf Coast of Alabama, one in Washington, D.C., and one in Atlantic City.
Its fast-food operations comprise six food court facilities in Las Vegas (within the Planet Hollywood Resort and Casino), six-fast food facilities in Hollywood (each at a Hard Rock Hotel and Casino), and four fast-food facilities in Tampa, Florida.
Sales Climbed to $41.9 Million in 2nd Quarter
For the second quarter ended April 1, Ark Restaurants announced that its total revenues increased by 5.8% year-over-year to $41.9 million. Its year-to-date revenues climbed by 6.9% year-over-year to $89.3 million. (Source: "Ark Restaurants Announces Financial Results for the Second Quarter of 2023," Ark Restaurants Corp., May 15, 2023.)
The company's sales could have been higher, but "Gallagher's Steakhouse" at the New York-New York Hotel and Casino in Las Vegas was closed for renovation for much of the second quarter (February 5 through April 27). That restaurant's revenues in the quarter were $714,000, compared to $2.3 million in the same quarter of 2022.
Excluding the Gallagher's Steakhouse figures, Ark Restaurants Corp's company-wide same-store sales increased in the second quarter by 8.3%. That increase was primarily driven by significant gains in the company's event business in New York City and Washington, D.C.
The company's second-quarter adjusted earnings before interest, taxes, depreciation, and amortization (EBITDA) were $1.0 million, compared to $1.5 million in the same prior-year period.
Ark Restaurants Corp reported a second-quarter net loss of $484,000, or $0.13 per share, compared to second-quarter 2022 net income of $1.1 million, or $0.29 per share.
The company ended the second quarter of this year with a cash balance of $17.8 million and a total outstanding debt of $14.9 million. Since the end of the second quarter, it has repaid two promissory notes totaling $6.0 million.
Ark Restaurants Corp Hiked Quarterly Dividend 50%
Not surprisingly, Ark Restaurants suspended its dividends in March 2020, during the depths of the COVID-19 pandemic, in an effort to preserve cash flow.
The company reinstated ARKR stock's dividends in May 2022 on the heels of strong revenue and earnings growth.
Before the pandemic, Ark Restaurants stock paid quarterly dividends of $0.25 per share. When the dividend was reinstated, it was $0.125 per share.
The company held it at $0.125 until this past May, when management announced a 50% hike to $0.1875. This works out to a current yield of four percent. (Source: "Ark Restaurants Declaration of Dividend," Ark Restaurants Corp, May 9, 2023.)
Although ARKR stock's dividend has been on the rise, it still needs to climb by 33% to get to its pre-pandemic level.
There's still some lingering concern that recent global events, including the COVID-19 pandemic, are adversely affecting the global economy, supply chain, and labor force participation, and that there could be headwinds for the restaurant industry.
If these factors rear their heads to the same degree that they did during the pandemic and have a negative impact on Ark Restaurants Corp's cash flow, the company might need to take measures such as suspending its dividends again and increasing its borrowing.
The same warnings should be heeded by any investor considering restaurant or retailer stocks.
Having said that, the fact that Ark Restaurants Corp's board recently raised the company's quarterly distribution by 50% suggests it's confident about the direction the company is going in (and about its future cash flow).
If we weren't facing economic uncertainty, I'd say Ark Restaurants has more than enough room to announce another big increase to its dividend over the coming quarters. At the moment, the company's payout ratio is just 24.9%.
Ark Restaurants Stock Up 14% Year-over-Year
Ark Restaurants Corp's dividend isn't the only thing that has been getting a boost. ARKR stock's price has been on the move, just slightly trailing the big gains of the S&P 500. As of this writing, Ark Restaurants stock is up by 11% year-to-date and 14% year-over-year.
In comparison, the S&P 500 is up by 15% year-to-date and five percent year-over-year.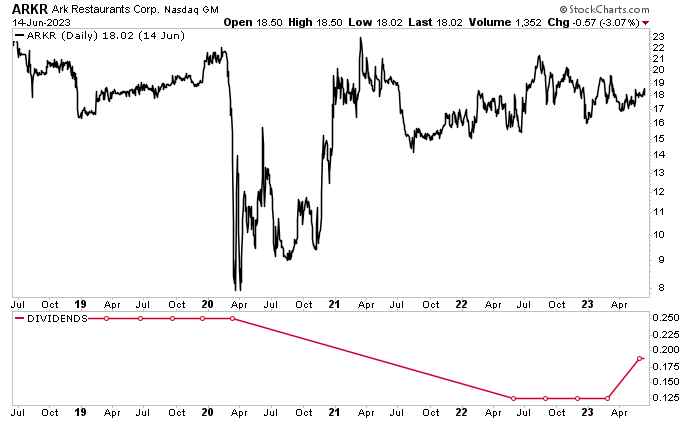 Chart courtesy of StockCharts.com
The Lowdown on Ark Restaurants Corp
Ark Restaurants is an outstanding restaurant stock that saw its share price take a dive and its dividend disappear during the COVID-19 pandemic. Thanks to a reopening of the economy and resilient consumer spending, ARKR stock has come roaring back in terms of share price and dividends.
The outlook for Ark Restaurants Corp is bright, with expected high summer sales and industry tailwinds helping juice the company's top and bottom lines.
That doesn't mean there won't be bumps along the way, though. Much of the restaurant industry is a contrarian play right now, but everything seems to be in place to benefit Ark Restaurant stock's price and growing, high-yield dividends.