Ares Capital Stock a Growing 8.7%-Yielder With a Low Payout Ratio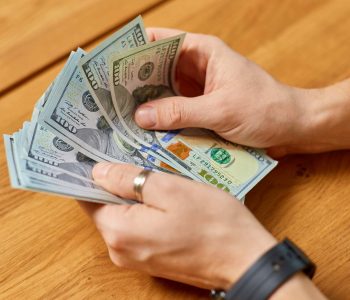 About Ares Capital Corporation
Businesses are always looking for capital to help them grow. And well-heeled business development companies (BDCs) like Ares Capital Corporation (NYSE:ARCC) are more than happy to meet the financing needs of middle-market businesses. It certainly doesn't hurt that interest rates are on the rise, making it more expensive for businesses to borrow. That said, interest rates are still near historic lows, which means a BDC like Ares Capital can access capital cheaply.
Ares Capital invests primarily in first-lien senior secured loans (45%) and second-lien secured loans (19%). To a lesser extent, it also makes various equity investments. (Source: "Second Quarter 2022 Earnings Presentation" Ares Capital Corporation, last accessed August 2, 2022.)
The BDC doesn't invest in just any company. It originates investments in market-leading companies with a history of stable cash flows, proven competitive advantages, and experienced management teams.
Ares Capital Corporation's investment portfolio has a fair value of roughly $21.2 billion and consists of 452 companies backed by 214 different private equity sponsors. The top four industries that the BDC serves are software and services (23%), health care (11%), commercial and professional services (nine percent), and insurance (nine percent).
Another Quarter of High Earnings
If you can't trust a BDC like Ares Capital to make money, who can you trust to do so?
For the second quarter ended June 30, the company reported that its core earnings per share (EPS) went up by 10% sequentially to $0.46, topping Wall Street's estimates by $0.02. (Source: "Ares Capital Corporation Announces June 30, 2022 Financial Results and Declares Third Quarter 2022 Dividend of $0.43 Per Share," Ares Capital Corporation, July 26, 2022.)
The BDC's second-quarter 2022 net income was $0.22 per share, compared to $1.09 in the same period of last year. Ares Capital Corporation explained that its net income can vary substantially from quarter to quarter due to a number of factors, including the level of new investment commitments; realized gains and losses; and unrealized appreciation and depreciation. As a result, the company doesn't believe quarterly comparisons are meaningful; Ares Capital says it's better to look at its core EPS.
Ares Capital Corporation Hikes Quarterly Payout & Declares Another Special Dividend
Thanks to another quarter of strong core earnings, Ares Capital Corporation was able to increase its quarterly dividend again, to $0.43 per share, up from $0.41 in the same period of last year. This works out to a yield of 8.7%.
The company's payout ratio is just 75.5%, which means there's lots of room for it to raise its payout again.
While shareholders wait to see if Ares Capital Corporation will raise its dividend again, they can take solace knowing it has declared special dividends of $0.03 per share for the last three quarters. This juices the company's quarterly payout to $0.46 per share, for a yield of 9.4%.
Although there's no guarantee that Ares Capital will reward buy-and-hold investors with another string of special dividends, it's indicative of the strength of the company's underlying business and its bullish outlook.
As you can see in the chart below, this high-yield dividend stock was trending steadily higher in price throughout 2021 and hit a record high of $23.00 per share in April 2022. ARCC stock has retraced a little, along with the broader market, but it has been climbing steadily higher since the middle of June. Over the last six weeks, it has rallied by an impressive 15%. Ares Capital stock is also up by 7.5% year-over-year.
The outlook for ARCC stock is robust, with analysts providing a 12-month share-price target between $21.42 and $24.00 per share, for potential gains in the range of nine percent to 22%.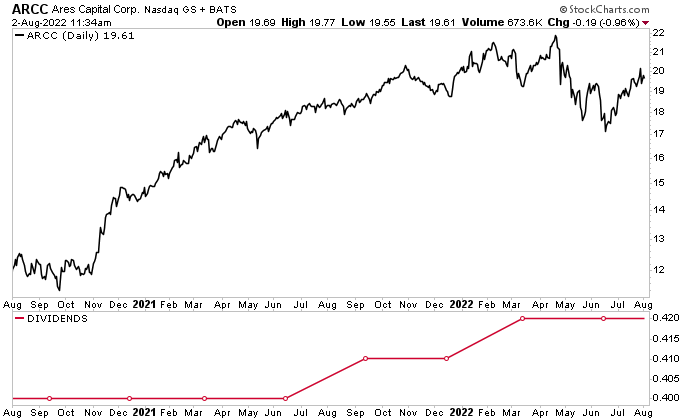 Chart courtesy of StockCharts.com
The Lowdown on Ares Capital Stock
With its high share-price gains and growing ultra-high-yield dividends, Ares Capital Corporation is a BDC that has been helping its shareholders tackle inflation.
The company recently delivered another quarter of high core earnings growth, which was driven by increased investment activity, rising portfolio yield, and continued stable credit quality. Management noted that, because of greater market volatility, the competitive environment has improved, and the BDC has been seeing incrementally more attractive terms with new transaction opportunities.
Thanks to increasing earnings from higher interest rates and the strength of its investment portfolio, Ares Capital Corporation was recently able to increase its quarterly dividend to $0.43 per share and pay out its third consecutive special quarterly dividend.
As mentioned earlier, the outlook for ARCC stock is bright, with the company's earnings expected to benefit from additional increases in short-term interest rates.