Ares Capital Stock: 10.3%-Yielder Trouncing the S&P 500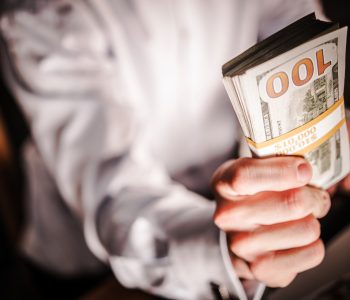 ARCC Stock Paid 4 Special Dividends in 2022
Not everyone is as flush with cash as Elon Musk and Warren Buffett. Businesses that need capital to grow their operations turn to well-heeled business development companies (BDCs) like Ares Capital Corporation (NASDAQ:ARCC). The Los Angeles-based firm is more than happy to help meet the under-served financing needs of middle-market companies.
It doesn't hurt that interest rates are on the rise, making it more expensive for individuals and businesses alike to borrow money. That said, interest rates are still near historic lows, which means BDCs like Ares Capital can access capital cheaply.
Ares Capital Corporation, the largest publicly traded BDC in the U.S., focuses on providing direct loans and other corporate investments to private middle-market companies.
The company's diverse lending portfolio consists of senior secured loans that are focused on defensively positioned companies in less-cyclical industries (65%), second-lien secured loans (18%), and a senior direct lending program (six percent). To a lesser extent, it also makes equity investments. (Source: "First Quarter 2023 Tear Sheet" Ares Capital Corporation, July 4, 2023.)
The BDC doesn't invest in just any company. It originates investments in market-leading companies with a history of stable cash flows, proven competitive advantages, and experienced management teams.
Ares Capital Corporation's portfolio, which has a fair value of roughly $21.1 billion, consists of 466 companies. The top industries served include software and services (22%), health-care services (11%), commercial and professional services (10%), and insurance services (five percent).
Since 2004, the BDC has invested more than $87.0 billion over 1,890 transactions, with a realized asset level gross internal rate of return of 14%.
Q1 Core Earnings Per Share Up 35% Year-Over-Year
Ares Capital kicked off 2023 with strong first-quarter results.
Its core earnings per share rose in the quarter by 35% year-over-year from $0.42 to $0.57. Its net income grew by 31% to $278.0 million, or $0.52 per share. Its net investment income increased by 60% year-over-year to $318.0 million, or $0.60 per share. (Source: "Ares Capital Corporation Announces March 31, 2023 Financial Results and Declares Second Quarter 2023 Dividend of $0.48 Per Share," Ares Capital Corporation, April 25, 2023.)
In the first quarter of 2023, the company made new investment commitments of approximately $766.0 million, of which about $636.0 million were funded. Also in the first quarter of 2023, Ares Capital exited approximately $1.9 billion of investment commitments.
As of March 31, the company had $359.0 million in cash and cash equivalents and $11.2 billion in total aggregate principal debt outstanding.
Commenting on the results, Penni Roll, the company's CFO, said "We have further strengthened our balance sheet thus far this year by reducing our leverage and increasing our available liquidity." (Source: Ibid.)
Commenting on the future of the company, Roll said, "We believe that our fortified balance sheet with leverage of less than 1.1x net debt to equity leaves us well-positioned to continue to support our existing portfolio companies and to be opportunistic investors in this environment."
Ares Capital Corporation's CEO, Kipp deVeer, said, "With tighter credit conditions prevalent in the market, we believe our ability to provide certainty of execution and flexible capital solutions to borrowers will enhance our competitive position and enable us to make attractive investments for this market cycle."
18-Year Track Record of High Returns
As a BDC, Ares Capital Corporation is good at making money—and it shares the wealth with its investors.
Had you invested $1.00 at the time of Ares Capital stock's initial public offering (IPO) in 2004, today you'd have $8.46. Had you invested $1.00 in the S&P 500, you'd be looking at $5.21, and had you invested $1.00 in the KBW Nasdaq Bank Index (NASDAQ:BKX), you'd have just $1.34.
Much of the total gains that investors have made from ARCC stock have come from reinvesting quarterly dividends. Ares Capital has a long history of paying ultra-high-yield dividends. Ares Capital stock's trailing dividend yield is 9.6%, while its five-year average dividend yield is 9.1%.
In February, Ares Capital Corporation announced that its board of directors declared a first-quarter dividend of $0.48 per share, for a current inflation-crushing yield of 10.3%. That's more than double the current U.S. inflation rate of about 4.0%.
In addition to reliable, high-yield regular dividends, Ares Capital is known for special dividends. ARCC stock paid out four special dividends in 2022. (Source: "Dividends," Ares Capital Corporation, last accessed July 5, 2023.)
While there's no guarantee that Ares Capital will continue to reward buy-and-hold investors with another string of special dividends, its history of paying special dividends is indicative of the strength of the company's underlying business and bullish outlook.
As you can see in the chart below, Ares Capital stock trended steadily higher throughout 2021 and hit a record high of $19.92 per share in April 2022.
ARCC stock has traded in a tight range since then, but it has been trending steadily upward over the last few months. As of this writing, Ares Capital stock is up by:
6.0% over the last three months
7.8% year-to-date
11.0% year-over-year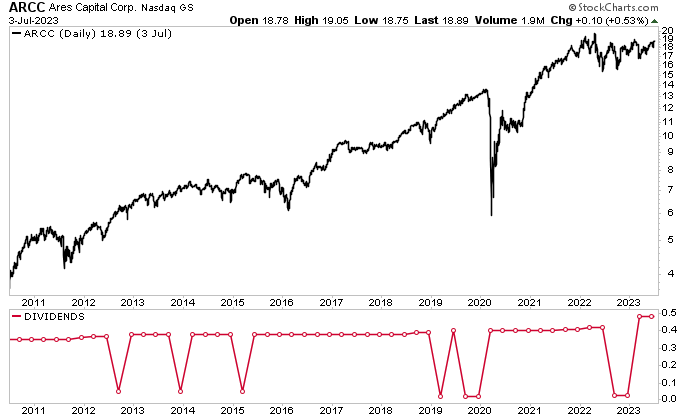 Chart courtesy of StockCharts.com
The outlook for ARCC stock is robust, with analysts providing a 12-month share-price target in the range of $20.25 to $24.00 per share, for potential gains in the range of 7.2% to 27%.
The Lowdown on Ares Capital Corporation
Ares Capital is a great asset management company that has been helping shareholders trounce inflation via big share-price gains and growing, ultra-high-yield dividends.
The BDC has a solid balance sheet with $4.9 billion of available liquidity, 13+ years of stable to increasing quarterly dividends, 12% in annual shareholder returns since its 2004 IPO, about 77% higher total returns than the S&P 500 since its IPO, and the No. 1 position in terms of 10-year annualized returns.
Ares Capital Corporation's storied history, coupled with a higher interest rate environment, bodes well not just for Ares Capital stock's price, but also its enviable high-yield dividends.