Realty Income Corp: The Best Monthly Dividend Stock Ever?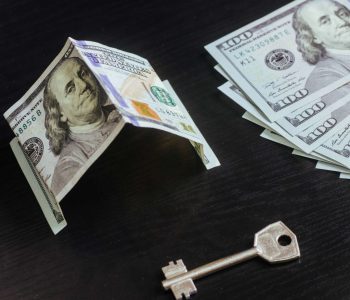 Looking for Monthly Dividends? Read This
In today's stock market, companies that pay dividends usually follow quarterly distribution schedules. That is, investors have to wait three months between dividend checks.
But there's also a group of companies that pay cash to shareholders on a monthly basis. And they have a unique appeal to income investors: since most people's bills are due every month, a monthly dividend stream can make budgeting much easier.
Right now, there are a few dozen monthly dividend stocks trading on the U.S. stock market. Among them, one company stands out the most: Realty Income Corp (NYSE:O).
As its name suggests, Realty Income is in the real estate business. Structured as a real estate investment trust (REIT), the company has a portfolio of more than 6,500 properties under long-term lease agreements with commercial clients.
In the company's own words, it's "dedicated to providing stockholders with dependable monthly income." (Source: "About Realty Income," Realty Income Corp, last accessed March 1, 2021.)
The company has done a tremendous job delivering on that objective. Since Realty Income was founded in 1969, it has paid 607 consecutive monthly dividends. (Source: "Dividend Payment Information," Realty Income Corp, last accessed February 26, 2021.)
Just think about that for a second: the U.S. economy—including the real estate sector—had quite a few ups and downs over the past five decades, yet this REIT never missed a single monthly payout.
And there's more. Since Realty Income Corp stock went public in 1994, it has delivered 109 dividend increases. Notably, O stock's last 93 dividend hikes were consecutive quarterly increases.
In other words, investors of this REIT not only collected uninterrupted monthly dividends for more than 50 years, but also got a "pay raise" every three months for more than two decades. Looking around, it's hard to find other monthly dividend payers with even close to this kind of track record.
This also means Realty Income Corp would want to continue its tradition of quarterly payout increases. If a company has been raising its dividends regularly for a long time and that streak suddenly stops, management will have some serious explaining to do.
Of course, it's one thing to want to increase the dividend, it's another thing to actually do it. Past performance is no guarantee of future results, and even companies with solid dividend histories can cut back their payouts when times get tough. Just look at what happened last year: with the COVID-19 pandemic and the ensuing lockdowns, there were plenty of dividend cuts across industries.
Should investors be worried about Realty Income's distributions in this extraordinary economic environment?
Well, at first glance, there are some concerns. Realty Income focuses on commercial real estate and earns 84% of its rent from retail properties. (Source: "Fourth Quarter 2020 Institutional Investor Presentation," Realty Income Corp, last accessed February 25, 2021.)
Given how badly the retail sector has been hit by the pandemic, you'd imagine that retailers would have trouble paying their rents, which would, in turn, hurt Realty Income's business.
In reality, though, the situation has not been that bad for this monthly dividend stock. Realty Income collected 86.5% of the contractual rent from its total portfolio in the second quarter of 2020—which was probably the worst quarter for the retail sector since, well, ever. (Source: "Realty Income Announces Operating Results for Second Quarter and First Six Months Of 2020," Realty Income Corp, August 3, 2020.)
And as the economy started to reopen, the REIT's rent collection figures quickly bounced back. In the third quarter of last year, Realty Income collected 93.1% of the contractual rent from its total portfolio. (Source: "Realty Income Announces Operating Results for Third Quarter and First Nine Months of 2020," Realty Income Corp, November 2, 2020.)
Better yet, according to Realty Income's latest earnings report, the company's contractual rent collection rose to 93.6% in the fourth quarter of 2020. (Source: "Realty Income Announces Operating Results for Fourth Quarter and 2020," Realty Income Corp, February 22, 2021.)
Now, you might be wondering how on Earth a retail landlord can achieve such strong rent collection figures when numerous retailers are still deep in the doldrums.
Well, the answer lies in the quality of Realty Income's tenant base.
You see, the company collects more than half of its rent from investment-grade-rated clients. Its top tenants are mostly solid businesses that are recession-proof, such as Walgreens Boots Alliance Inc (NASDAQ:WBA), Dollar General Corp. (NYSE:DG), FedEx Corporation (NYSE:FDX), and Walmart Inc (NYSE:WMT).
Notably, in the fourth quarter, Realty Income was able to collect 100% of the contractual rent from its investment-grade clients.
It helps that its portfolio is well diversified. Realty Income's properties, which are located in 49 states, Puerto Rico, and the U.K., are leased to about 600 clients operating in 51 industries. So if there's a lockdown in one region or a downturn in one industry, the impact on the REIT's company-level financials will likely be limited.
Is Realty Income Corp Stock's Dividend Safe?
When it comes to REITs, one of the key performance metrics is adjusted funds from operations (AFFO). To see whether a REIT's dividend is safe in a given reporting period, investors can compare its AFFO to its cash payout.
In the case of Realty Income Corp, it earned AFFO of $0.84 per share in the fourth quarter of 2020. While the amount was slightly less than the $0.86 per share generated in the year-ago period, it was more than enough to cover O stock's three monthly dividends totaling $0.702 per share during the quarter.
In full-year 2020, Realty Income's AFFO came in at $3.39 per share, which actually marked a 2.1% increase from 2019. And considering that Realty Income stock paid $2.794 for the year, its AFFO covered the payout with ease.
Don't forget, Realty Income Corp has a portfolio of properties that are well positioned to generate recurring cash flows. At the end of 2020, the portfolio was 97.9% leased, with a weighted average remaining lease term of approximately nine years.
And while the retail sector is not fully out of the woods, Realty Income expects its business to grow further in 2021.
"Based on the strength of our financial position and investment pipeline, we project 2021 acquisition volume of over $3.25 billion, translating into 2021 AFFO per share guidance of $3.44 to $3.49," said the company's president and chief executive officer, Sumit Roy. (Source: Ibid.)
Realty Income Corp (NYSE:O) Stock Chart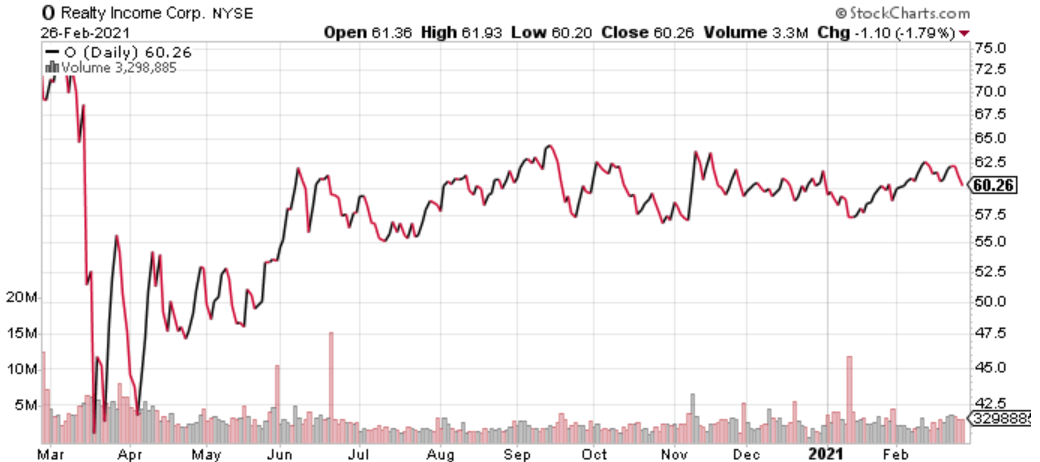 Chart courtesy of StockCharts.com
During the past year, demand for solid dividend-paying stocks has been strong. But as you can see from the above chart, Realty Income Corp stock was not exactly a hot commodity. In fact, it's trading quite a bit lower than it did prior to the pandemic.
When a company's stock price drops but its cash dividend increases, its dividend yield goes up. In the case of Realty Income Corp, it offers an annual dividend yield of 4.7% at its current share price. If you're looking for monthly dividend stocks, O stock is one that simply cannot be ignored.