Apple Inc. Earnings: Will AAPL Stock Increase Its Dividend?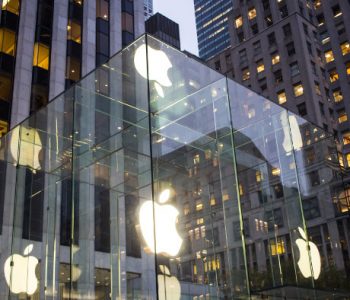 iStock.com/Davidepj
Apple Stock Returns Cash to Investors
Apple Inc. (NASDAQ:AAPL) is known for providing huge capital gains to investors for the most part of the last decade. More recently, Apple stock also established itself as a solid income investment because it dishes out billions of dollars of dividends to shareholders every quarter. Now, the company is reporting earnings again. Let's see what dividend investors can expect from the latest AAPL stock news.
The Apple stock price had a tremendous rally over the last 12 months, so it's no surprise that analysts have high expectations. On average, Wall Street expects the Cupertino, California-based tech giant to generate $87.1 billion of revenue for the December quarter, which would represent an 11.1% increase year-over-year. Earnings are expected to come in at $3.83 per share, up 14% from the $3.36 per share earned in the year-ago period. (Source: "Apple Inc. (AAPL)," Yahoo! Finance, last accessed January 30, 2018.)
Stats on AAPL Stock
| | |
| --- | --- |
| Analyst EPS Estimate | $3.83 |
| Change from Year-Ago EPS | 14% |
| Revenue Estimate | $87.06 Billion |
| Change from Year-Ago Revenue | 11.1% |
| Earnings Beats in Past 4 Quarters | 4 |
(Source: Ibid.)
While these expectations are certainly high, note that the company has quite an impressive track record when it comes to beating them. Over the past year, Apple stock has beaten Wall Street's earnings-per-share estimates in all four quarters.
Thanks to impressive financial performance, AAPL stock soared. At this time last year, Apple was already the biggest company in the world, commanding around $630.0 billion of market cap. And yet, in the past 12 months, the stock still surged 37.6%.
Also Read:
AAPL Stock: Why Apple Inc. Is a Top Pic For Income Investors
The company is scheduled to report financial results of the first quarter of its fiscal year 2018 on Thursday, February 1 after the bell. Usually, the expectation for a company's earnings date is that if it can beat analysts' expectations, the stock would climb. But in the case of Apple, there might be something that's just as important as the revenue and earnings figures—"iPhone" sales.
You see, even though Apple offers a wide range of products and services these days, it is still known as the iPhone maker. This is because the device is by far its biggest revenue contributor. In the fourth quarter of the company's fiscal year 2017 ended September 30, 2017, Apple sold 46.7 million units of the iPhone. The device was responsible for bringing in $28.8 billion in sales, representing 54.7% of the company's total revenue. (Source: "Apple Inc. Q4 2017 Unaudited Summary Data," Apple Inc., last accessed January 30, 2018.)
So, will iPhone sales be a catalyst for Apple stock in this earnings report?
Well, depending on which AAPL stock news story you read, there are mixed expectations. For instance, sources have told The Wall Street Journal that the company's latest flagship—the "iPhone X," hasn't been selling that well. And because of slower sales, sources say that Apple has reduced its production plan of the iPhone X for the first quarter of the calendar year 2018 from 40 million units to just 20 million units. (Source: "Apple to Cut iPhone X Production in the Face of Weak Demand," The Wall Street Journal, January 30, 2018.)
However, according to Kantar Worldpanel ComTech, the iPhone X actually sold quite well. Despite its steep $999.00 starting price, it was one of the top three best-selling smartphones in December across Europe, Urban China, Japan, Australia, and the U.S. And thanks to solid device sales, Apple's operating system—"iOS"—reached a record high customer loyalty of 96%. (Source: "iPhone X boosts Apple OS share in key markets," Kantar Worldpanel, January 30, 2018.)
Because of the iPhone X's much higher price tag than previous iPhones, solid sales results could significantly boost Apple's revenue and profit. On average, analysts expect the company to report 79 million total iPhone unit sales in the December quarter, one million units more than the year-ago period.
Will AAPL Stock Increase Its Dividend?
With revenue, earnings per share, and iPhone sales, there are quite a few things to watch for in Apple earnings report. However, if you are a dividend investor, Thursday's news probably won't keep you up at night, because no matter what the results are, the company is well-positioned to return an increasing amount of cash to shareholders.
Apple Inc. reinstated its dividend policy in 2012. Since then, the company has increased its quarterly dividend rate every year. From the initial payout of $0.3796 per share (split adjusted) to today's $0.63 per share, Apple's dividend has grown by 66.4%. (Source: "Dividend History," Apple Inc., last accessed January 30, 2018.)
Despite those aggressive dividend hikes, the company wasn't really paying out all that much. In its fiscal year 2017, Apple Inc. generated $9.21 of earnings per diluted share, up 10.8% year-over-year. It declared total cash dividends of $2.40 per share during this period. (Source: "Apple Reports Fourth Quarter Results," Apple Inc., November 2, 2017.)
In other words, the company had a payout ratio of just 26%. This leaves a wide margin of safety and plenty of room for future dividend increases.
Don't forget, Apple also has a huge cash pile. At the end of September 2017, the company's cash and marketable securities totaled $268.9 billion. (Source: "Condensed Consolidated Statements of Operations," Apple Inc., last accessed January 30, 2018.)
For a company that's willing to return cash to investors, a growing business and a large cash position will likely translate to continued dividend increases. Apple's Board of Directors usually reviews its dividend policy in May. Given its recent financial performance, I expect Apple Inc. to announce a payout increase of around 10% in May 2018.