Apple Hospitality REIT Inc: Bite Into This 8% Payout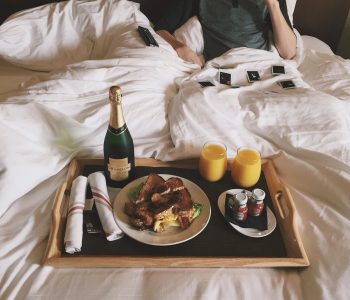 Can You Trust Apple Hospitality REIT Inc's 8% Yield?
I've spent my fair share of time in hotels, heading to business meetings, industry conferences, and investor presentations. So I would be the first person to appreciate a company that's dedicated to making travel a bit better.
While this company can't control jet lag or flight delays, Apple Hospitality REIT Inc (NYSE:APLE)—one of the largest owners of Hyatt Hotels Corporation (NYSE:H), Hilton Hotels Corporation (NYSE:HLT), and Marriott International Inc (NASDAQ:MAR) branded hotels—is committed to making trips a bit more enjoyable.
This real estate investment trust (REIT) is also committed to rewarding its unitholders. Based on its most recent payout, Apple Hospitality pays an upfront yield of 7.9%.
But will its distributions continue? Let's dive into the financials.
At first glance, Apple Hospitality REIT Inc would not fit the type of company that investors could count on for safe income.
The hotel industry, to put it bluntly, is cyclical. Business and vacation travel slows down markedly in recessions. For that reason, you often see hotel landlords slash their payouts during downturns. And we could be on the verge of another downturn once again.
Last quarter, the partnership reported that its average daily rate, a common performance metric in the hotel sector, increased only one percent to $139.21. That represents the slowest pace of per-room revenue growth that Apple Hospitality has posted in years. (Source: "Apple Hospitality REIT Reports Results of Operations for Third Quarter 2019," Apple Hospitality REIT Inc, November 4, 2019.)
It could get worse.
During a recent conference call, CEO Justin Knight predicted that revenue per average room will actually decline year-over-year in the fourth quarter. That means less cash flow for Apple Hospitality and, by extension, less cash to pay unitholders. (Source: "Apple Hospitality REIT Inc (APLE) Q3 2019 Earnings Call Transcript," The Motley Fool, November 5, 2019.)
Management, however, has positioned the trust well for any downturn.
Through the first nine months of 2019, Apple Hospitality generated $295.3 million in fund flows from operations. Over the same period, executives paid out $201.5 million in distributions. That comes out to a payout ratio of 68%. (Source: Apple Hospitality REIT Inc, November 4, 2019, op. cit.)
Generally, I like to see companies pay out no more than 90% of their cash flow as dividends. And in the case of cyclical businesses like hotels, I like to see even more wiggle room. So Apple Hospitality's payout ratio sits well within my comfort zone.
The partnership's balance sheet also puts it on a firm financial foundation.
Right now, Apple Hospitality has only $0.27 in net debt for every dollar of equity. That indicates a lower amount of leverage compared to other hotel REITs. (Source: "Apple Hospitality REIT Inc Investor Presentation December 2019," Apple Hospitality REIT Inc, last accessed February 6, 2020.)
In addition to a low debt load, management has also staggered the maturities of Apple Hospitality's outstanding loans. The bulk of  the REIT's debt load, $742.0 million, isn't due until after 2024. That leaves executives with ample financial flexibility to run their business, even if revenues dip further.
All of which means this distribution looks safe for now.