This 9.9% Dividend Yield Is Well Positioned to Grow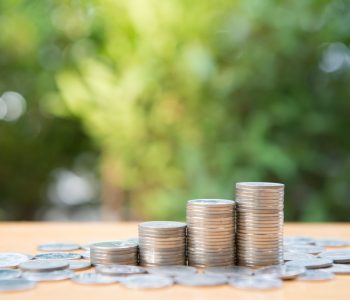 iStock.com/Magnetic-Mcc
A Top High-Yield Stock to Consider
High-yield stocks are not known for providing the brightest growth prospects, but Apollo Commercial Real Estate Finance Inc (NYSE:ARI) could be an exception.
As the name suggests, ARI is in the commercial real estate finance business. Headquartered in New York City, the company invests in commercial first mortgage loans, subordinate financings, commercial mortgage-backed securities, and other commercial real estate-related debt investments.
In today's market, Apollo Commercial Real Estate Finance stands out due to its generous dividend policy. With a quarterly dividend rate of $0.46 per share, ARI stock offers an annual dividend yield of 9.9%.
For quite some time, investors have to choose between income stocks and growth stocks. With a yield approaching 10%, Apollo Commercial Real Estate Finance definitely qualifies as an income stock. And yet the company also has solid growth prospects for a very simple reason: rising interest rates.
For the most part of the last decade, the U.S. Federal Reserve kept interest rates at artificially low levels. But now, things are changing.
Since 2015, the Fed has raised its benchmark interest rates on five different occasions. And for 2018, market participants are expecting as many as four more rate hikes from the U.S. central bank.
For many consumers and businesses, higher interest rates could translate to higher debt repayment burdens. But for ARI stock, future rate hikes would actually be catalysts.
You see, Apollo Commercial Real Estate Finance makes money by collecting interest payments from its underlying mortgage investments. As of December 31, 2017, approximately 88% of all the loans in the company's portfolio bore interest at floating rates. So when the interest rate increases, ARI would earn a higher return from its portfolio. (Source: "Investor Presentation March 2018," Apollo Commercial Real Estate Finance Inc, last accessed March 8, 2018.)
In fact, management has estimated that if the London Interbank Offered Rate (LIBOR)—a benchmark short-term rate at which banks lend to each other—goes up by 100 basis points, the company's annual net interest income would increase by $0.20 per share.
Note that, since the beginning of this year, the three-month U.S. LIBOR has already gone up by more than 25 basis points.
Three-Month London Interbank Offered Rate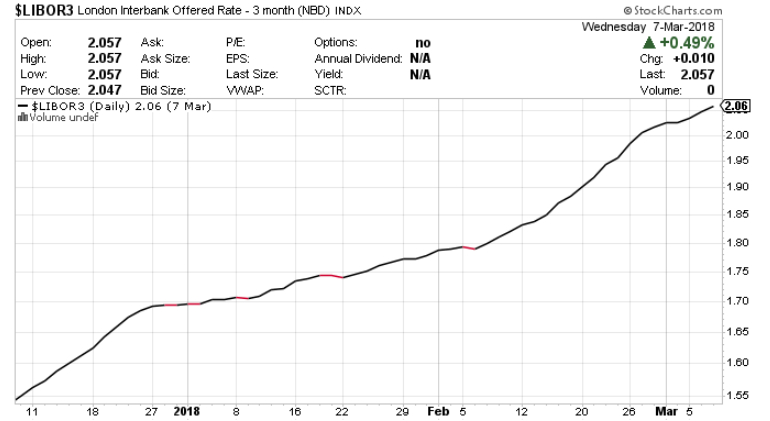 Chart courtesy of StockCharts.com
Moreover, the company already makes enough money to back its current payout.
In the fourth quarter of 2017, Apollo Commercial Real Estate Finance generated operating earnings of $0.49 per diluted share, which was more than enough to cover its quarterly cash dividend of $0.46 per share. In full-year 2017, the company declared total dividends of $1.84 per share, while its operating earnings totaled $1.89 per share. This also left a margin of safety. (Source: "Apollo Commercial Real Estate Finance, Inc. Reports Fourth Quarter and Full Year 2017 Financial Results," Apollo Commercial Real Estate Finance Inc, February 14, 2018.)
At the end of the day, keep in mind that Apollo Commercial Real Estate Finance Inc has elected to be regulated as a real estate investment trust. Therefore, the company is required by law to distribute at least 90% of its profits to shareholders through regular dividend payments. So if interest rates keep on increasing (which they probably will), ARI stock investors could earn even higher yields than its already impressive payout of 9.9%.