Apollo Commercial Real Estate Finance Inc. (NYSE:ARI): This 9.8% Yield is Worth a Look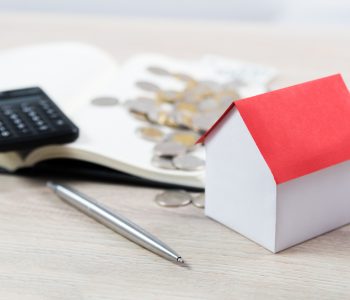 iStock.com/Photografeus
This Trust Now Yields 9.8%
You may have to date a lot of crazies before you find someone you'd want to share your Netflix password with.
The same thing, it seems, applies to high-yield stocks. Like a lot of the people you meet in the dating market, most double-digit payouts come with some, er, "baggage."
But today's stock, which sports a lovely 9.8% yield, should inspire confidence. Apollo Commercial Real Estate Finance Inc. (NYSE: ARI) invests in and originates commercial first mortgages. And at least as far as its distribution is concerned, this payout looks reasonably safe.
Management has established a good track record, for starters. Apollo has paid a quarterly distribution since 2010. Over that time, executives have raised the payout more or less in line with profits.
Through the first nine months of 2017, the business generated $57.2 million in net income to common shareholders. Over that same time, management paid out $48.5 million in distribution. This leave executive with a big buffer if profits dipped and room to even raise the payout further.
And that cash pile could keep growing. Year-to-date earnings per share increased 10.8% to $1.21 per share from $1.11 per share in 2016. Much of that can be credited to a higher volume of commercial real estate loan originations and a pipeline of attractive investment opportunities.
Analysts see profits growing at a high-teen clip over the next few years. If the company doesn't change its dividend policy, its payout ratio will drop below 80% by next year. This will gives the company even more wiggle room, improving the safety of the distribution further.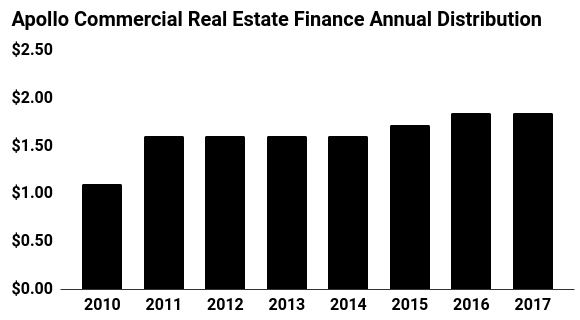 Source: Corporate Filings
The Bottom Line on ARI Stock
The only downside here? Interest rates. Apollo makes its profits mostly from the difference between the interest rate it pays creditors and the yields it earns on investments. If this spread tightens, earnings would get clipped.
Furthermore, commercial lending comes with higher risks than traditional residential loans. That said, Apollo stands near the front of the line to get paid if anything goes wrong. This helps shareholders sleep at night.
But with a growing loan book, low payout ratio, and nearly double-digit yield, investors should swipe right on this dividend stock.