Apartment Income REIT Corp: High Yielder Raises Dividend & FFO Guidance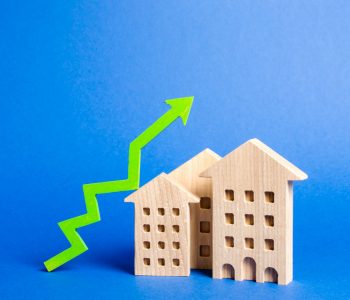 AIRC Stock Looks Bullish on Recovering Economy
Apartment Income REIT Corp (NYSE:AIRC) is a relatively new real estate investment trust (REIT), but it's been around for years. It split from Apartment Investment and Management Co (NYSE:AIV) in December 2020 to become an independent, publicly traded, self-managed, and self-administered REIT.
Unfortunately, having "Apartment" in its name during the worst economic crisis in 100 years probably wasn't a big drawing card—especially with government-mandated freezes on rent escalations (and even on rent collections).
Despite this perfect storm, Apartment Income REIT Corp has performed well in 2021. As of this writing, Apartment Income REIT stock is up by:
Five percent over the last three months
26% over the last six months
38% year-to-date
Things have been going so well that Apartment Income REIT recently raised its quarterly dividend. In July, the company's CEO, Terry Considine, noted, "Business is good! High consumer demand is driving higher occupancy and higher rents." (Source: "Air Reports Second Quarter 2021 Results – Full Year FFO Guidance Increased by 5%; Quarterly Dividend Raised by 2%," Apartment Income REIT Corp, July 29, 2021.)
To celebrate, the company's board of directors increased AIRC stock's quarterly cash dividend by two percent from $0.43 to $0.44 per share ($1.76 per share annualized), for a dividend yield of 3.4%.
Income hogs might think that might be a little stingy, but it's significantly higher than the two-percent average yield for S&P 500 companies. It's also a higher yield than you'd get from Apartment Income REIT stock's peers:
AvalonBay Communities Inc (NYSE:AVB): 2.8%
Camden Property Trust (NYSE:CPT): 2.2%
Essex Property Trust Inc (NYSE:ESS): 2.6%
Mid-America Apartment Communities Inc (NYSE:MAA): 2.1%
UDR, Inc. (NYSE:UDR): 2.7%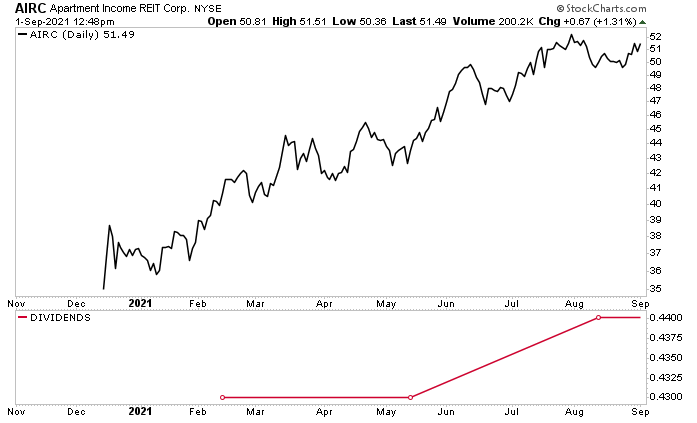 Chart courtesy of StockCharts.com
Thanks to Apartment Income REIT Corp's solid balance sheet, diverse portfolio, low operating costs, and significant rent escalations, there's more than enough reason to believe that the company will raise AIRC stock's dividend again over the coming quarters.
Why Investors Should Be Bullish on Apartment Income REIT Stock
Denver, CO-based Apartment Income REIT is one of the country's largest owners and operators of apartments, with approximately 96 properties—more than 26,599 apartments—in 12 states and D.C. (Source: "Investor Presentation: June 2021," Apartment Income REIT Corp, last accessed September 14, 2021.)
What separates Apartment Income REIT from its competitors is the location of its properties. The company primarily targets assets in suburban and select urban submarkets of major metropolitan areas that feature higher land value, higher expected rent growth, higher incomes, dense populations, and positive job and income growth. All of which points to higher projected free cash flow rates of return.
Apartment Income REIT Corp currently operates in the following primary markets:
Atlanta
Boston
Denver
Los Angeles
Manhattan
Miami
Philadelphia
San Diego
San Francisco Bay Area
Greater Washington, D.C.
Within these markets, the REIT generally acquires communities that have more than 100 apartments—except in New York City, where it considers smaller opportunities.
The company has been streamlining its property portfolio over the last number of years to concentrate on its best assets. In 2008, its portfolio stood at more than 300 properties. By trimming properties from lower-growth markets, the REIT has actually increased its expected average financial growth. In 2018, the company completed the sale of the last of its affordable-living and asset-management business.
Because of these efforts and its strategic acquisition strategy, Apartment Income REIT Corp has largely recovered from the COVID-19 pandemic and the related government response.
In the company's Q2 2020 earnings call, management said it expected occupancy to bottom in August, which it did. In the Q4 2020 earnings call, management reported that demand had returned to normal levels in January 2021. In the Q1 2021 earnings call, management revealed that its average asking rents were above pre-COVID-19 peaks, at $2,323. Year-to-date, the REIT has increased its effective asking rents by $175.00.
The company's net rental income is expected to recover as new and renewal leases are transacted over the coming months.
Management expects Apartment Income REIT Corp's bad debt expenses to decline, though the pace will depend on the unwinding of emergency ordinances that allow residents to live rent-free. This will allow the company to again collect rent from (or re-rent) its apartments.
Apartment Income REIT has said that its average rents have increased by approximately 3.3% annually. During the 2020 pandemic, its rent increases fell below that pace. But in 2021, its asking rents have been on the rise, and the company expects that these higher rents will be realized as new and renewal leases are transacted during the remainder of 2021 and in 2022.
Management Reports Solid Q2 Results & Raises Funds From Operations Guidance
In July, Apartment Income REIT announced that its total second-quarter revenue slipped by 1.8% year-over-year to $178.3 million. In the second quarter, the company recognized 97.9% of all its residential revenue owed, treating the balance of 2.1% as bad debt. Year-to-date, it received 97.9% of all its residential revenue and collected 97.6% of its billed rents. (Source: Apartment Income REIT Corp., July 29, 2021, op. cit.)
The company reported a second-quarter 2021 net loss of $17.9 million, or $0.12 per share, compared to second-quarter 2020 net income of $39.2 million, or $0.33 per share.
Apartment Income REIT Corp's second-quarter funds from operations (FFO) were $0.52, $0.02 above the high end of guidance.
During the second quarter, Apartment Income REIT acquired City Center on 7th, a 700-apartment community in Pembroke Pines, FL for $223.0 million. In the first 45 days since acquiring the property, the company signed 27 new leases with rate increases averaging 21.5%, while increasing occupancy by 70 basis points to 97.1%.
In April, the REIT closed on a new $1.4-billion credit facility, lowering its 2021 interest-expense expectations by $2.5 million and increasing its FFO by an equal amount, or $0.015 per share.
Considine commented, "Asking rents have now surpassed the pre-COVID peak and are at or above their long-term trend. Improving consumer demand and strong execution led to signed new rates up 2.7% in the second quarter…and up 9.5% month-to-date in July." (Source: Ibid.)
He continued, "We are on track to meet leverage goals. In April, we issued $342 million of equity and used the proceeds to reduce debt. We expect similar proceeds from 3Q activity to sell our New York and Chicago properties, and a like amount from 4Q activities to sell properties outright or to joint ventures, with all proceeds applied to debt reduction."
With 80% of its anticipated 2021 leasing activity completed, Apartment Income REIT Corp expects full-year same-store net operating income (NOI) growth between negative-0.5% and one percent, with same-store property operations contributing an incremental $0.08 to FFO per share at the midpoint. The company's full-year FFO expectation, at the mid-point, is now seven percent above projections from the beginning of the year.
The Lowdown on Apartment Income REIT Corp
Apartment Income REIT Corp has a high-quality, diverse portfolio of stabilized multifamily properties and a strong, flexible balance sheet. The company has the lowest controllable operating expenses growth over the past 10 years, peer-leading NOI margins for 15 consecutive quarters, a strategic acquisition strategy, and occupancy and rents that have returned to pre-COVID levels.
This has positioned AIRC stock for "an excellent second half of 2021 and an even better 2022."