8.6%-Yielding Antero Midstream Stock Up 13% Year-Over-Year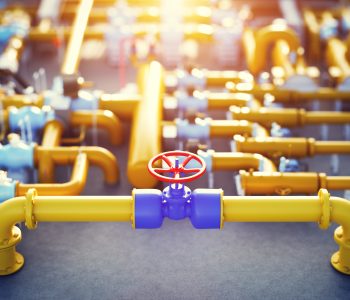 How AM Stock Can Pay Safe, High-Yield Dividends
When it comes to dividend investing, some traders focus exclusively on dividend yield. Who doesn't love inflation-crushing dividends? But capital appreciation is also important—really important. Investing in a company that pays high-yield dividends but whose stock price is falling is a great way to lose your capital.
When it comes to income investing, I try to find stocks with stable share prices, ideally ones that are increasing. A prime example is Antero Midstream Corp (NYSE:AM), which owns and operates assets that service natural gas production.
The company operates in two of the lowest-cost natural gas and natural gas liquid (NGL) basins in North America: the Marcellus Shale and the Utica Shale, both of which are in the Appalachian regions of Pennsylvania, Ohio, and West Virginia. (Source: "Antero Midstream Corporate Presentation: May 2023," Antero Midstream Corp, last accessed May 15, 2023.)
The Marcellus Shale is an unconventional reservoir that produces natural gas, NGL, and oil. It's the largest and most prolific unconventional natural gas reservoir in the U.S., having produced nearly 35% of the total U.S. natural gas supply in 2021. Its current inventory is expected to last in excess of 20 years.
Antero Midstream Corp provides its services to Antero Resources Corporation (the second-largest NGL producer in the U.S.) under long-term, fixed-fee service agreements. The company also provides processing and fractionation services through its 50/50 joint venture with MPLX LP (NYSE:MPLX).
Antero Midstream operates through two segments: Natural Gas Gathering and Processing, and Water Handling.
The Natural Gas Gathering and Processing segment includes:
494 miles of gathering pipelines
4.0 billion cubic feet per day of compression capacity
40,000 barrels of natural gas processing capacity through the MPLX joint venture
6.0 billion cubic feet per day of processing capacity
The Water Handling segment includes freshwater pipelines and storage facilities that support Antero Resources Corporation's operations in the Marcellus Shale and Utica Shale. Antero Midstream Corp uses localized mobile blending facilities to treat and recycle produced water. The treated water is blended with fresh water and transported via pipeline directly back to pad sites.
The freshwater delivery system includes:
35+ miles of freshwater pipelines
18 million barrels of freshwater storage
100,000 barrels per day of wastewater recycling and reuse capacity
Thanks to the company's long-term fixed service fee agreements, Antero Midstream has a steady and reliable revenue stream and predictable cash flow. This allows the company to expand its operations and provide Antero Midstream stockholders with safe, high-yield dividends.
Antero Midstream Corp Closes on $205-Million Acquisition
In September 2022, Antero Midstream significantly expanded its operations by acquiring Marcellus Shale gas gathering and compression assets from Crestwood Equity Partners LP (NYSE:CEQP) for $205.0 million. (Source: "Antero Midstream Agrees to Acquire Bolt-On Marcellus Gathering and Compression System," Antero Midstream Corp, September 12, 2022.)
The transaction includes 72 miles of dry gas gathering pipelines and nine compressor stations with approximately 700.0 million cubic feet per day of compression capacity. This represents an additional seven to eight years of drilling inventory at the current development pace. It also includes about 425 undeveloped drilling locations and 120,000 gross dedicated acres.
Furthermore, the acquisition increases Antero Midstream Corp's compression capacity by 20% and increases its gathering pipeline mileage by 15%.
The deal is estimated to be more than 10% accretive to free cash flow (FCF) after dividends through 2026. Moreover, it could lead to $50.0 million worth of discounted future capital avoidance, integration, and operational synergies.
Management Reported Strong Q1 Results & Raised Guidance
Long-term fixed agreements have been helping Antero Midstream report superb financial results.
In the first quarter, the company's revenues increased by 18.7% year-over-year to $259.4 million. Its gathering and compression volumes increased by eight percent and 11%, respectively. Its freshwater delivery went up by 41%. (Source: "Antero Midstream Announces First Quarter 2023 Financial and Operational Results," Antero Midstream Corp, April 26, 2023.)
The company's net income increased in the first quarter by 7.5% year-over-year to $86.5 million, or $0.18 per share. Its adjusted net income was $100.0 million, with its earnings per share (EPS) going up by 11% to $0.21. Its adjusted earnings before interest, taxes, depreciation, and amortization (EBITDA) increased by 16% to $242.0 million.
Antero Midstream Corp's FCF before dividends was $154.0 million, a 119% increase compared to the same prior-year quarter. Its FCF after dividends was $46.0 million, compared to a $38.0-million FCF loss after dividends in the same prior-year quarter. This was the third consecutive quarter in which the company generated positive FCF after dividends. Most significantly, its FCF after dividends improved by $84.0 million from the first quarter of 2022.
For 2023, Antero Midstream Corp expects to pay total dividends of $430.0 million and report:
Net income in the range of $355.0 to $395.0 million
Adjusted net income in the range of $410.0 to $450.0 million
Adjusted EBITDA in the range of $950.0 to $990.0 million
FCF before dividends in the range of $550.0 to $590.0 million
FCF after dividends in the range of $125.0 to $155.0 million
The guidance at the midpoint for all those categories is higher than the previous guidance at the midpoint.
Antero Midstream Stock's Quarterly Payout Maintained at $0.225/Share
In April, the company's board declared a quarterly cash dividend of $0.225 per share, for a current yield of 8.6%. AM stock has a long history of paying high-yield dividends; its five-year average dividend yield is 12.1%.
As you can see in the chart below, Antero Midstream stock's payout fluctuates. But thanks to the company's strong cash generation, chances are good it will increase its dividend over the coming quarters. Since going public in 2017, the company has transitioned from outspending to generating consistent FCF, with a leverage target of less than 3.0x. Starting in 2024, it will take another look at increasing its dividend.
In terms of share price, AM stock has been doing fairly well. Antero Midstream stock has risen by about seven percent since the company reported tremendous first-quarter results on April 26. The stock is also up by 13.2% over the last 12 months (as of this writing).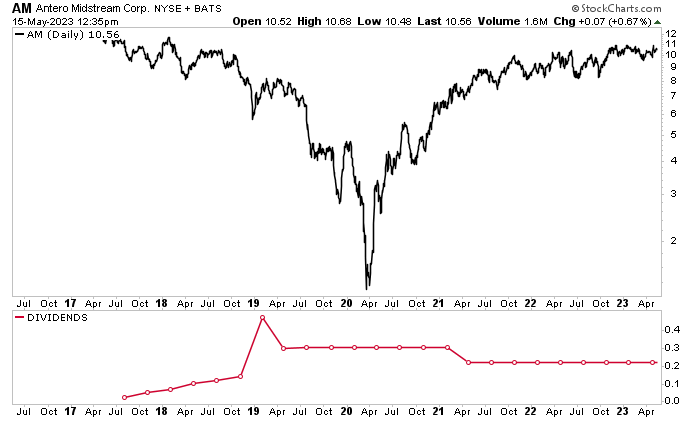 Chart courtesy of StockCharts.com
The Lowdown on Antero Midstream Corp
Antero Midstream is an excellent oil and gas midstream company with a great balance sheet and reliable, high-yield dividends.
Management reported that the company had an "outstanding operational performance" in the first quarter, led by record throughput that helped drive up its earnings to be "well in excess" of its earnings in the same prior-year quarter—and above expectations. The first-quarter results also included an outstanding performance by its freshwater business.
As mentioned above, Antero Midstream Corp has hiked its guidance for 2023, which includes expectations of a large increase to its FCF after dividends.
All this should have a positive effect on AM stock's yield and share price.