Antero Midstream Corp: Natural Gas Stock With 13.2% Dividend Up 121% YoY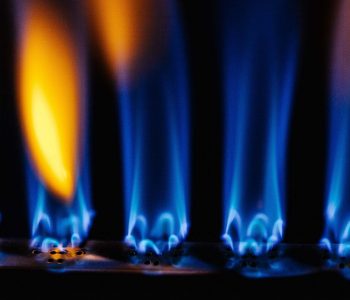 Antero Midstream Stock: Inflation-Trumping Stock Remains Bullish
Rising treasury yields sent Wall Street into a tizzy in late February, with tech stocks cratering. Since then, saner minds have prevailed, the markets have settled, and the 10-year Treasury yield is holding below 1.5%. Many investors are happy, but income-starved investors are probably shaking their heads.
With positive economic data rolling in, one of the best places for income hunters to turn right now is the energy sector. One stock in particular that investors should keep their eyes on is Antero Midstream Corp (NYSE:AM).
The Denver, CO-based company was formed by Antero Resources Corp (NYSE:AR) to service its natural gas and natural gas liquid (NGL) production in the Appalachian Basin. The company owns, operates, and develops midstream energy infrastructure in two of North America's premier shale plays: the Marcellus Shale and Utica Shale. (Source: "About Us," Antero Midstream Corporation, last accessed March 2, 2021.)
The Marcellus Shale produces natural gas, NGL, and oil. It's the largest and most prolific unconventional natural gas reservoir in the U.S., producing nearly 35% of the total U.S. natural gas supply in 2018.
Antero Midstream's Gathering and Processing segment provides gathering and compression services to Antero Resources Corp under long-term, fixed-fee service agreements and provides processing and fractionation services through its 50/50 joint venture with MPLX LP (NYSE:MPLX).
The Gathering and Processing segment includes:
More than 370 miles of low- and high-pressure gathering pipelines
More than 2.7 billion cubic feet per day of compression capacity
40,000 barrels of NGL processing capacity through the MPLX joint venture
One billion cubic feet per day of processing capacity through the MPLX joint venture
(Source: "Gathering and Processing," Antero Midstream Corp, last accessed March 2, 2021.)
The company's Water and Handling Treatment segment owns and operates an integrated closed-loop system of freshwater pipelines and storage facilities to support the completions operations for Antero Resources in the Marcellus Shale and Utica Shale. The company provides freshwater and wastewater treatment services to Antero Resources under long-term, fixed-fee service agreements.
The Water and Handling Treatment segment includes:
38 freshwater storage facilities, with 18 million barrels of storage capacity
60,000 barrels per day of wastewater treatment capacity
More than 275 miles of freshwater pipelines
(Source: "Water Handling and Treatment," Antero Midstream Corp, last accessed March 2, 2021.)
Thanks to the company's long-term, fixed-fee service agreements, Antero Midstream has been able to establish a steady revenue stream and provide investors with a reliable dividend.
AM stock is up 121% year-over-year and is up 471% since the March 2020 low.  Antero Midstream stock has also rallied 20% since the start of 2021.
Wall Street is pretty confident in Antero Midstream Corp's long-term outlook: 33.0% of its shares are held by insiders and 54.3% are held by institutions. On top of that, just 1.8% of the company's shares have been shorted.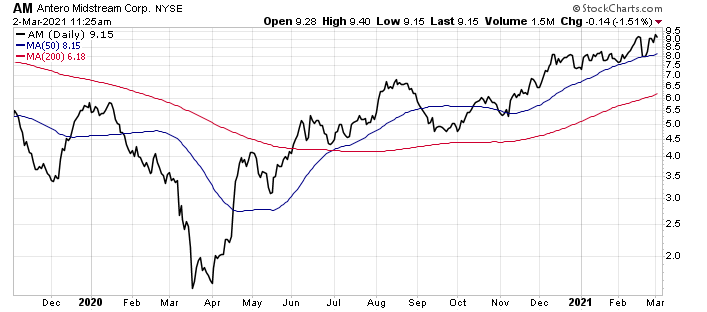 Chart courtesy of StockCharts.com
Dividends Paid in 24 Consecutive Quarters
On February 17, Antero reported fourth-quarter net income of $76.5 million ($0.16 per share), compared to a net loss of $144.6 million ($0.29 loss per share) in the same prior-year period. (Source: "Antero Midstream Announces Fourth Quarter 2020 Financial Results and 2021 Capital Budget and Guidance," Antero Midstream Corp, February 17, 2021.)
The company's adjusted net income was $98.0 million ($0.21 per share), a five percent increase from the prior-year fourth quarter. Its adjusted earnings before interest, taxes, depreciation, and amortization (EBITDA) were $203.0 million, which was in line with the prior-year fourth quarter.
Analysts were looking for fourth-quarter earnings of $0.20 per share and revenues of $197.6 million.
Antero's distributable cash flow was $159.0 million, which was in line with the previous year's fourth quarter. Its free cash flow before dividends was $135.0 million, up 221% year-over-year.
Despite its strong balance sheet, Antero Midstream Corp is actually going to reduce its annual dividend. Right now, the company's annual dividend rate is $1.23 per share, with a yield of 13.2%. But because of a new drilling partnership, it will be reducing its annual dividend in 2021 to $0.90 per share, or $0.225 quarterly. This still works out to a frothy 10% yield.
Unwanted perhaps, but the dividend reduction is merited and sets the company up for greater long-term success.
Antero Resources Corp's new drilling partnership is expected to increase the throughput and freshwater volume growth at Antero Midstream Corp. The company is investing an additional $65.0 million this year on capital projects to support the extra production. To get there and not assume more debt, the company is decreasing its dividend.
This should help Antero Midstream generate an incremental $200.0 million in free cash flow after dividends through 2025.
There is always a risk/reward trade-off with high dividends. Finding a stock with an insanely high dividend and sliding share price is the best way to destroy an investment portfolio. Fortunately, investors aren't getting that with Antero Midstream. Instead, they're getting a rock-solid company with a juicy dividend and tremendous long-term growth potential.
And it's always better to find a stock that provides a big dividend and the prospect of serious share-price gains.
To that end, on January 21, Antero Midstream declared a fourth-quarter cash dividend of $0.3075 per share, which works out to $1.23 on an annual basis. This represents the 24th consecutive quarter in which Antero has paid a dividend. (Source: "Antero Midstream Announces Fourth Quarter 2020 Return of Capital and Earnings Release Date and Conference Call," Antero Midstream Corporation, January 20, 2021.)
Despite the reduction in the company's 2021 dividend payout, investors don't seem that upset. AM stock has recovered from its late-February sell-off, which coincided with the release of the company's fourth-quarter results.
The Lowdown on Antero Midstream Corp
Because of Antero Midstream Corp, Antero Resources Corp is the most integrated natural gas and NGL company in the U.S. Although Antero Midstream stock is reducing its dividends in 2021, the decision was made for capital allocation purposes, not because the business is underperforming.
AM stock will still provide juicy dividends throughout 2021, and investors should be able to enjoy strong share-price gains. Eventually, the stronger company will likely get back to increasing its dividends.