Annaly Stock: This Mortgage REIT Yields 9.7%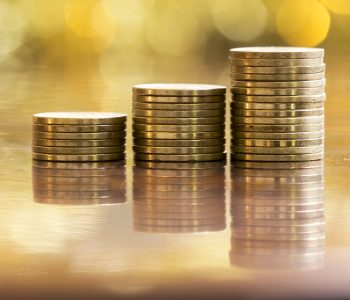 Earn 9.7% From This "Boring" Stock
Today's chart highlights some of the highest-yielding investments around: mortgage real estate investment trusts (REITs).
Mortgage lenders don't get a lot of coverage in the press. Compared to covering the next hot tech gadget, the gritty details of yield spreads just don't jump off the page.
But while most people have never heard of them, some of these names pay out yields as high as 12%, 15%, and even 17%. One of my favorites? Annaly Capital Management (NYSE:NLY). It might not impress your friends at the next cocktail party, but income hunters should take a look.
The business is pretty easy to wrap your head around: Annaly borrows money at a low interest rate and then plows those funds into higher-yielding, government-guaranteed mortgages. Owners pocket the difference, the "spread."
It's the "3-6-3" rule to building wealth. Bankers joke that they can borrow at three percent, lend at six percent, and hit the golf course by three o'clock. Sure, Annaly's business has the excitement of a mashed-potato sandwich, but it can make you rich if managed properly.
Annaly has no physical branches, in contrast to regular lenders. That means no vaults, no human tellers, and no brick-and-mortar locations. It works like a kind of virtual bank, operating completely online.
This lack of overhead represents a huge edge over traditional financial firms. Last year, Annaly's gross margins topped 71%. The business generated $0.23 in profits on every dollar of equity invested in the firm. You just don't see numbers like these from other banks and lenders.
It gets better. Because of how management has legally structured their operations, Annaly pays no taxes on corporate profits. In exchange for this benefit, however, executives must pay out most of their earnings to owners.
This has created a lucrative income stream. Today, Annaly pays out a quarterly distribution of $0.30 per share, which comes out to an annual yield of 9.7%. And as you can see in the chart below, these oversized yields result in tidy returns over time.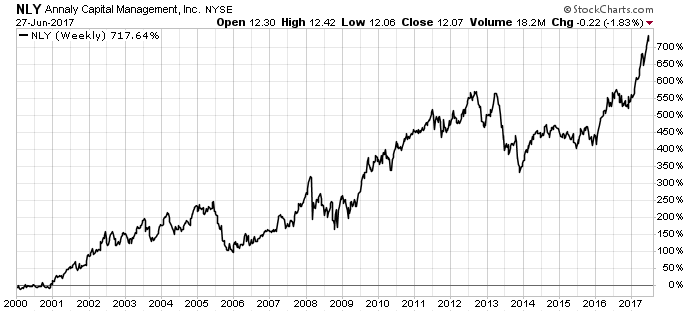 Source: StockCharts.com
To be clear, you can't call this stock a sure thing. The spread between what Annaly borrows and lends money at can swing wildly. Because management pays out most of their profits to owners, they don't have a lot of wiggle room if business sours. That means distributions can and do get reduced from time to time.
That said, the executives have hedged some of these risks. I also like the company's conservative balance sheet, given that Annaly uses only a fraction of the leverage of big banks. This might eat into returns, but it helps owners sleep at night.
Bottom line: Annaly is a cash machine. I love this business for the oversized yield and risk-adverse management. And if you're willing to trade being the talk of your next cocktail party for steady income, you'll like this name just fine.