Annaly Capital Management: This REIT Yields 11.8%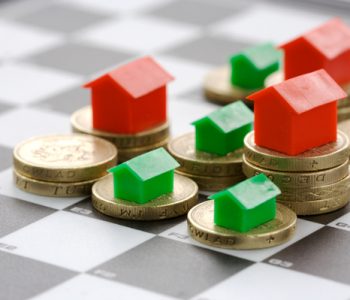 iStock.com/jhdbwui
Mortgage REIT Pays 11.8% Yield
Income investors have struggled in recent years.
Bank accounts pay next to nothing. So do treasury bills and money market funds.
Stock prices have soared, possibly due for a correction at any moment. Billions have poured into junk bonds, pushing yields down to record lows. In other words, chasing yield nowadays looks dumber than hiring Winston Churchill to guard your liquor cabinet.
But for those who know where to look, you can still find pockets of safe, high yields. In previous years, I introduced my readers to mortgage real estate investment trusts (mREITs). And while most people have never heard of them, some of these firms pay out yields as high as 15%.
Annaly Capital Management, Inc.  (NYSE:NLY) represents one of my favorites. This name won't impress your colleagues around the water cooler, but the firm has cranked out distributions for decades. And with a yield now topping 11.6%, dividend devotees should take a look.
The business is pretty easy to figure out.
Annaly borrows money at a low interest rate. It then invests those funds into higher-yielding, government-backed mortgages.
Also Read:
NLY Stock: 3 Reasons to Be Bullish on This 9.7% High Dividend Yield
Unitholders earn the difference, called the "spread." It's old-fashioned banking, but quite profitable. And if managed properly, this model can make you quite rich over time.
In contrast to regular lenders, though, mREIT's have no brick-and-mortar locations.
Annaly has no vaults, no tellers, and no branches. Because the business has almost no overhead, nearly all of its interest income flows straight to the bottom line.
Management has also taken advantage of a number of loopholes in the tax code. By structuring their business as a partnership, Annaly pays no taxes on corporate profits. In exchange for this benefit, however, executives must pay out most of their earnings to owners.
This has resulted in quite the income stream.
Today, Annaly pays out a quarterly distribution of $0.30 per unit. This comes out to an annual yield of 11.8%.
And, as you can see in the chart below, these distributions can really add up over time. Since 1999, Annaly has delivered a total return, including dividends, of 600%. This performance crushed the returns from the broader S&P 500 over the same period.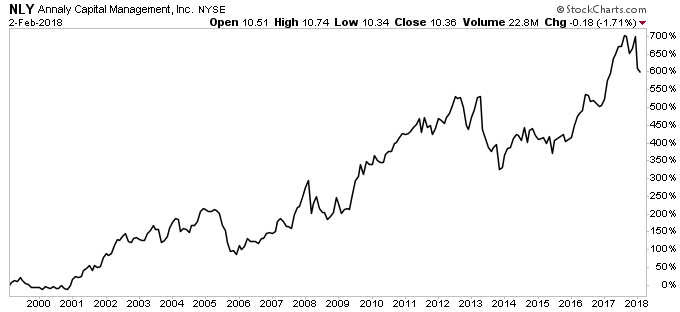 Source: StockCharts.com
To be clear, you can't call mREITs a slam dunk.
The spread between where management borrows and lends money shifts over time. With the Federal Reserve raising interest rates, Annaly's margins have tightened in recent months.
Hence the big sell-off the past few weeks. This payout will fluctuate over time, as a quick glance at Annaly's distribution history will reveal.
But, given the partnership's outstanding hedges, light debt load, and conservative lending practices, owners can sleep well at night.