Annaly Capital Management Inc: Top Dividend Stock Yields 11.6%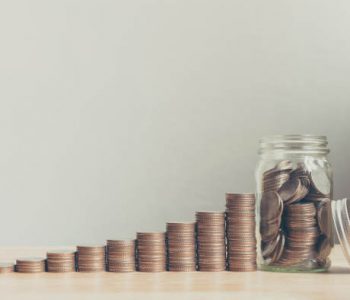 iStock.com/marchmeena29
NLY Stock: A High-Yield Stock for Income Investors
Today's chart highlights one of the most generous dividend payers in the current stock market, Annaly Capital Management Inc. (NYSE:NLY).
Headquartered in New York City, Annaly Capital Management is a mortgage real estate investment trust (mREIT). Compared to equity real estate investment trusts (REITs) that own physical properties, Annaly Capital Management focuses primarily on investing in mortgages.
The first thing that makes NLY stock stand out is its size. The company has 25 times the market capitalization of the median mREIT. With a pro forma equity base of over $14.0 billion, Annaly is the largest mREIT in the business. (Source: "2018 Annual Meeting," Annaly Capital Management Inc, May 23, 2018.)
Due to its size advantage, the company can run a diversified business. While most mREITs invest in a certain type of mortgage-backed security, Annaly has the ability to operate four business segments: "Agency," "Residential Credit," "Commercial Real Estate," and "Middle Market Lending." These four segments complement each other.
The Agency segment invests in mortgage-backed securities guaranteed by Fannie Mae, Freddie Mac, or Ginnie Mae, and is known to be counter-cyclical and defensive.
Annaly's Residential Credit and Commercial Real Estate segments, on the other hand, tend to be cyclical and driven by economic growth.
Middle Market Lending is usually non-cyclical and defensive. Add it up and you'll see that the company has a business mix that would allow it to thrive through thick and thin.
Annaly Capital Management Inc: Generous Dividends
Of course, despite having different types of lending segments, Annaly Capital Management Inc. still makes most of its money by earning interest payments. For instance, its Agency segment usually earns levered returns of between nine percent and 10%.
Keep in mind that, for federal income tax purposes, Annaly Capital Management has decided to be treated as a real estate investment trust. That means the company must return at least 90% of its profits to shareholders through dividend payments.
Currently, Annaly Capital Management has a quarterly dividend rate of $0.30 per share, which comes out to an annual yield of 11.6%.
Now, a double-digit yield in this day and age is not exactly a sign of strength. Very often, ultra-high yielders can't afford their dividends, and they end up having to cut the payout.
But, as it turns out, Annaly generated core earnings of $0.41 per common share in the first quarter of 2018. The amount was more than enough to cover its quarterly dividend payment of $0.30 per share. (Source: "Annaly Capital Management, Inc. Reports 1st Quarter 2018 Results," Annaly Capital Management Inc, May 2, 2018.)
Another common concern about high-yield stocks is their terrible share price performance. This is because, at a given quarterly dividend rate, a company's dividend yield moves inversely to its share price. Sometimes the only reason a company can offer a double-digit payout is the downturn in its stock price.
But that's not the case for Annaly Capital Management, either. Despite offering a jaw-dropping yield of 11.6%, the company's total return actually outperformed not only most of its peers, but also a major benchmark index.
Annaly Capital Management Inc vs. Others: Three-Year Total Return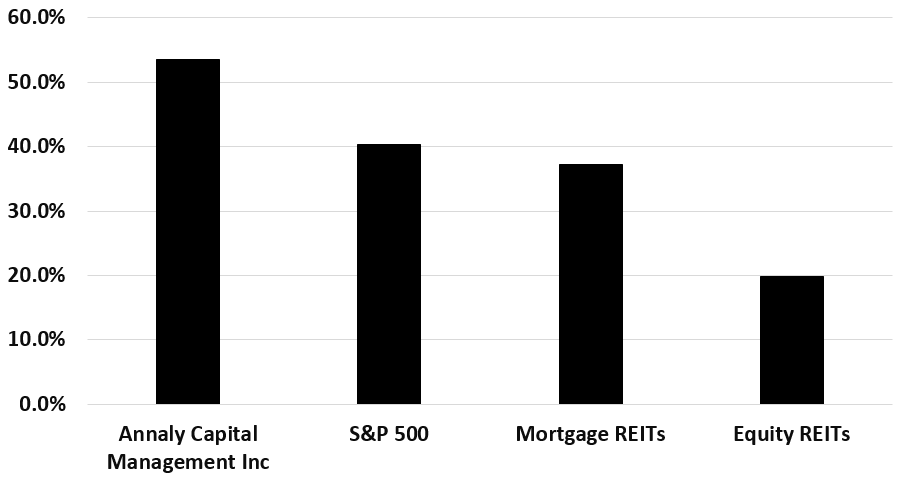 (Source: Annaly Capital Management Inc, May 23, 2018, op cit.)
Over the past three years, Annaly Capital Management delivered a total return of 53.5%, substantially outperforming its mREIT peers (averaged 37.3%) and equity REITs (averaged 19.8%). NLY stock's total return was also higher than the S&P 500 Index's 40.3% gain during this period.
Keeping Costs Down
One thing to note about this company is that it is externally managed by Annaly Management Company LLC. The discussion of whether it's more efficient for an mREIT to be internally managed or externally managed can take some time. But here's a fact: since Annaly Capital Management Inc. became externally managed in 2013, the company's cost of operations have been much lower than its peers.
You see, since its externalization, Annaly Capital's expense levels averaged just 1.6% as a percentage of equity. Its mREIT peers, on the other hand, averaged a much higher expense as a percentage of equity—almost 3.5%—during this period.
By keeping costs down, Annaly Capital Management can keep more money at the bottom line, which it could then return to shareholders in the form of dividends.
Ultimately, you can find stocks with higher yields or stocks with safer dividends. But, with a solid business model and an 11.6% payout, Annaly Capital Management Inc offers a good balance between the two.