Annaly Capital Management Inc: This "Alternative Bank" Now Yields 11.8%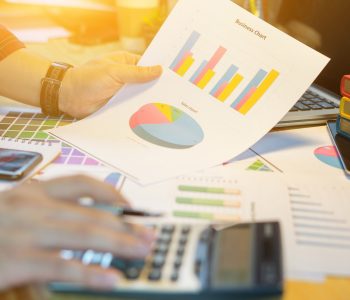 iStock.com/Asawin_Klabma
This Stock Yields 11.8%
If you want to earn higher yields from your portfolio, then you will want to hear about this stock.
That's because the quiet section of the market that this stock is in pays out safe double-digit yields. Wall Street insiders have long prized this industry for its reliable, steady income.
Yet most people have never heard of it. This little-known industry receives minimal coverage in the business press.
And right now, we have a rare opportunity to scoop up shares at a bargain price.
A Huge Payout From This "Alternative Bank"
Today we have an exciting opportunity at "alternative bank" Annaly Capital Management Inc (NYSE:NLY).
My colleague Jing Pan coined the phrase "alternative bank" to describe a certain group of companies that operate like banks. They borrow money at a low interest rate and invest those funds for higher returns elsewhere.
The difference? Alternative banks don't have any branches, bank tellers, or ATMs,. As a result, almost all of their profits go straight to their bottom line.
Annaly Capital Management Inc's main business is investing in mortgage bonds. Analysts consider these loans exceptionally safe, given that the mortgage is the last payment that people skip during a downturn. And because these loans are insured by the U.S. government, "Uncle Sam" will reimburse investors for any losses.
To juice its returns further, Annaly employs a modest degree of leverage. As a result, the fund can pay a distribution yield of nearly 12%. That's a massive payout in a world where most bonds pay only one or two percent.
And now looks like a good time to scoop up the stock at a discount.
In the financial business, book value provides a rough estimate as to how much a company is worth. The figure provides a quick and dirty estimate of how much the company would be valued in liquidation.
Generally, investors pay a big premium to book value. But over the past year, alternative banks have experienced a rare selloff. This has provided a rare opportunity to buy up units at more reasonable prices.
In the case of Annaly Capital Management Inc specifically, NLY stock now trades for 95% of its book value. If we can buy shares at or below book value, it's a good deal. Historically, the trust has rallied by more than 40% over the following 12 months any time it got this cheap.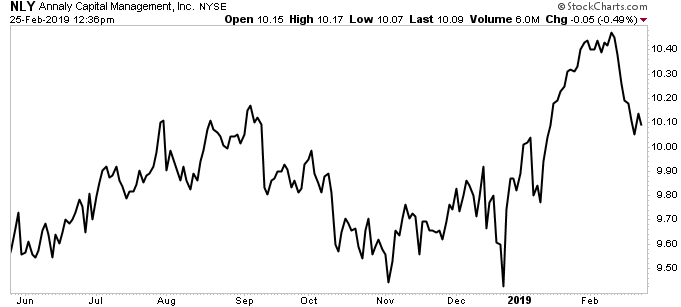 Chart courtesy of StockCharts.com
The Bottom Line on Annaly Capital Management Inc
I don't expect this opportunity to last forever, though.
Alternative banks make their profit from the spread between short- and long-term interest rates. So if the Federal Reserve jacks up yields too quickly, Annaly's business will take a hit.
This in large part explains why the industry has dropped so much in value over the past year. With the central bank raising rates, some poorly managed firms have run into financial difficulty. And in typical Wall Street fashion, traders have soured on the entire group.
That said, the outlook has changed in recent weeks. Earlier this month, Fed Chair Jerome Powell hinted that further rate hikes won't be needed to cool the economy. This is great news for alternative banks like Annaly, as that means their profit margins can stabilize.
In other words, Annaly Capital Management Inc is a rare opportunity to scoop up a wonderful business at a bargain price. Income investors should consider taking a closer look.