Annaly Capital Management Inc: Is This 12.2% Yield Safe?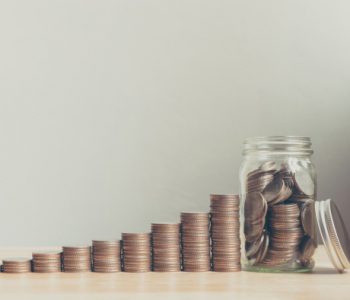 iStock.com/marchmeena29
Should Investors Consider This High-Yield Stock?
It's earnings season again, which means stocks could see sizable moves based on whether they beat Wall Street expectations. As an income investor, though, I'm more interested in whether the ultra-high yielders made enough money to cover their payout last quarter. At the end of the day, when the average dividend yield of all S&P 500 companies is below two percent, a double-digit yield seems too good to be true.
Annaly Capital Management, Inc. (NYSE:NLY) is one of these ultra-high yielders. The company follows a quarterly dividend policy of $0.30 per share, which translates to a jaw-dropping yield of 12.2%.
So, did NLY stock make enough money to cover the payout? Let's take a look.
Annaly Capital Management, Inc: A Diversified Capital Manager
To consumers, Annaly Capital Management may not sound like a familiar name, but the company is a big player in its industry. Structured as a mortgage real estate investment trust (mREIT), Annaly Capital has approximately $113.6 billion in assets.
Like most mREITs, Annaly's biggest business is investing in mortgage assets. In fact, the company has a huge agency portfolio, which consists of mortgage-backed securities (MBSs) collateralized by residential mortgages that are guaranteed by the Federal National Mortgage Association (Fannie Mae), the Government National Mortgage Association (Ginnie Mae), or the Federal Home Loan Mortgage Corporation (Freddie Mac).
As of September 30, "Annaly Agency Group," the company's agency MBS segment, had $106.1 billion in assets. (Source: "Third Quarter 2018 Investor Presentation," Annaly Capital Management, Inc., October 31, 2018.)
For those not in the know, a mortgage-backed security passes the principal and interest payments from the underlying mortgages to the MBS investor. With a large portfolio of MBSs that are guaranteed by government agencies, Annaly can collect a predictable stream of income.
The neat thing is, agency MBSs are not the only thing the company invests in. Annaly Capital also operates through its "Residential Credit Group," which invests in non-agency residential mortgage assets; its "Commercial Real Estate Group," which originates and invests in commercial mortgage assets; and its "Middle Market Lending Group," which provides financing solutions to private equity-backed middle-market businesses.
While the other three segments are quite a bit smaller than Annaly's agency MBS portfolio, they do help the company diversify its income stream.
NLY's Equity Allocation Across Businesses
Here's a look at Annaly Capital Management's equity allocation across its four business segments: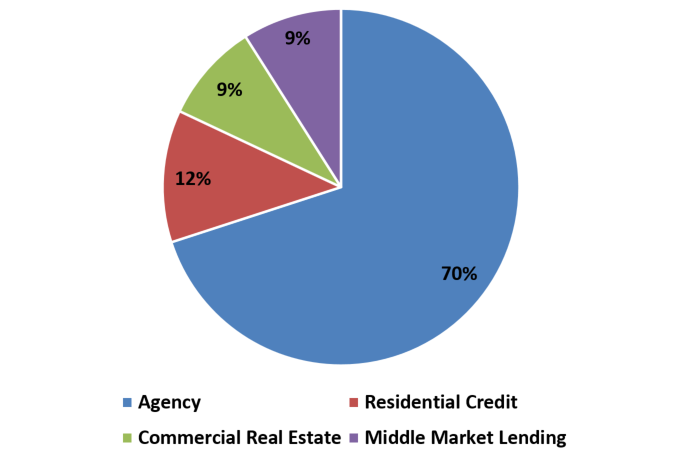 (Source: "At-a-Glance," Annaly Capital Management. Inc., last accessed November 1, 2018.)
Delivering Oversized Payouts to Shareholders
According to Annaly's own description, the company's principle business objective is "to generate net income for distribution to its stockholders and to preserve capital through prudent selection of investments and continuous management of its portfolio." (Source: Ibid.)
And based on its most recent financial results, the company has done a good job when it comes to shareholder distribution.
In the third quarter of 2018, Annaly Capital Management generated core earnings of $0.30 per share, which was the same as it earned in the year-ago period. That amount provided enough coverage for its quarterly dividend payment of $0.30 per share. (Source: "Annaly Capital Management, Inc. Reports 3rd Quarter 2018 Results," Annaly Capital Management. Inc., October 31, 2018.)
Looking a bit further back, Annaly Capital Management generated core earnings of $0.90 per share in the first nine months of this year. Its dividends declared, on the other hand, also totaled $0.90 per share during this period. In other words, the company made enough money to cover its payout so far into 2018, but it did not leave any room for error.
I should point out that it's not unusual for an mREIT to have a high payout ratio. This is because mREITs are a subset of REITs that pay little to no income tax at the corporate level. In exchange for that benefit, REITs have to distribute at least 90% of their profits to shareholders in the form of regular dividend payments. With a pass-through structure, these real estate companies often pay out most of their profits.
The Bottom Line on Annaly Capital Management. Inc.
Annaly Capital Management is one of the highest-yielding stocks on the market.
The company runs a relatively diversified business among mREITs, and its oversized distributions are backed by its profits.