Annaly Capital Management: This "Alternative Bank" Yields 12.3%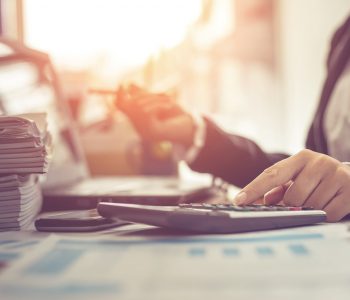 iStock.com/undefined undefined
Earn a 12% Yield From This "Alternative Bank"
During my hockey career, I played center because of my ability to create opportunities. I had a knack for scoring goals and finding the open ice.
I lived by NHL Hall of Famer Wayne Gretzky's motto: "Skate to where the puck is going, not where it has been."
I apply the same mantra to investing. I often comb for stocks that no one else likes but which have the possibility of a turnaround. That allows you to scoop up great bargains before industry conditions change.
Case in point: Annaly Capital Management (NYSE:NLY). This "alternative bank," which we have covered in past articles, has fallen out of favor on Wall Street. This has created a chance to scoop up a great business on the cheap.
Annaly Capital Management
Annaly has had a tough go of it lately.
The partnership makes its money by borrowing at the lower short-term interest rates and investing those proceeds into higher-yielding mortgages. The bigger the spread between these two rates, the more money Annaly makes.
That spread stands at the lowest it's been in over a decade. In the chart below, I've highlighted the difference between two-year and 10-year government treasury yields. With the spread between these two markets, Annaly has seen its profits clipped, meaning there's an opportunity for investors.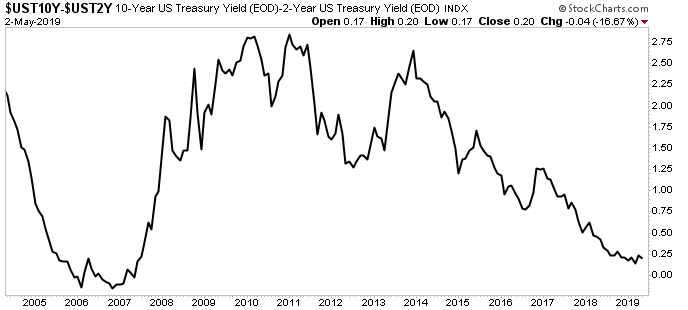 Chart courtesy of StockCharts.com
Wall Street, which often can't look past the next quarter, has fled this industry. As traders have looked for faster returns elsewhere, NLY stock has lost 20% of its value over the past year.
As a result, units now go for a discount. Historically, Annaly stock has traded around 1.2-times book value. But right now, you can buy a piece of this business for only 0.95-times book value.
I don't know where units will go over the next month or two. But over the next few years, the spread between short- and long-term interest rates will likely increase. And once Annaly comes back in favor among investors, traders will likely price this business at a premium again.
In the meantime, investors can lock in a great yield. Annaly Capital Management pays a quarterly distribution of $0.30 per share. That comes out to an annual yield of 12.3%.
That payout will likely keep rolling in. The business has a clean balance sheet and generates more than enough cash flow to fund its dividend. That makes it easy to twiddle one's thumbs while waiting for market conditions to improve.
The Bottom Line on NLY Stock
Of course, alternative banks aren't flawless. If short-term yields spike, these partnerships could suffer heavy losses. A recession could trigger a wave of defaults, decimating profits.
That said, Annaly Capital Management has done a great job hedging these interest rate risks. The partnership mostly invests in government-backed mortgages, which get paid in full if the borrower defaults.
So take a page out of Wayne Gretzky's playbook and skate to where the puck is going, not where it has been. Most people follow the action and go for the hottest stocks of the day. But successful investors gravitate to the industries where traders will be going next.