Anheuser-Busch InBev SA: Time to Dump This Dividend Stock?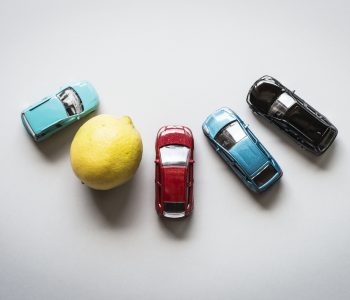 iStock.com/Bea_T
Is This Dividend Stock a Lemon?
Back in college, my old "Volkswagen Jetta" was always on the fritz. So one day, I took it to a mechanic friend of mine.
"Can you help me?" I asked. "Sometimes my car runs just fine and sometimes it doesn't."
My buddy gave a pointed response: "No problem—when it's running fine, sell it."
I think about those words when looking at Anheuser Busch Inbev NV (NYSE:BUD). In recent months, the beer maker has frustrated investors with unreliable performance.
Sometimes the stock looks troubled. Sometimes everything looks just fine.
Investors might want to take the street-smart advice from my mechanic and unload shares after the stock's recent run.
BUD Stock: Is This Stock for You?
Anheuser-Busch InBev SA faces a number of problems.
Beer sales have gone flat (pun not intended) as abstinence has become fashionable among millennials. Consumers, wooed by improving options for wines, spirits, and marijuana, have taken their dollars elsewhere.
Craft brews have taken a big bite out of remaining sales. During the third quarter, AB InBev's big brands, "Budweiser" and "Bud Light" lost 0.35% and 0.9% of market share, respectively. New products, such as orange-flavored Bud Light and limited-edition Budweiser, haven't caught on with drinkers.
Those headwinds have translated into terrible financial results.
Year-over-year, the company saw revenues drop 10% to $13.28 billion. Anheuser-Busch InBev SA posted a profit of only $956.0 million for the third quarter, down from $2.06 billion during the same period a year earlier.
Shareholders have paid the price. In September, management cut the distribution in half to conserve cash. And over the past two years, shares have lost nearly a quarter of their value.
Surprisingly, though, BUD stock seems to be running at the moment.
Year-to-date, shares have jumped 22.3%. Traders have started scooping up shares on hopes lower interest rates will make traditional dividend stocks more attractive.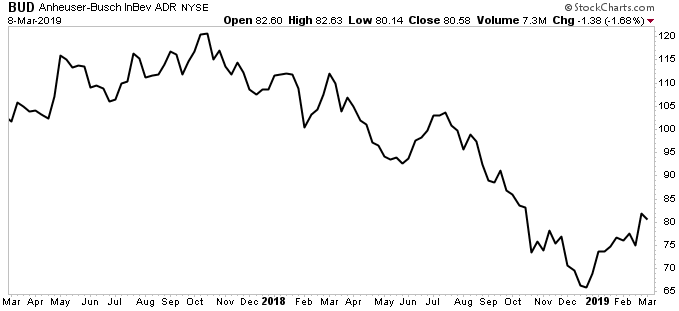 Chart courtesy of StockCharts.com
The Bottom Line on Anheuser-Busch InBev SA
I'm skeptical this stock has really bottomed, however.
Big brewers face challenges from all sides. Investors will have to accept profits coming in fits and starts over the next few years.
That might be okay if shares traded for a discount. But at the moment, AB InBev sells for 37-times trailing earnings. That's like buying a beat-up 1998 "Dodge Neon" for the price of a mint condition 1967 "Ford Mustang."
Anheuser-Busch InBev SA is a dividend stock lemon. And if you own shares, it might be wise to take that advice of my old mechanic: when it's running fine, sell it.