An Easy Way to Beat the Market, Year After Year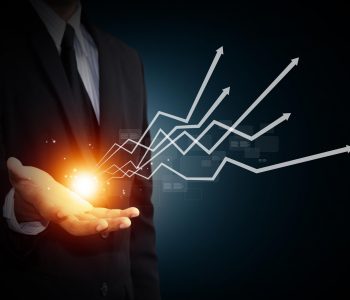 iStock.com/shutter_m
This Strategy Beats the Market
Most people think you need a complex strategy to beat the market. They think earning outsized returns requires some fancy model. A deep dive into statistics most people can't follow.
They're wrong.
Today, I'll show a simple way to pick top dividend stocks. This system beats the market by 2.2% a year, leading to hundreds of percent in extra returns over time.
Better, anyone can follow this strategy. And you can even get started today. Let me explain.
Today's post first requires us to look at what "the market" actually is. In the U.S., the S&P 500 serves our stock market benchmark. This index represents the holdings of the country's 500 largest public companies.
It makes sense. If you want to invest in America, own a basket of the biggest businesses. But there's a problem with this idea: the biggest companies don't always make for the best investments. Thus, your returns get dragged down by a lot of deadweight stocks.
That index isn't designed for investors; it's designed to serve as a barometer for the U.S. economy. Worse, many companies in the index don't even pay a dividend. For income-focused investors, this can constitute a big problem.
But history shows there's an easy way to beat this formula. Financial research behemoth Standard and Poor's (the same company that manages the S&P 500) keeps a list of the best, most established dividend stocks in the country. They call this group the "dividend aristocrats."
To get on this list, companies must meet three criteria: they must 1) be in the S&P 500, 2) have 25+ consecutive years of dividend increases, and 3) meet certain minimum size and liquidity requirements.
Today, the index consists of 53 large, well-established companies. Many of these names I'm sure you've heard of, such as snack maker PepsiCo, Inc. (NASDAQ:PEP), fast food giant McDonald's Corporation (NYSE:MCD), household products manufacturer Clorox Co (NYSE:CLX).
Why does the strategy work? Well, paying dividends to investors serves as an indicator of a strong business. So by extension, paying bigger dividends each year serves as a big, flashing billboard saying, "Hey, something special is happening here."
In the short term, no one can predict where stock prices will go from day to day. But over time, investors will start to bid up shares as the dividend increases.
The resulting returns are enormous. Take a look: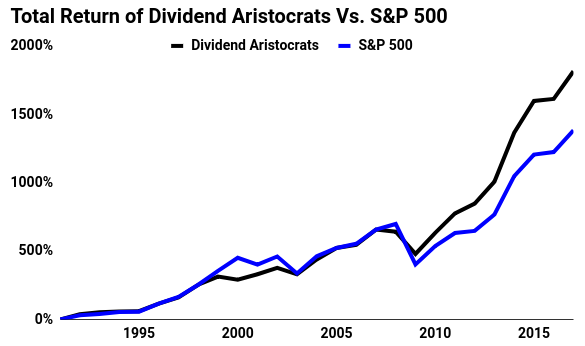 Source: SureDividends.com
Since its inception in 1991, the dividend aristocrats have delivered a total return (including both dividends and capital gains) of 1,815%. The normal S&P 500 returned just 1,383% over the same period. Over that 27-year period, the dividend aristocrats returned 12.9% a year versus 10.7% in the broader S&P 500 for a 2.2% annual outperformance.
Again, an extra 2.2% a year might not sound like much, but it adds up. Moreover, the dividend aristocrats also achieved this feat with far fewer ups and downs than the broader market.
The good news for investors? We have an easy way to implement this strategy today. It's called the ProShares S&P 500 Dividend Aristocrats ETF (NYSE:NOBL).
This exchange-traded fund tracks the performance of the S&P 500 Dividend Aristocrats, and it makes following this idea pretty simple.
Like I said, you have a simple approach here. But that's why it works: we don't need complex financial models to beat the market. It takes a common sense idea and increases long-term returns.
If you're an investor who wants to boost their long-term returns, maybe start looking beyond index funds. Shares of NOBL are worth a second look.